| | |
| --- | --- |
| River of Passion - Impartation Session | |
Event Details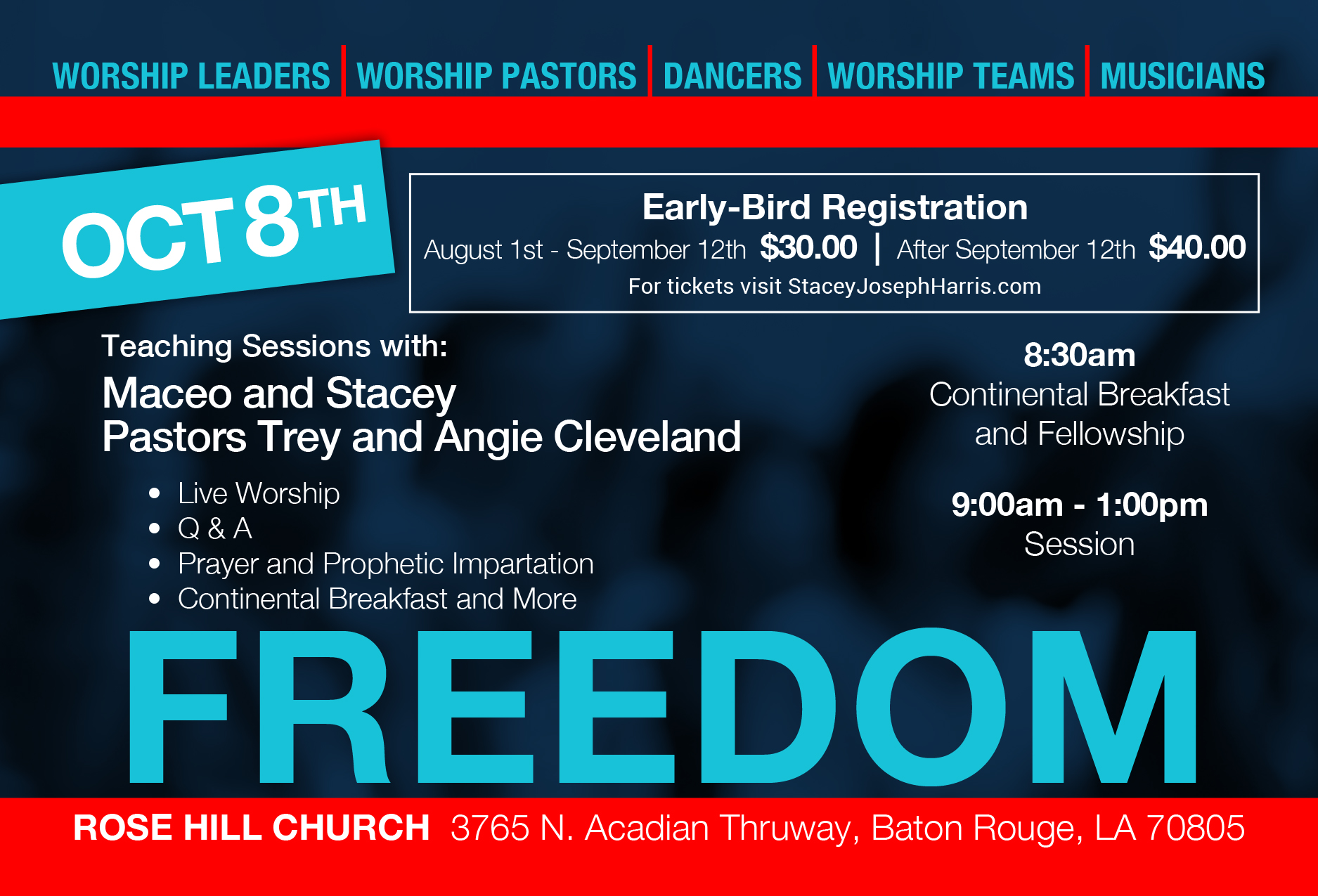 5 power-packed sessions designed with you in mind! Topics include, but are not limited to:

Identity - Developing an understanding of "who" you are outside of "what" you do!

Building Great Teams - How to effectively cultivate a community of accountability, spiritual growth, and fellowship.

Worship Design - Practical ways to connect and reinforce the word and worship.

Prayer - The importance of prayer in worship and everyday living.
Flow - Nurturing moments vs. Clever transitions. Developing sensitivity to atmospheres.
Please direct any questions or concerns to:
Carla Borskey
info@jstaceymusic.com
1.877.767.1547     
Where

Rose Hill Church
3765 N. Acadian Thruway
Baton Rouge, LA 70805


Organizer
Quickly approaching the forties–typically considered the expiring bounds of love, Maceo and Stacey found each other and are simply at home with one another.
 Before meeting and marrying they spent quite a bit of their single life serving in their local church and imparting into others through mentoring. Together, their partnership represents an organic fusion of their heart for God and people. With a deep seated desire to see people enjoy healthy life-giving relationships, the dynamic duo's union has opened their lives to people in an even deeper way. Starting out as casual talks with friends, leading to dinner gatherings in which they would share how they "do life together", an opportunity emerged in which they were able to transport this conversation to a couple hundred singles during a midweek Bible Study. After that experience, it was clear to them that this conversation about healthy relationships needed to continue.
The conversation continues through their innovative radio program that makes dialogue about relationships of all sorts accessible to listeners. "It Takes Two" airs on Wednesdays at 2pm EST exclusively on Bonnerfide Radio. The power team also maintains their mission by facilitating seminars in which they candidly share their wins, their mistakes and the wisdom that life keeps teaching them. Their transparent approach to delicate topics is the appeal that consistently increases their listening audience. Fascinated by the penultimate marriage between God's word and man's worship, their spiritual foundation is the basis of their sessions. The convergence of their life journeys has led them to the discovery that "Life is better when we do it together".