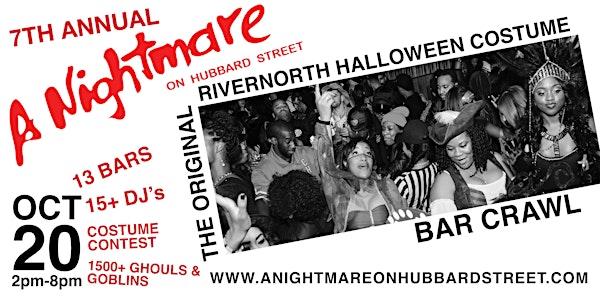 River North Halloween Bar Crawl - A Nightmare on Hubbard Street
When and where
Location
River North Chicago, IL 60610
Description
DON'T MISS THE BIGGEST HALLOWEEN PARTY IN CHICAGO!
What started as a small party with 100+ friends 7 years ago has exploded into a huge 2,000+ person event! Join us as we party hard for 6 straight hours of scary fun, drinking, dancing and partying while hopping from bar to bar in downtown River North.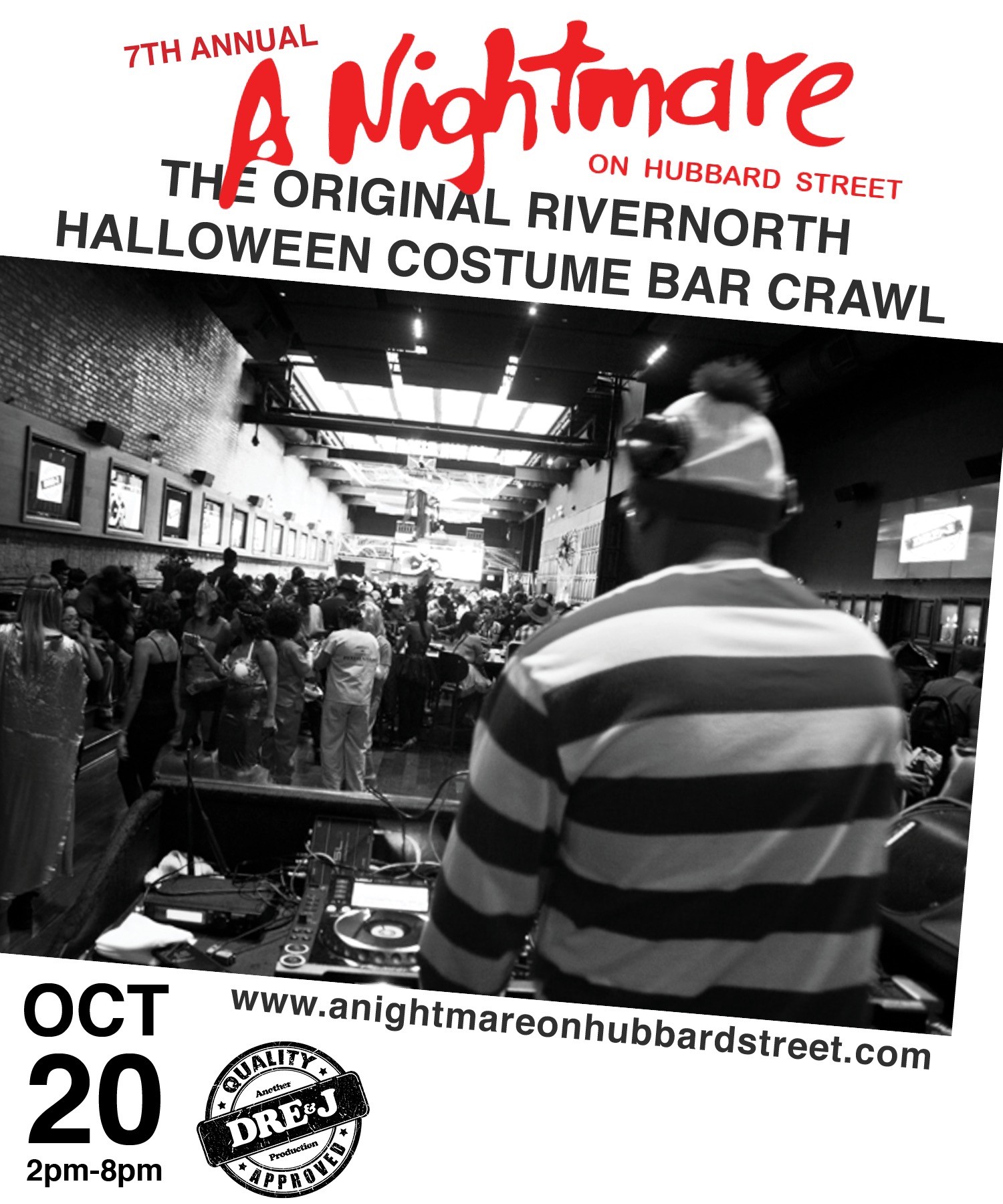 ---
This unique Bar Crawl focuses on the DJ's and music just as much as the bars. Each premiere River North host bar will feature various genres of music with live DJ's spinning at multiple locations throughout the day. Bar crawlers simply go to the best host bar that's playing their favorite music during each time slot.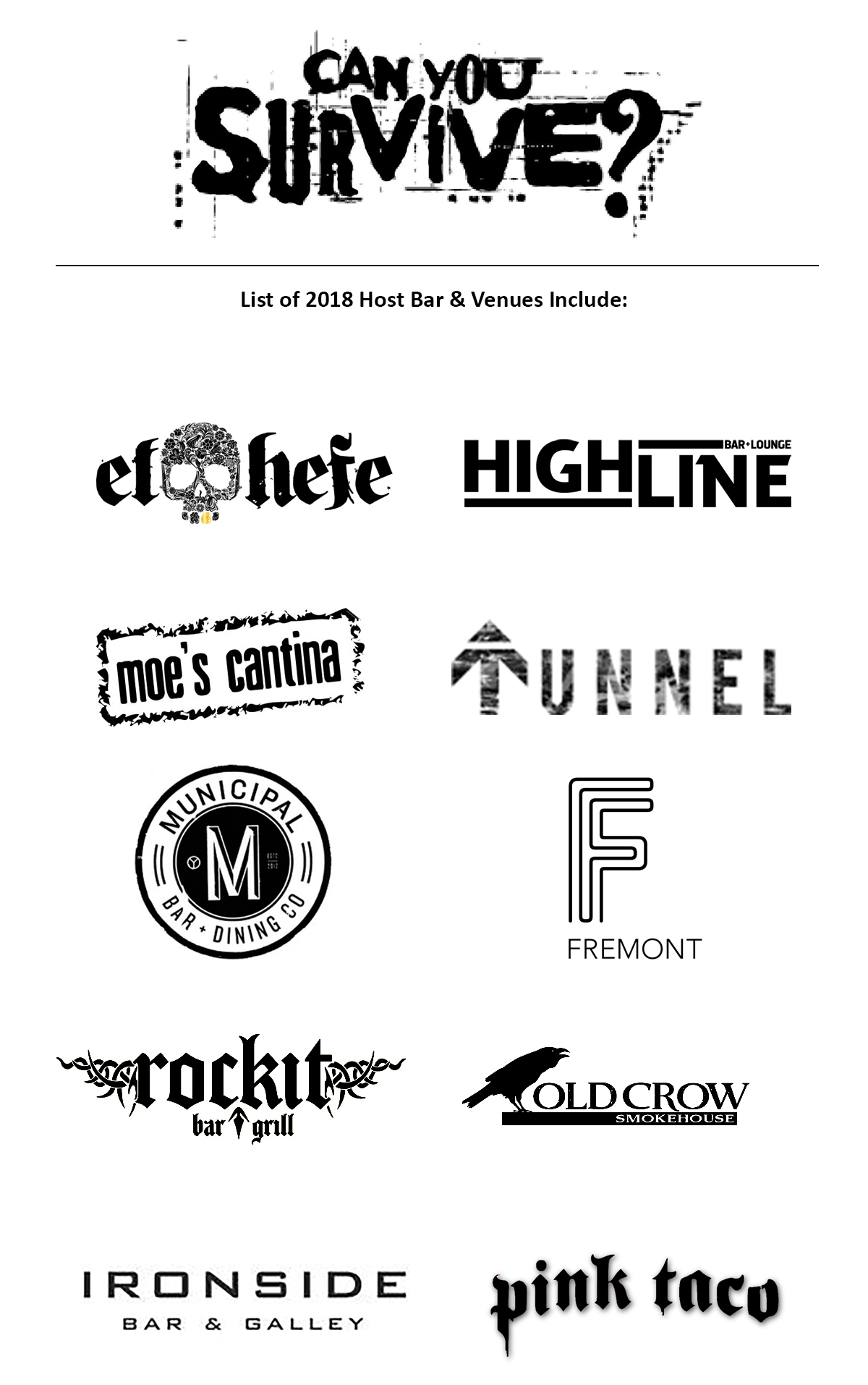 Please be sure to stay tuned for more information and announcements on new bars we plan to add to the crazy line-up as the event draws near!

Fremont | el hefe | Moe's Cantina | Ironside Bar & Galley | Rockit | Old Crow Smokehouse | Highline | Tunnel | Municipal | Pink Taco | & more...
The above list of featured host bars and venues is subject to change leading into the bar crawl event.

---
ONCE AGAIN WE'RE LINING UP SOME OF CHICAGO'S HOTTEST INDUSTRY DJ's TO SPIN AT EACH AND EVERY LOCATION!
Similar to last year, each guest DJ will play different music at each Host Bar! You simply go to the bar that's playing YOUR favorite music during each time slot throughout the day.
For example, during one time slot we might have DJ Mauricio spinning a Latin mix at one bar, DJ Papa G spinning REGGAE soul at the next, and Kid Clay cranking it up a bit with some Trap Muzik at the third bar!

DJ Dirty Darren (Resident DJ at Tunnel and el hefe), DJ Kid Clay (Resident DJ at Reverie, Y Bar, and Brickhouse), and DJ Mile High (WGCI Host DJ)

(Additional DJ's include:)
DJ Eddie Mills | DJ Mile High | DJ Protege' | DJ Kid Clay | DJ Gordo | DJ Papa G | DJ Mauricio | Dirty Darren | DJ Commando | DJ DoubleM + more...
---

EVENT DETAILS:
ALL PAID REGISTERED GUEST WILL RECEIVE EVENT PARTY WRISTBANDS FOR THIS EVENT WHICH INCLUDES:
- Survival Map & Bar Crawl schedule via mobile app outlining featured DJ's, Host Bars, Drink Specials, & more
- Express entry into all Premiere River North Host Bars
- Featured Drink & Food Specials @ each Host Bar
- Ca$h Prize COSTUME CONTEST
- FREE ENTRY to OFFICIAL AFTER PARTY
- Door Prizes and Gift Bags
PLEASE NOTE: WE'RE CRACKING DOWN ON SECURITY CHECKING WRISTBANDS THIS YEAR TO DETER UNREGISTERED GUEST FROM JOINING THE BAR CRAWL WITHOUT A TICKET.
The majority of the host bars throughout the day will be strictly reserved solely for our private event! We guarantee you'll need a wristband to access the most popular host bars and DJ's during peak time slots.
ALL GUEST MUST REGISTER ONLINE PRIOR TO THE EVENT. NO CASH TRANSACTIONS WILL BE MADE ON SITE.
Detailed check-in instructions for all registered guests is posted on the official event website www.anightmareonhubbardstreet.com. All Tickets Sales for this event are Final

---
THIS YEAR WE'VE PARTNERED WITH A NEW RIDESHARE COMPANY CALLED VIA FOR THE HALLOWEEN BAR CRAWL!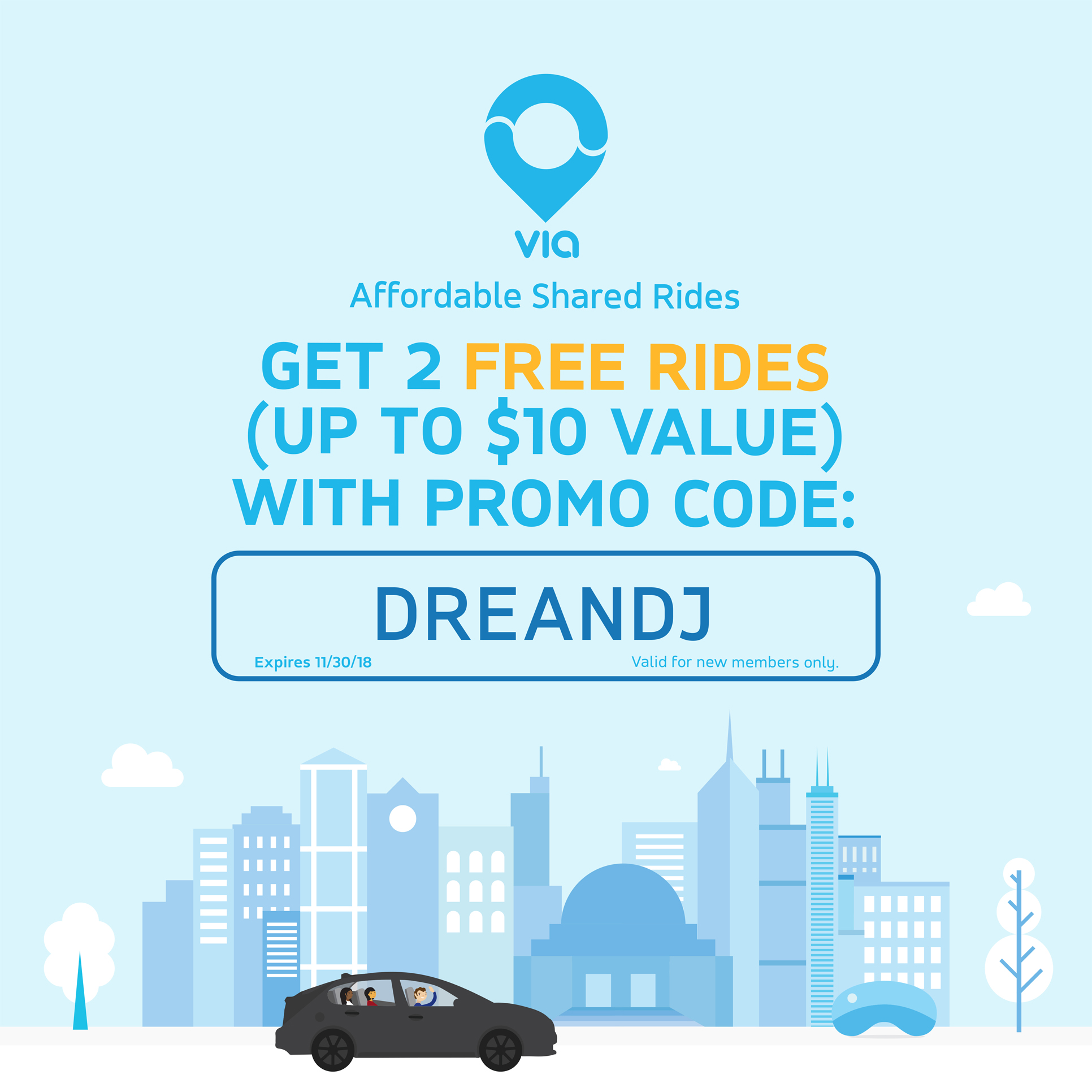 Download the VIA mobile app and use our promo-code DREANDJ to get 2 FREE RIDES with the new affordable Rideshare company that has expanded to the Chicago market!