Description
What the FIRKIN is a PIN??? Well for one... it doesn't last as long!! Come discover the wonderful world of cask beer at our annual Cask Festival, an evening full of very limited and unique offerings. Our brewers will be stationed around the building to discuss how they create different cask beers, as well as which styles are the most conducive to aging. We will have variations of our regular beers, in addition to variations of some new specialty beers... totaling 21 delicious concoctions that our brewers have imagined up for you!! Additionally, each ticket includes 3 votes for your favorite. The top 4 beers will be recreated to become available to the public for a limited time in 2016!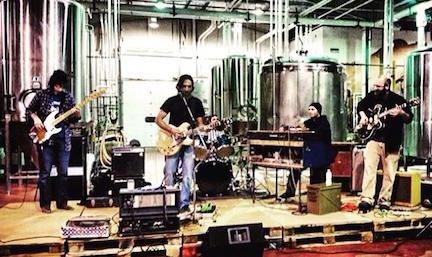 Once again our favorite group of guys, Mike Frank & Friends, will be joining us to rock your evening! If you haven't heard them at one of our previous events, you are missing out! Check them out online at www.mikefrankandfriends.com!
Tickets are $15 and are only available online through Eventbrite.com. With your ticket you will receive a 5oz. sampler glass and 3 beer tokens. Each cask sample requires a beer token, or you can get a pint for 3. Additional tokens will be for sale $2 each.
Cask Menu:
Harvest Ale
Dry hopped with Centennial
Dry hopped with Citra
Oatmeal Milk Stout
With Fresh Mint Leaves and Vanilla Beans

With Tart Cherries and Vanilla Beans

With Hazelnut and Frangelico Soaked Oak chips
With Coffee Beans from Philly's Rival Bros

With Bourbon Soaked Oak chips
Special Ale
With Cinnamon, Vanilla Beans, Clove, and Nutmeg
With Chocolate and Arbol Chilies
With Oak Chips and Vanilla Beans

Imperial Chocolate Porter
With Hazelnut and Vanilla Beans

With Coffee Beans from Philly's Rival Bros
DOUBLE Chocolate
With Tart Cherries
Tripel Horse
With Raspberries
With Bourbon Soaked Oak chips
With Tart Cherries
IPA
Dry hopped with extra Wakatu
With Grapefruit Zest
Dry hopped with Falconers Flight
With Mango
*You must buy a ticket in advance, and they are only for sale online. *Tickets are non-refundable, and you must bring proof of purchase to the event. Either hard or digital copies are accepted. We are not offering designated driver tickets due to limited capacity.
River Horse will be providing pretzels and water during the event, however it is a great idea to grab dinner beforehand. Stop by one of the local dining establishments on your way over:
Metro Italian Restaurant - Glen Roc Shopping Center, 172 Scotch Rd, Ewing, NJ (609) 882-2800
Firkin Tavern - 1400 Parkway Ave #1, Ewing Township, NJ (609) 771-0100
Blooming Grove Inn - 234 West Upper Ferry Rd, Ewing, NJ (609) 882-1150

Wildflowers Inn & Restaurant - 2572 Pennington Rd (Route 31), Pennington, NJ (609) 737-2392

Mariachi Grill - 1505 Parkway Ave, Ewing, NJ (609) 882-0119
Red Star Pizza - 608 Bear Tavern Rd, Ewing, NJ (609) 406-1600
Stella's Pizza Parlor - Glen Roc Shopping Center, 202 Scotch Rd Ewing, NJ (609) 883-3880
For parking, you are welcome to use the River Horse lot but it fills up quickly. Other options include Graphics Drive and our friends at Riegel Printing allow the use of their lot.