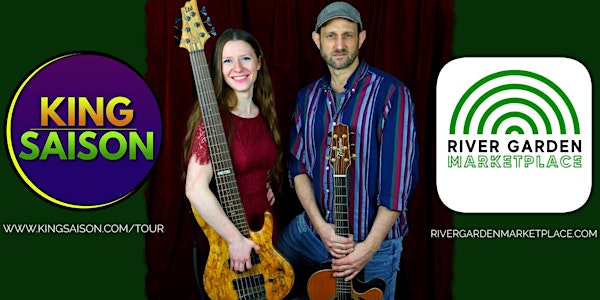 River Garden Marketplace - King Saison Duo
SATURDAY, SEPT 24TH, 7:30-9:30PM - Singer-songwriter duo, King Saison perform at River Garden Marketplace, Brattleboro VT! Free Show
When and where
Location
River Garden Marketplace 157 Main Street Brattleboro, VT 05301
About this event
SATURDAY, SEPT 24TH, 7:30-9:30PM - Singer-songwriter duo, King Saison perform at River Garden Marketplace, Brattleboro VT! Join Jeff King and Noelle Saison for an evening of music by the riverside inside Brattleboro's newest Craft Food & Brew Market--located on Main Street in the heart of downtown Brattleboro, Vermont.
.
Jeff King and Noelle Saison are two bass player, singer-songwriters, combining their talents to bring a new, fresh sound to New England's music scene, with tones of Folk, Americana and Country. While bass guitar is their main instrument, they frequently switch from bass, to Mandolin, to guitar, and drums. All of their newest original music releases, "Setback," "Archer," and "The Raven & The Ivy," are in rotation on Lazer 99.3 & 98.5 radio stations, as well as Boston Community Radio 102.9 FM. King Saison is releasing new music every month, as well as performing their first East Coast tour in 2022.
.
Both King and Saison graduated college with music degrees, and have been writing songs from an early age. While they both are skilled on several different instruments ranging from the saxophone to the steel drum, prior to 2021 they knew each other primarily as bass-players, involved in several different projects in the Western Massachusetts Music Scene. When Saison made an appearance on King's weekly music podcast, "Jeff King Live" in the beginning of 2021, the two instantly hit it off. From there on, they learned each other's songs on all of their respective instruments, and honed their craft as a musical duo with a full-band sound.
.
Since King Saison's official musical inception in June 2021, they have released 6 singles, recording at Signature Sounds Recording Studio in Pomfret Connecticut, and have performed LIVE shows all across all of New England: Massachusetts, Connecticut, Maine, New Hampshire, Vermont, New York, and New Jersey.
.
.
Follow King Saison on their journey:
www.facebook.com/kingsaison
IG: King_Saison
Website: https://www.kingsaison.com