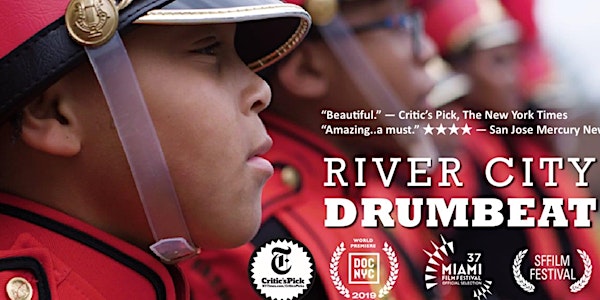 "River City Drumbeat"
Free virtual 2 week streaming of award-winning documentary RIVER CITY DRUMBEAT, a powerful story of music, love, and legacies.
About this event
The City of Holland's Human Relations Department is pleased to present:
River City Drumbeat
Free Streaming: February 15-28, 2021
RIVER CITY DRUMBEAT is a powerful story of music, love, and legacies set in the American South.
Edward "Nardie" White devoted his life to leading the African-American drum corps he co-founded with Zambia Nkrumah in Louisville, Kentucky three decades ago. Together they inspired youth from their West Louisville neighborhood to thrive by connecting them with the art and cultural traditions of their African ancestors. Now Albert Shumake, whose destiny was shaped by the drumline, must take up the mantle for the next generation. Meanwhile, student drummers Imani, Jailen, and Emily navigate adolescence and life changes. RIVER CITY DRUMBEAT follows this creative community of mentors, parents, and youth making their way in a world where systemic forces raise obstacles to fulfilling their dreams. Running time 1h 35min.
Streaming link will be sent to all registrants. You can register for any date. The link will be active through 11:59 pm Feb 28 and you can view it at your leisure.
UPDATE: Plan on joining us on Wednesday, Feb 24th at 7pm for a live Q&A with co-director Marlon Johnson. Marlon is a 10 time Emmy award winning producer and director.
*******************************************************
Marlon Johnson is a ten-time Emmy award-winning producer and director. He has worked on award-winning documentary films exploring music and cultural issues like Symphony in D (201 7); Emmy-winning Sunday's Best (201 0) and Coconut Grove: A Sense of Place (2005). The Ford Foundation commissioned Marlon to direct the documentary Breaking the Silence (2006) which chronicled the rise of HIV infection in the Black-American South. Marlon served as Head of Production and Senior Producer/ Editor for Plum TV and helped create TeleAmerica Broadcasting Network. His documentary Deep City: Birth of the Miami Sound (SXSW 2014) aired nation-wide on PBS. He has a B.S. in Communications from The University of Miami.