About this Event
Following international river conservationist, Mark Angelo, RIVERBLUE spans the globe to infiltrate one of the world's most pollutive industries, fashion. Narrated by clean water supporter Jason Priestley, this groundbreaking documentary examines the destruction of our rivers, its effect on humanity, and the solutions that inspire hope for a sustainable future.
Through harsh chemical manufacturing processes and the irresponsible disposal of toxic chemical waste, one of our favourite iconic products has destroyed rivers and impacted the lives of people who count on these waterways for their survival. RIVERBLUE brings awareness to the destruction of some of the world's most vital rivers through the manufacturing of our clothing, but will also act as a demand for significant change in the textile industry from the top fashion brands that can make a difference.
Movies not only entertain us, but they also inspire us and they encourage all different kinds of conversations. We are inviting you to join us for the screening, to share your thoughts, your point of view and discuss with us.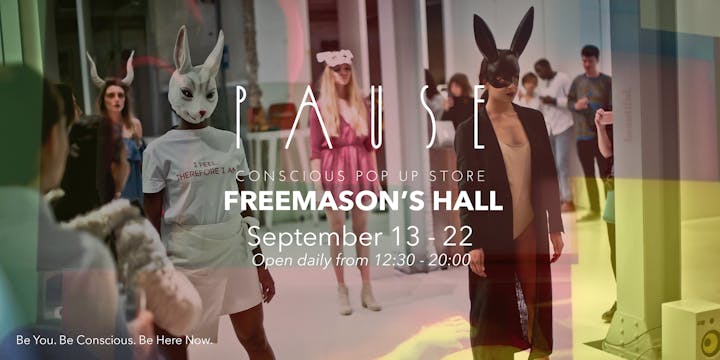 The event will be taking place during the PAUSE Conscious Pop-Up #9 at the Freemason's Hall, Covent Garden, in London, England, between September 13 to 22, 2019
It is a ten-day pop-up event, conveniently taking place during London Fashion Week, where sustainable fashion, art, music, and live performances meet in one place, to create awareness, educate the consumer, and provide an open forum of discussion on how we can all take sustainability forward within our lives. P A U S E will invite the most influencing sector of the London and the global fashion world to rethink their production and consumption choices in order to create together a more conscious fashion industry. This event is to help bring this important issue to light.