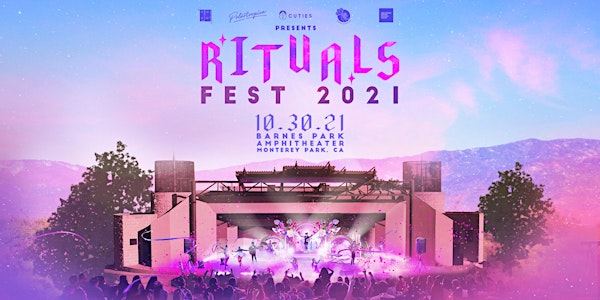 RITUALS: AAPI and QTBIPOC Music and Culture Festival
Location
Barnes Park Amphitheater
South Ramona Avenue
Monterey Park, CA 91754
RITUALS is a music, food, and culture festival supporting QTBIPOC artists and honoring Monterey Park and LA's rich Asian American history.
About this event
"Pride in the past, faith in the future" – Monterey Park Motto
As the honored children and grandchildren of the Asian diaspora, we are the golden bridge that carries the heritage and culture of our ancestors into the future.
Welcome to the 1st Annual Rituals: an all-ages music and culture festival honoring Monterey Park's rich Asian American history and the beautiful diversity of Los Angeles by celebrating local businesses and the future of Asian American and BIPOC music and culture.
Experience musical performances by acclaimed artists and cultural ambassadors, nourish yourself with the unique food and gift offerings at our pop-up market, and enjoy the lush green serenity of Barnes Park.
The evening will culminate in an electric headlining performance by Billboard acclaimed artist, POLARTROPICA. Recently crowned LA Weekly's Best Indie Pop Artist, POLARTROPICA will transport you through time and space against the glittering backdrop of stunning world-class lighting, projection, and award-winning creative direction by JAMIE ISSUH Productions. In collaboration with Queer Asian Social Club, and fiscally sponsored by International Chinese Fine Arts Council.
Tickets are $35 each with +9.5% LA tax and +3% processing fees. All proceeds will directly benefit the RITUALS festival and all artists involved, with 8% of proceeds from each $35 ticket or donation a tax deductible donation to 501c3 non-profit organization and fiscal sponsor ICFAC. Contributions to ICFAC directly support the continuation of the organization and the Social Justice for Asians Scholarship Fund.
Please bring email confirmation and a photo ID when arriving at the event.
RITUALS is our gift to our community.
A reminder that we are conceived of the most infinite, beautiful, and sacred stardust – carefully and lovingly forged over lifetimes, infused with the divine wisdom of our ancestors, and sun-kissed to sweet perfection by mother nature.
Enveloped in beauty and protected by love, we remember that heaven is a place on earth, is a place in us.
Barnes Park
The festival will be centered around the Barnes Park Amphitheater Main Stage. Audience members can enjoy food and merch from our market booths.
The Line Up
The RITUALS main stage will feature performances by local AAPI and BIPOC musicians, spoken word and visual artists and poets representing a wide spectrum of genres, styles, and identities.
The Market
RITUALS will feature a small market with several local art and food vendors, allowing our community to mutually support and nourish each other with wellness items, handmade treasures, and yummy treats.
A self-defense workshop will also be held by Alyssa San Agustin of Box for Change LA, providing practical techniques to better protect ourselves and our AAPI community.
Melissa-Kayes Boudoir
Turnout
Who We Are
POLARTROPICA (she/they) is the unconventionally alluring music endeavor of Los Angeles-based galactic dream pop artist. Born in Taiwan but raised in California, she was most recently crowned LA Weekly's Best Indie Pop Band. Local queer icon Polartropica has created a genre of ethereal synth pop that you've never heard before - combining exquisite melodies, dreamlike classical string arrangements, and shimmering vocals. Following up their first US Tour and residency at the Bootleg Theater, Polartropica released their first full-length LP 'Dreams Come True' to sparkling reviews. Having been crowned LA Weekly's 'Best Indie Pop Band', as well as landing acclaim from the likes of Billboard and LADYGUNN, among others, Polartropica is THE artist to watch in 2022.
JAMIE ISSUH (she/her) is an artist and culture creator. Unlimited by artistic medium, Jamie has created & designed touring concerts, live spectacles, art installations, theatrical sets, dance films, music videos, illustrations, and love letters all over the world. Jamie has worked with clients such as Polartropica, James Taylor, Harry Belafonte, Franco Dragone, The Happy Place, Aerosmith, Paula Abdul, Dancing With the Stars, America's Got Talent, and Disney Music Group.
No matter the medium, Jamie believes that visual design is a vital storytelling device—capable of magnifying the intangible heart to a world full of strangers. A self- appointed Gaysian Icon, Jamie is proud to represent and advocate for her Queer and Korean American identities through her work as the Co-Director of Queer Asian Social Club.
QUEER ASIAN SOCIAL CLUB is a collective empowering community through queer and trans-APISWAD (Asian-Pacific Islander-Southwest Asian-Desi) visibility. QASC was born out of a desire to find a joyous place of belonging for Queer & Trans APISWAD folx from all walks of life.
QASC chiefly operates as a creative and community platform. We collaborate with designers and artists from the community to create empowering merchandise and apparel—from our iconic "Gaysian" shirt to our "We Are Enough" stickers. Through zines, podcast episodes, events, and Instagram takeovers, we celebrate, amplify, and explore the diversity of experiences of our queer and trans-APISWAD family. In this space, we seek to help others feel less alone. We are here to be proudly and joyfully seen and known.
Cuties is a Black & queer-owned community space providing resources and events, both virtually and in-person, to the LGBTQIA+ community. Based in Los Angeles, CA, Cuties began as a coffee shop and safe space focused on providing queer community and a place to gather that wasn't centered around alcohol.
After losing the physical space in 2020 due to the COVID-19 pandemic, Cuties founder and former owner, Virginia Bauman, transferred ownership to now CEO Sasha Jones, and the organization has continued under her guidance. Cuties' goal continues to be to provide resources, joy, and healing to queer, trans, and gender non-conforming folks, with special focus and offerings exclusively for our QTBIPOC family.
International Chinese Fine Arts Council (ICFAC) is a 501c3 non-profit organization dedicated to supporting the Chinese Diaspora creative community.
Run by a team of passionate volunteers in the United States and beyond, ICFAC strives to utilize its platform to support, engage, and connect Overseas Chinese creatives, art owners, and art lovers to better resources and representation – providing resources and facilitate positive change through opportunities, educational programming on topics covering art, culture, and social justice, fiscal sponsorships, and more.
More surprises and acts to be revealed soon!
Those interested in sponsorships and partnerships to support the nonprofit orgs putting on this show, please contact jamie@jamieissuh.com
NB: This event will occur at an outdoor venue in Los Angeles County. All recommended CDC COVID precautions will be taken. "