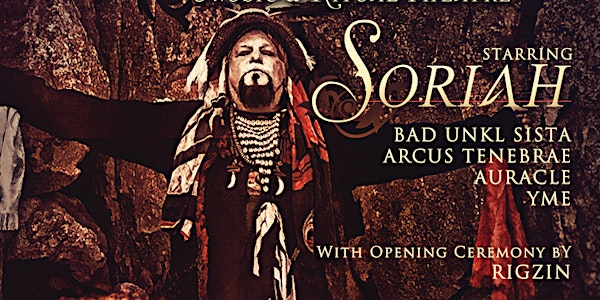 RITES OF CONCORDIA
When and where
Location
Colfax 49 S Main St. Colfax, CA 95713
Description
RITES OF CONCORDIA
(An Evening of Ceremonial Blessings & Ritual Theatre)
Kicking off the grand opening of the Colfax Theatre, an evening of ceremonial blessings, ritual theatre, music and dance. We are very excited to bring you Soriah, whose blend of Tuvan Throat Singing, ancient Aztec and modern electronic music styles create something uniquely haunting and beautiful, ranging from darkly ethereal to driving and tribal. Also featuring the awe inspiring, punk-rock butoh theatre of Bad Unkl Sista, rising star Arcus Tenebrae's unique brand of dark bass and ritual theatre, underground electro legend Synchronicity Frequency, and tribal bellydance sensation Auracle.
The COLFAX THEATER (20 minutes outside of Nevada City/Grass Valley)
Wednesday, February 22nd
8pm - 2am
$20 advance, $30 at the door
Day 1 of the Historic Colfax Theatre Grand Opening!!!
STARRING:
SORIAH
BAD UNKL SISTA
ARCUS TENEBRAE
AURACLE
& YME
Opening Ceremony by RIGZIN (9pm sharp)
Post Performance Dance Party by
SYNCHRONICITY FREQUENCY
& F'KIR
MC Extraordinaire - JAY LIEBER ( All the way from Portland Oregon )
Doors 8pm, Show 9pm
SORIAH: https://soriah.wordpress.com/
Soriah, which translates as "Pleiades" in Arabic, is the stage persona for the internationally recognized artist, Enrique Ugalde. Soriah's craft is a blending of traditional Khöömei (Tuvan Throat Singing), tempered with Soriah's own visceral force. Performances vary from being steeped in tradition and bound to its constructs to more experimental fascinations with electronic and acoustic accompaniments, and introducing Butoh and Ritual Performance Art. Soriah's use of Khöömei as a transportive medium is an offering to nature in her own tongue, that of organic sound whether it be wind, water or the mimicry of animals.
Soriah takes an annual sabbatical to Tuva to study with various masters and to compete. The 2008 Fifth Quinquennial Ethnomusicology Symposium, "Khöömei: The Cultural Phenomenon of Central Asia", has honored Enrique Ugalde, "Third Place", the highest a non-native to Tuva has yet placed. The Üstüü-Khüree Festival awarded him "Best Foreigner" for their 2008 selection, in 2014 he won 2nd place in the National Kargyraa Competition and at the 2016 Tuvan National Kargyraa Competition, he won "The Greatest Developer of Kargyraa". The rest of the year Soriah travels the globe with extended tours performing in various cities and enclaves of Japan, crooning in the cathedrals and ruins of Mexico, and intoning in ocean caves and amidst the swamplands of America. The artist has been invited to perform at society events such as The 2009 Peace Ball in Washington, D.C. for Obama's inauguration, and by brigand artist elites, to sing at various installations of note at the Burning Man Festival.
One becomes encased in an awe-laced ceremonial pallor while in attendance at a Soriah performance. A deep spiritualism imbues each piece performed, whether entirely traditional or exhibiting a fusion of music, movement and meditation that Soriah describes as Vocalized Ritual Drone.
RIGZIN: www.rigzinmusic.com
For 30 years, Rigzin's main life pursuit has been in the study and practice of Tibetan Buddhism. In a prophecized marriage to her teachers son, she gave birth to their son, both of whom are recognized reincarnations. Together the young family traveled extensively on pilgrimages throughout India, Nepal, Bhutan and Tibet, receiving teachings and transmissions, from the last generation of the Great Masters of Tibet. During her three year retreat, she was intensively trained to sing the prayers of elaborate ceremonies. Never imagining being a performer. But by a twist of karmic fate, she survived cancer, leaving the marriage, and found herself at the center of an avant guard artist collective. "El Circo" was to have a major impact on the West Coast underground music and art scene. By the vision of the cutting edge producers at the time, Random Rab, Mimosa, Saqi, The Human Experience, Knowa Lusion, and others, her voice became a vehicle, for merging the ancient blessing of the Tibetan Lineage, with modern electronic music. The tracks produced by Random Rab have become an iconic part of festival culture, played at countless sunrises across the planet.
Rigzin performed with, "El Circo," from 1999 until 2007, when the shows director and muse, Tiffa Novoa, suddenly passed away.
It was then she went out on her own. The first album, "UNION", was released in 2010. "UNION", was so well received, it encouraged her to pursue this career. She has performed at countless shows, and at many of the premier West Coast music festivals, including, Lightening in a Bottle, Symbiosis, and countless shows at Burning Man. Singing for the Temple burn in 2008.
The intention of each Bad Unkl Sista performance is to weave experiences in the present, followed by a logical understanding once the apparition and pageantry of the glorious living moment has passed.
Each performance contains elements of surprise for the audience as well as the dancers. There are moments choreographed into every performance where each dancer—at different times—is metaphorically pushed to the edge of a cliff and asked to jump off. The direction of the performance from there is an unknown for all.
Every performance happens only once, compelling the dancers and the audience to share in the moment, together. This gives life to the dancers and the audience, and together we reach a level of trust and vulnerability that is rarely experienced in our day-to-day social interactions.
All work by Bad Unkl Sista is infused with this same sense of awe and living wonder.
ARCUS TENEBRAE: www.arcustenebrae.com
Emerging from the fringes of west coast bass culture, and the beating heart of the avant-garde theatrical underground - Arcus Tenebrae ushers in a groundbreaking incarnation of sonic fusion and live performance. Hailing from the mountain peaks of Nevada City CA, F'kir Eldercake (of Dreamshovel, Bad Unkl Sista, and Noizshape) has joined forces with Tiare Tashnick a.k.a. NagaSIta of international Temple Tribal fame to create Arcus Tenebrae. This arcane faction of symbiotic experimentation weaves a 5th dimensional tapestry of electronic esoterica, and seeks to redefine living theatre as we know it.
AURACLE: www.auracledance.com
Together Aradia Sunseri and NagaSita join in alchemical heart vision. Creating "Auracle Dance" A Temple Fusion Bellydance Company. Focusing on the esoteric roots of Sacred Dance, this collaboration is created with the intention to inspire the divine within & dance the mythos of remembrance.
These internationally acclaimed dancers have joined together to share their artistry through embodiment & sacred activism. Auracle Dance are known for their uniquely honed performances which weave captivating stories of mythological realms, time travel and the bond of sisterhood throughout the ages. They will be accompanied by Cicada, Schirin, Hailey Sanura, Amira Sereia & Pearl Solora Zule for this special night.
RITES OF CONCORDIA
Concordia is the Ancient Roman Goddess of Harmony. She had a place in the festival of the Caristia or Charistia of February 22nd, a holiday celebrated by the families and houses of every stature, in which it was traditional to honor the harmonious virtues of all who were living within the community. Many Temples were erected in her honor, as well as the arts, where Concordia was invoked for Her powers of bringing harmony and agreement, and other Deities invoked at the Caristia were Janus, the double-faced God of New Beginnings, Salus, the Goddess of Health, and Pax, Goddess of Peace. These four Divinities were honored with statues grouped together at the Altar of Peace. They were also said to be worshipped together on Veneralia, the festival of Venus Verticordia, along with Fortuna and Venus Herself.
Concordia was depicted as an honorable woman veiled and heavily draped, holding an olive branch, emblematic of peace, and a cornucopia, to symbolize the abundance that can be achieved when people work together in harmony. She sometimes wore a crown and held a sceptre, caduceus, or patera, a small offering bowl from which libations were poured. She is associated with the stork, which symbolized family devotion to the Romans, and the dove, universally a symbol of peace and gentleness; and sometimes a star, as emblem of hope, is shown near Her. Another attribute of Concordia is the image of two clasped hands, both of which are right hands (like in a handshake), symbolizing two people agreeing. She was also identified with the Goddess Homonoia, the Greek personification of harmony.
The Concordia Festivities took place on the day after the Rites of Feralia, during which the spirits of the departed were believed to be abroad in the world, hovering above their graves. Offerings and provisions were left for them at their resting places on this day, which was the last day of the Roman year for placating the spirits and moving onto the Rites of Concordia the following day to honor the living.
We would like to offer the opportunity for all who are in attendance to observe their own Rites of Feralia on February 21st, make offerings for their dearly departed, and walk through the Colfax Theater threshold on February 22nd in the spirit of peace, harmony, forgiveness and love to honor the living here and now. There will be an altar erected in the theater for any intentional offerings that you may wish to bring in honor of your living loved ones, harmony, agreements, artistry and the GRAND OPENING OF THIS AMAZING HOUSE OF THE ARTS - THE HISTORIC COLFAX THEATER!
Save