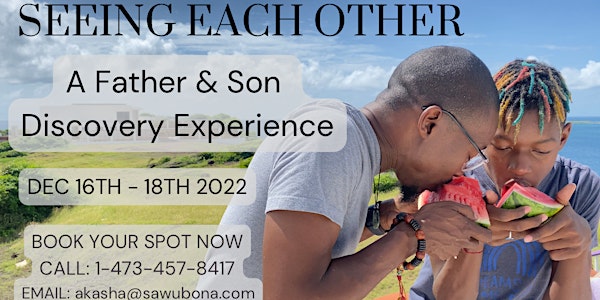 Rite of Passage Father & Son Retreat
Join Dr. Akasha, developmental coach and educator and son, Dakari, for a weekend father-son retreat.
When and where
Location
Mellow's Entertainment Complex Birch Grove Saint Andrew's, Saint Andrew Grenada
About this event
Sawubona - Seeing Each Other | Rite of Passage Father-Son Retreat | December 16-18, 2022
Join dr. akasha, developmental coach and educator and son, Dakari, for a weekend father-son retreat.
dr. akasha and Dakari believe in a world where all people can fully access and express their gifts and genius in service of their developmental journey. They also believe that fathers and sons can partner well together in doing the work to improve their lives, relationships, and community.
This father-son duo will apply wisdom of the ages, insights from their own experience, and proven principles from psychology and spirituality to facilitate an experience that engages and supports other men and boys in transitioning to the next phase of their development. This experience will be a gateway to authentic manhood, which in turn leads to a life of joy, service, wisdom, and passion.
This rite of passage experience is about initiating our teenage boys into manhood. It is one of the most important actions we can take as a society. Boys will be initiated. Period. If we don't guide them they will initiate themselves in harmful and isolating ways.
Through this weekend residential rite of passage experience, fathers will stand witness as their sons take an intentional step into expressing healthy manhood. This experience is not just for sons, though. It is for fathers too, to answer the call (again?) to be the man and the human being that helps others flourish. Together, fathers and sons will listen to see each other, learn, grow, and take the next step towards navigating life choices and transitions purposefully and consciously.
This is one of the most powerful gifts you can give to your son, another boy in your life, to yourself, and to our larger Grenada community. And, there is still space in this year's Seeing Each Other Rite of Passage Retreat, December 16-18, 2022. Sign up now, or contact Sam with any question.
We look forward to being in community with you soon!
XCD350 (USD130) - Includes meals and lodging
XCD120 (USD45)- Day-pass (day experience meals inclusive)
*Partial Scholarships available
THIS RETREAT IS AN OPPORTUNITY TO:
Say yes to supporting and expressing healthy forms of masculinity
Create for yourself a thrilling new adventure that will provide renewed energy and focus.
Engage your ability to create something new, powerful, and valuable with your son and other men
Increase your ability to connect and create authentic relationships with others
Generate support to activate and further fulfill your dreams
DURING THIS RETREAT YOU WILL:
Enjoy delicious local food
Water Rafting
River Tubing
Karaoke
Hiking
Spend quality time creating something meaningful with your son
Experience a safe space to explore and learn with others
Engaged in professional and supportive coaching conversations
Have a lot of fun