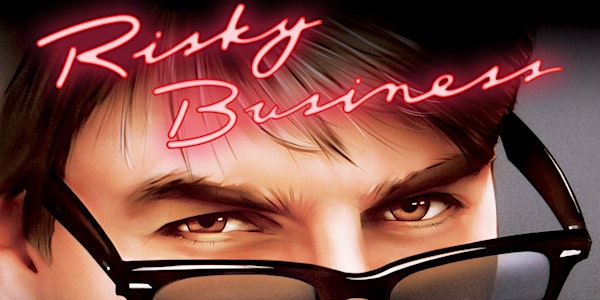 RISKY BUSINESS (R)(1983) Drive-In 10:55 pm (Sat. Apr. 24)
RISKY BUSINESS (R)(1983) Running time of 1 hour and 39 minutes. Rated R for profanity and sexual themes.
When and where
Location
Gardena Cinema 14948 Crenshaw Boulevard Gardena, CA 90249
Refund Policy
Refunds up to 1 day before event
Eventbrite's fee is nonrefundable.
About this event
Risky Business is a 1983 American teen sex comedy film written and directed by Paul Brickman (in his directorial debut) and starring Tom Cruise and Rebecca De Mornay. The film covers themes including materialism, loss of innocence, coming of age, and capitalism. Best known as Cruise's breakout film, Risky Business was a critical and commercial success, grossing more than $63 million against a $6.2 million budget.
The film opened in 670 theaters, with an opening weekend gross of $4,275,327. It went on to gross a total of $63.5 million domestically.
Risky Business was acclaimed by critics. It is also considered by many as one of the best films of 1983. Janet Maslin, in her 1983 review of the film for The New York Times, called it "part satire, part would-be suburban poetry and part shameless showing off" and said the film "shows an abundance of style", though "you would be hard pressed to find a film whose hero's problems are of less concern to the world at large." She called De Mornay "disarming as a call girl who looks more like a college girl" and credits Cruise with making "Joel's transformation from straight arrow to entrepreneur about as credible as it can be made."
The film holds a 92% "Certified Fresh" rating on the review aggregate website Rotten Tomatoes based on 49 reviews, with the site's consensus stating; "Featuring one of Tom Cruise's best early performances, Risky Business is a sharp, funny examination of teen angst that doesn't stop short of exploring dark themes".
Variety said the film was like a "promising first novel, with all the pros and cons that come with that territory" and complimented Brickman on "the stylishness and talent of his direction."
In 2015, the film was #31 on Entertainment Weekly's list of the 50 Best High School Movies. The magazine called the film a "sharp satire of privileged suburban teens", portraying the "soul-crushing pressure to be perfect."
In the years since the film's release, the iconic scene featuring Cruise's character sliding across the floor, dancing in just his pink shirt, socks, and white briefs to Bob Seger's rendition of "Old Time Rock and Roll" has been recreated in episodes of many television series, as well as in films, parodies, and advertisements. The song was #100 on AFI's 100 Years ... 100 Songs list.
PLEASE PURCHASE ONE (1) TICKET PER VEHICLE.
ONE (1) vehicle admission ticket COVERS EVERYONE IN YOUR VEHICLE!
FAQ's
WHAT TIME DOES THE MOVIE START?
Movie starts at 10:55 PM.
WHAT TIME CAN I ARRIVE?
Gates will open at 10:25 PM.
HOW DO THE NEW LA COUNTY COVID RESTRICTIONS AFFECT OUTDOOR CINEMA?
Gardena Cinema hopes to provide a safe and fun environment for all of our patrons. Sit back, relax, and enjoy a safe night out, with us. Please wear a mask when not inside your vehicle.
WHERE DO I PARK?
Cars will be placed on a first-come, first-served basis, one car at a time, and in sections based on size of car and desired style of viewing. We have mapped out the back-lot to allow for sedans in front rows and tall cars/SUV's/Trucks in the middle to back rows. An attendant will be available to direct you on where to park. We have accommodated so that every guest has a great viewing experience.
WHERE IS GARDENA CINEMA?
Gardena Cinema is located at 14948 Crenshaw Blvd, Gardena, CA 90249.
HOW DO I REDEEM MY TICKET?
Upon purchase, ticket will be emailed to you as a PDF attachment from Eventbrite. When you arrive to the event, please show the entrance attendant the bar code on your ticket through your car window, either by holding up your printed version, or by displaying it on your phone or smart device. Attendant will scan it to check you in, and you'll be good to go!
DO I NEED FM RADIO IN MY CAR?
YES! This is a outdoor Drive-In event, with no outdoor speakers. In fact, our drive-in cinema city permit expressly disallows outdoor speakers, so if you bring your own speakers, please have them at a low level so as not to disturb our neighbors. There are homes next to our parking lot and we would like to keep our drive-in cinema permit going by being good neighbors. The film's soundtrack will be accessible exclusively through your car's FM Radio, for maximum social-distance safety. We will provide you with the FM station upon arrival. Make sure your car has an FM radio so you can hear the film! If you do not have a radio, we lend portable radios for the duration of the movie for $5 and your ID Card. PRO-TIP: Some personal speakers also have FM radio built in, and are allowable as long as volume remains reasonable. Such a cool experience!
CAN I BRING FOOD / SNACKS?
YES! Your car is your screening room -- so bring all your favorite screening room snacks and munchies! Gardena Cinema's lobby will also be open, with FRESHLY popped popcorn, drinks, nachos, hot dogs, candies, and more! Please be sure to pay the lobby a visit and remember to wear your protective face mask.
We don't imagine any of you would, but we have to ask that you don't discard your trash out the window. (It's happened...) We want to keep these fun events going, so please help us keep the grounds tidy! There will be trash and recycle stations if needed.
WILL YOU HAVE RESTROOMS?
YES! Gardena Cinema's lobby and restrooms will be open. As our approval of this event is based on our assurance of safety, we ask that folks wear protective masks when leaving your cars for any reason, including to use the restroom. Attendants will be on hand to keep those restrooms sanitized. Social Distancing is a must, at all times.
MAY I BRING MY PET WITH ME?
Bringing your best friend only enhances the experience for you and we aim to keep you as comfy as possible. We ask that you keep your pet inside your vehicle during the movie. As long as you ensure your pet is properly trained and does not disturb neighboring guests while in the Drive-In. Please remember to keep the pets away from other guests. PETS ARE NOT ALLOWED INSIDE THE ACTUAL CINEMA BUILDING, (where restrooms and snack bar are located).
CAN WE BRING LAWN CHAIRS AND SIT OUTSIDE IN FRONT OF MY VEHICLE?
Unfortunately, safety COVID guidelines prevent us from further allowing any guests to sit outside the boundary of their vehicle. Besides, you get such a better view sitting up top a little higher, rather than sitting low to the floor. Please plan accordingly, as we will be politely enforcing this rule, for everyone's safety.
CAN I SIT IN MY TRUCK BED?- OR -CAN I THROW THE HATCH OF MY HATCHBACK UP AND SIT IN THE BACK TO WATCH THE SHOW?
- Guests are allowed to sit in their truck beds, so long as they keep their protective masks on.
- Raised hatches proved quite obstructive to rows of cars behind them in viewing the screen. You will be asked to park either to the sides of our car staging area, or along the back rows. And -- like truck-beds and convertibles -- if your hatch is open, we ask that you keep your masks on.
WILL YOU BE HOSTING MORE OF THESE?
YES! We intend to continue curating and programming some of the BEST cinema in Los Angeles County! We provide an intimate Drive-In style setting. Please support by following us on Instagram and Facebook -- we'll keep you posted on our screenings and events! @GardenaCinema
Follow us on Facebook and Instagram @GARDENACINEMA.