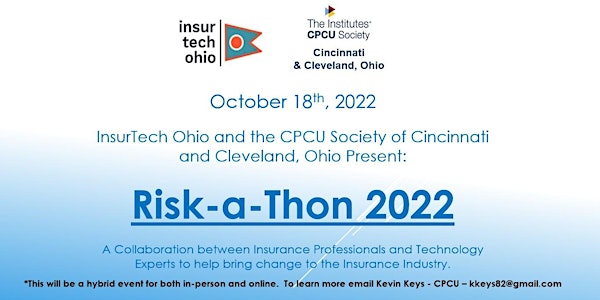 Risk-a-Thon 2022
CPCU Professionals from Ohio are joining with the InsurTech Community to help build bridges and bring change to the Insurance Industry.
About this event
Join us on Tuesday, October 18th, as we bring together Insurance Professionals from the CPCU Society Chapters in Ohio along with a handful of InsurTech companies as we look to help bring change to the Insurance Industry through technology.
This event will bring together InsurTech companies that are starting out and are looking to make an impact in the insurance industry by sitting down and working with insurance professionals from the CPCU society to help understand what the InsurTechs are looking to achieve and how the wealth of knowledge the CPCU Society has that can be used to help these InsurTech Companies become more successful.
The online viewing event will begin at 2:30 and will consist of the InsurTech companies presenting to the audience, both in-person and online, what they are looking to achieve and how working with CPCU Professionals during the event help them better understand what they can achieve in the insurance industry.
This is the first time this event will be held in the United States after having found success being held in Europe.