Actions and Detail Panel
Rise! Youth Leadership Conference
Sat, April 22, 2017, 1:00 PM – 5:00 PM PDT
Description
RISE! YOUTH LEADERSHIP CONFERENCE 2017
Providing a glimpse of hope and a dash of inspiration, one youth at a time!
Realize how unique and talented you are.
Imagine, dream, and prepare for your journey.
Start from where you are now.
Explore community resources, opportunities, and areas of service.

If you are between the ages 14-24 years old and are not accomplishing the things that are important to you or you're not achieving what you desire in life, come and join us!

On April 22, 2017, Rita Zayas, a certified John C. Maxwell coach, trainer, and speaker will teach teens and young adults become bright leaders and change makers. Join us at the National Steinbeck Center as we host the RISE! Youth Leadership & Empowerment Conference in support of the John Maxwell Team Global Youth Initiative.
The John Maxwell Team Global Youth Initiative will reach 500,000 young people in large cities, small towns, and villages internationally. As parents, teachers, and leaders, you have an opportunity to participate in a world-changing youth movement that will empower our children to make a greater impact on the world!
Objectives:
To equip, inspire, and empower you to:
Discover your leadership potential;

Develop

personal character and strong

values;

Lead

others through wisdom, vision,

and making

good

choices;

Nurture

healthy

relationships.

Community

Resources: Discover what is at your fingertips!
Who should attend this conference?
all youth between the ages of 14-24

foster care youth advocates, supporters, and parents

leaders of non-profit organizations that work with youth
THE FUTURE LIES IN YOUR HANDS!

Grab your seat now!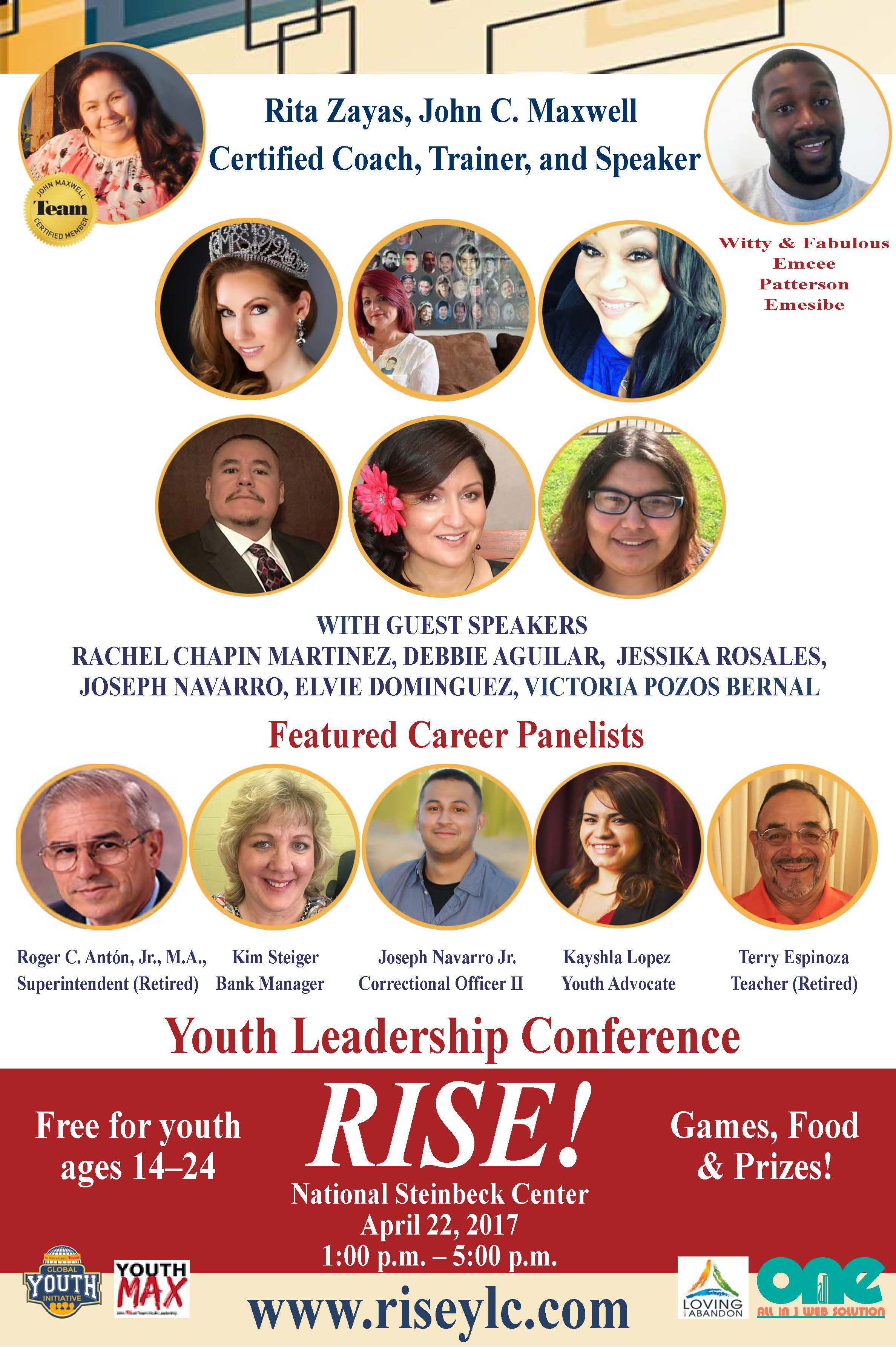 ---
FAQ'S
When is the RISE! YOUTH LEADERSHIP CONFERENCE?
Saturday, April 22, 2017
Which room will the leadership conference be held?
Salinas Room
Do I need to buy a ticket to the event?
No, this is a non-profit event open to ALL youth, ages 14-24.
Can I attend the event without a ticket?
To receive a goodies bag, you are encouraged to register through Eventbrite before April 8, 2017.
What do I need to get into the event?
You will be required to show your Eventbrite ticket when picking up your conference package.
Will you be mailing me my ticket?
No. After you register, your ticket will be emailed to you.
Will this event sell out?
We have limited seating (150); therefore, you are encouraged to register early.
What if I lose my ticket?
If you lose your Eventbrite ticket, please visit our check-in table on site. We will have a list of registered attendees.
What if I cannot make the event?
If you cannot make the event, please email riseylc@gmail.com and let us know.
On the subject line add: CANCELLATION
Can I take pictures or video?
Pictures are allowed with prior consent. Not everyone may want to have their picture taken so please ask them first. Please be respectful of others in regards to how and where you take your pictures.
Can I bring food or drinks?
Outside food and drinks are not allowed. There will be a water station along with some snacks. Old Town Salinas also has many delicious places nearby to grab something to eat.
Is there parking available?
At the National Steinbeck Center, there is a city parking structure along with some street parking.
Can I volunteer to work at the RISE! YOUTH LEADERSHIP CONFERENCE?
Yes. Volunteer applications are available. Please contact us at riseylc@gmail.com
Is there a co-partnership for this event?
Yes, Salinas Valley Community Church is our co-partner. Website address: www.svcc.net