Description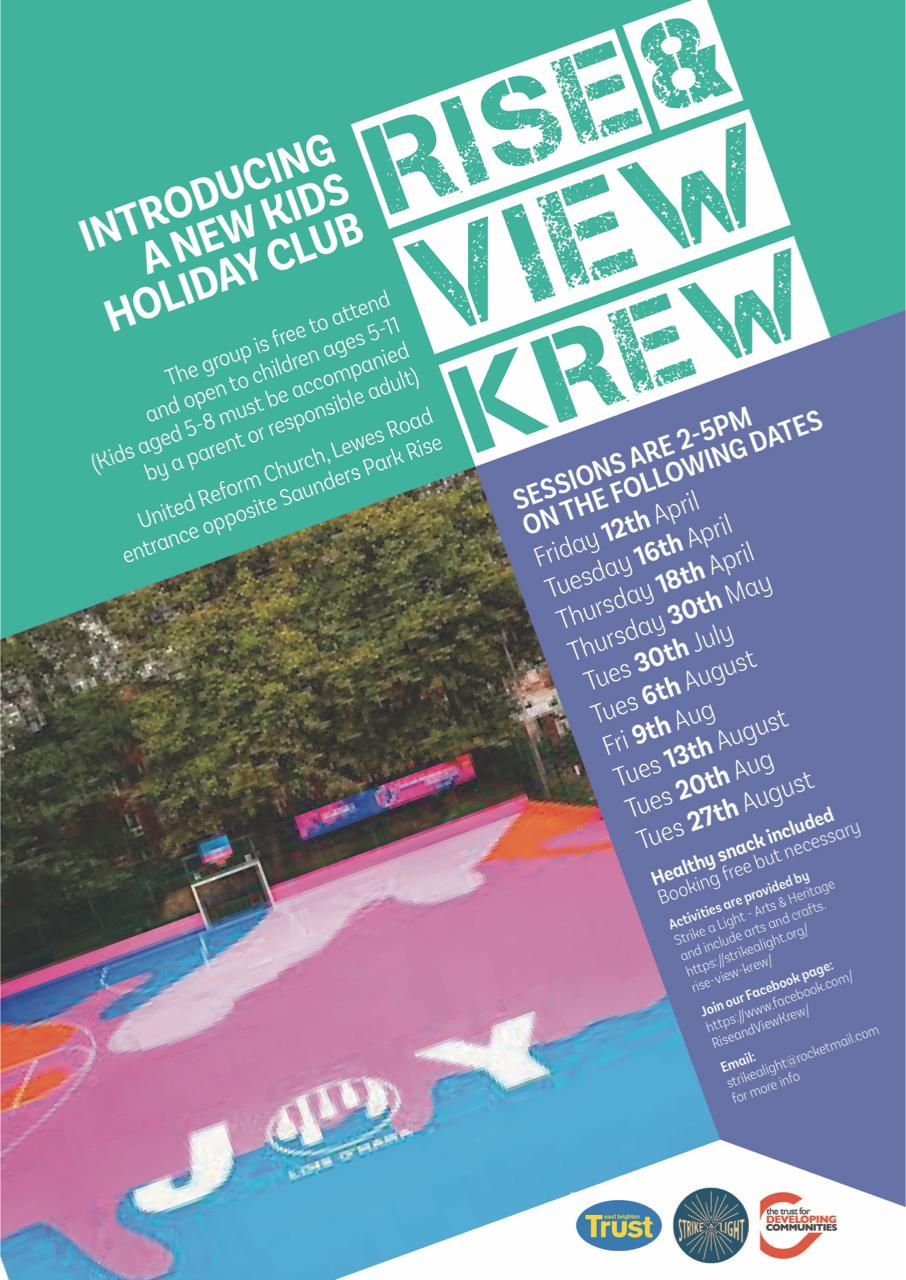 Introducing a new kids holiday club - Rise & View Krew
The group is free to attend and open to children ages 5-11 (must be accompanied by an adult or carer ages 5-8) who are residents.
Activities are at the United Reform Church, Lewes Road, entrance opposite Saunders Park Rise.
Sessions are 2-5pm on the following dates.
1. Friday 12th April
2. Tuesday 16th April
3. Thursday 18th April
4. Thursday 30th May
5. Tues 30th July
6. Tues 6th August
7. Fri 9th Aug
8. Tues 13th August
9. Tues 20th Aug
10. Tues 27th August
Activities are provided by Strike a Light - Arts & Heritage and include arts and crafts. Sessions include a healthy snack.
Join our Facebook page: https://www.facebook.com/RiseandViewKrew/
Email: strikealight@rocketmail.com for more info.
Booking free but necessary
Organizer of Rise & View Krew Holiday Club - Session #10
Strike a Light is a Brighton based arts and heritage organisation which focuses on people's life stories and local memories to engage a wide range of groups and individuals in creative and heritage activities, encouraging engagement and outreach as well as involving memories and archive material and workshops; making art to transform public and private spaces.
As a skilled and professional organisation with a team of independent associates, we offer a varied team to deliver projects, activities and support for heritage venues, arts organisations, archives, educational settings and local authorities.
We do this through funded activities, reminiscence and oral history, hidden heritage, mosaic and crafts as well as more strategically with: Audience development planning, access, audience development, evaluations, learning plans and schools engagement.