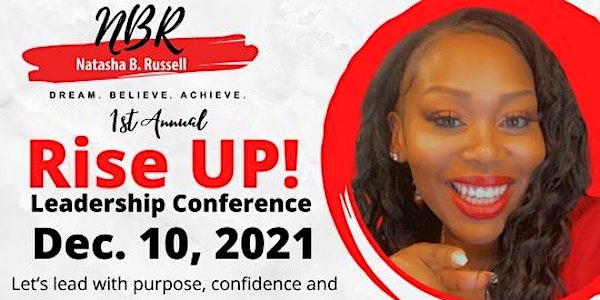 Rise Up! Virtual Leadership Conference
This event is for entrepreneurs, start ups, business owners and CEOs who want to improve their leadership skills and business performance.
Refund Policy
Contact the organizer to request a refund.
Eventbrite's fee is nonrefundable.
About this event
Why Should You Join?
Join us to be inspired, motivated and empowered to lead with more confidence, purpose and clarity to accomplish your entrepreneurial goals and dreams by learning effective and proven strategies to help you achieve greater success on a personal, professional and business level.
You will receive a private Zoom link with workshop materials included 48 hours prior to the event start time.
What Will You Learn?
You will learn key strategies to develop your leadership skills and improve your business sales performance from four brilliant, positive and engaging speakers with respect to the following topics:
1. Understanding Legal (The Legal Basics for Online Businesses, Coaches and Entrepreneurs)
2. Sales and Marketing Strategies (How to sell with confidence and attract and retain life-long customers/clients)
3. Funding and Financing (How to obtain funding and financing to start/sustain your business venture)
4. Vision and Leadership (How to lead with purpose, confidence and clarity)
5. How to create an effective Vision Board (Create your 2022 goals for every area of your life)
6. Strategy & Personal Development (How to create an effective strategy to achieve your personal, professional and/or business goals)
What Will You Gain?
- the opportunity to meet other like-minded, driven and successful leaders and entrepreneurs and build mutually-beneficial relationships.
- learn proven techniques to support you in accomplishing your entrepreneurial goals and dreams using effective legal, marketing, sales, branding and funding techniques.
- learn how to build your confidence, maintaining a positive mindset and achieve your goals one step at a time.
Each attendee will receive a copy of NBR's Strategize for My Success! E-Workbook along with materials and instructions to create an effective 2022 Vision Board and high-level strategic plan to support you in achieving your goals and dreams!!
You will also have a chance to win a private, 90 minute one-on-one, coaching session with NBR valued at $500, along with other door prizes.
About Our Brilliant Speakers:
Keynote Speaker: Natasha B. Russell, BCMM,PCC
Natasha B. Russell, BCMM, PCC (NBR) is the Founder and CEO of NBR Strategic Solutions. She was born and raised in Calgary, Alberta Canada, loves to spend time with her family, travel and volunteer with organizations who support the youth. Her business offers coaching, speaking and consulting services to support aspiring entrepreneurs, business owners, corporations and non-profit organizations with achieving their business goals.
She is a Confidence Communications and Public Relations Expert, International Certified Health and Life Coach and Certified Motivational Speaker, who is passionate about supporting individuals and organizations in achieving greater success, using effective coaching strategies. NBR obtained a Bachelor of Communications in Public Relations with honours from Mount Royal University and has additional certifications in life coaching, health coaching, motivational speaking, crisis and risk communications and online reputation management.
With more than 17 years of professional communications and public relations experience working within the legal, agency and energy sector, Natasha continues to pave the way with optimism, knowledge and charisma. She has done several TV, print and radio interviews on behalf of large corporations to get their brand and key initiatives in the public eye, and recently launched her own online talk show in May, 2020, The NBR Show via Instagram & Facebook Live to support entrepreneurs with getting their brand in the public eye.
As a Transformation Coach, Natasha specializes in mindset, confidence communications, healthy habits, clarity and strategic planning coaching. Additionally, she enjoys hosting events to empower women and men to achieve greater success in life and business. To learn more about the speaking and coaching business side of NBR, please visit, http://www.natashabrussell.com/.
Natasha is passionate about mentoring our youth, volunteering and creating partnerships with like-minded organizations who provide personal and professional development growth opportunities and support for youth in need. She is on a mission to make this world a more loving, safe and accepting place by transforming as many lives and businesses as possible for the better, from the inside out.
To book a complimentary 30 minute discovery chat with NBR, visit: http://www.natashabrussell.com/book-with-me.html and get started on your personal journey to achieving greater success, according to your standards!
"Lead with purpose, confidence and clarity!" is Natasha's Motto.
Guest Speaker: Elena Favaro Viana
Elena is the founding and managing partner of EFV Legal, a boutique law firm specializing in online business law. Elena is also the founder of Contracts for Entrepreneurs, an online shop that sells a collection of industry specific legal contract templates at affordable price points. Elena is on a mission to professionalize the online space one contract at a time!
Guest Speaker: Michael Siervo
Michael was born and raised in Toronto, Canada and is a well-known business man, entrepreneur, author and philanthropist. He became the youngest and first visible minority to hold a Vice President Title at one of the world's largest financial institutions and has been recognized as one of top business minds in the industry. He has won the prestigious Manulife Emerald Award in 2013 and 2015 for top sales performance. In 2017 he won the Sun Life Global Investment Leadership Award. He currently sits as the Director for Wealth Sales at the largest wealth management firm in Canada. As an entrepreneur he has several business ventures ranging from automotive, real estate, restaurants, fashion and digital marketing. He has helped mentor many entrepreneurs and executives throughout his career. Michael earned his Certified Coach Practitioner designation by the Certified Coaches Federation.
In 2018 he helped found the Filipino Chamber of Commerce Alberta and sat as the inaugural Co-Chairman of the Board. In 2018, The True Beauty Foundation, a charity that focuses on supporting cancer survivors recognized him with the Community Spirit Award. He has spoken on hundreds of stages as a keynote speaker, subject matter expert and motivational speaker. In February 2019 Michael was the keynote speaker at the inaugural Pinoys on Parliament in Ottawa, Canada. In 2019, he represented Canada at the Global Generational Leadership Summit which featured leaders from over 40 countries. Later that year he was recognized by Empowered Media TV for Community Advocate Award. In September 2019, we became the first and only multi-award winner for the prestigious Golden Balangay Awards as Executive of the Year and World Vision Community Leadership Award. This awards recognizes the top Filipino Canadians in Canada. He sits as an ambassador for Gems For Gems, a national charity that focuses on supporting women of domestic violence. He was recently appointed by the United Way as a 2020 Founding Leadership Ambassador. Along with his wife Vivienne, he is the benefactor for the Michael and Vivienne Siervo Scholarship Fund administered by the Calgary Bridge Foundation for Youth. This award helps provide financial support for immigrant children looking to advance their post secondary education. Whether it's a fashion show, cancer fundraiser or food drive, Michael is actively involved in his community. Michael is also published author and was featured in the book, Best Advice for Public Speakers with Bob Proctor. He is releasing his first book called "F*CK IT. Let's Pivot: How to get knocked down by a pandemic, adjust accordingly and come out on top". This book will be featured in Chapters Indigo, Barnes & Noble and Amazon in July of 2021.
In 2021, seeing the negativity on social media Michael decided to launch the podcast "Ready, Set, RISE" which features inspirational individuals and stories. His guests include CEOs, entrepreneurs, Olympians and amazing individuals for great things. Despite business and personal success, Michael believes in staying down to earth and level headed. Confident humility is his motto. When asked about important questions Michael has been known to say that his religion is Kindness, this political view is empathy, his cure to anything is humour and his favourite superhero is Ironman.
Guest Speaker: Dennis Agbegha
Dennis Agbegha currently works as a Commercial Accounts Manager with BDC, a role he started in March 2021. Dennis joined BDC from ATB where he enjoyed success since 2017. He started at ATB as a Business Banking Advisor and until most recently Senior Manager, Entrepreneurship. Prior to his banking career, Dennis was a Geoscientist with Exxonmobil where he worked on multi-billion-dollar projects. Before that he was a Production Geologist with Shell Upstream International in Nigeria. Outside of the office, Dennis enjoys volunteering for different organizations and also loves being a snow angel. Dennis holds a Bachelor of Science in Geology and Mining from the University of Jos, Nigeria as well as a Master of Science in Petroleum Geoscience from Imperial College London, UK.
Join us Leaders to be inspired, motivated and empowered to take your life and business to the next level of success!
The VERY best is yet to come,
NBR