Sales Have Ended
Registrations are closed
Online registration is now closed. Please join us onsite.
Sales Have Ended
Registrations are closed
Online registration is now closed. Please join us onsite.
Description
NAWBO Diversity Statement: In principle and in practice, NAWBO values and seeks a diverse and inclusive membership. NAWBO seeks full participation in the organization by all business owners who support our mission to empower women entrepreneurs, regardless of race, religion, age, sexual orientation, national origin or disability. NAWBO's goal is to effectively represent the full diversity of the women business owner community and to expand access to leadership opportunities across the full spectrum of our membership.
At NAWBO Phoenix, we recognize that there is a wealth of women business owners that are not represented in our chapter and we want to change that. 1 in 3 women business owners are women of color; 5% of millennials are business owners.
Our goal is to have the members of our chapter represent the community at large. NAWBO Phoenix is focused on increasing diversity and fostering inclusion this year and we need your assistance to Rise Up!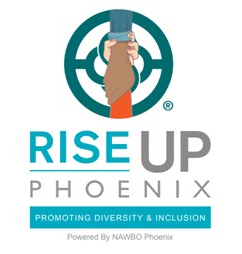 The Rise Up Program is a 5-month program targeted to attract a diverse group of women business owners, who want to grow their businesses, while also having conversations about the benefits of inclusion and diversity.
Join us on January 18th between 9:30 a.m. and 12:00 noon for another great discussion. Details coming soon.
NAWBO Phoenix is intentionally seeking to create a cross cultural and multi-generational community of women, to help strengthen the local economy.
Who Should Come to Rise Up?
Women business owners in the infancy stage of their business who are seeking to be part of a community where they can be supported.

Women business owners beyond the infancy phase of their business who would like to belong to a national group that builds strong alliances among each other and seeks ways to create change in business culture. This program is for you as well.

Men who support the mission of women business owners.
The Rise Up Program is:
An opportunity to apply for one of eight scholarships for NAWBO membership.

Access to greater networks of diverse individuals and businesses in the greater Phoenix area.

Opportunities for business growth and learning.

Ways to interact with others who have been where you are in your business ownership.
Rise Up with NAWBO Phoenix as we seek to transform our local and national influence!
January 18th Meeting:
Resource Month!
Have you heard about all of the great resources across the Valley of the Sun that are here to help you grow your business? Chances are you have, but don't know who they are and where to find them.
Join us for a morning of sharing information and connections within six organizations what are here for you and your business.
We'll hear about grants, funding, business consulting, workshops, connections you can make, and places you have access to.
Our Panel Includes:
Kristin Slice, MA -- Business Analyst; Arizona Small Business Development Center (AZSBDC)
Mary Gruensfelder-Cox -- WBC Director; Arizona Women's Education and Entrepreneur Center, An affiliate of A New Leaf
Marie Gonzales -- Grant & Scholarship Chair, Women's Enterprise Foundation
Natalia Ronceria -- Business Coach, Chicanos por la Causa
*NAWBO National statistical data for Women Owned Businesses.
* 2014 State of Women Owned Businesses
Save This Date:
February 22nd – Bringing Technology & Systems to Your Business
Location: Better Business Bureau, 1010 E Missouri Avenue, Phoenix, AZ 85014
Time: 9:30 a.m. to 12:00 noon
Thank you to the Better Business Bureau for sponsoring the Rise Up! Program!