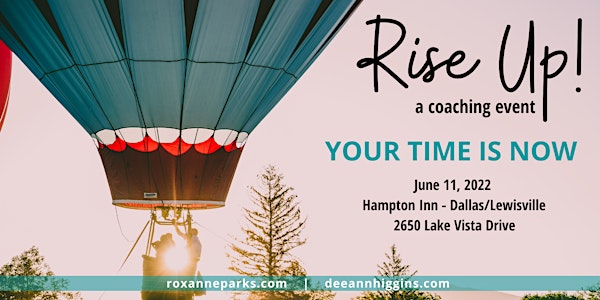 Rise Up! A coaching event. Let's breathe deep and reset for a new launch.
Rise Up!
When and where
Location
Hampton Inn and Suites Dallas/Lewisville - Vista Ridge Mall (972) 315-3200 2650 Lake Vista Drive Lewisville, TX 75067
About this event
RISE UP! An interactive coaching day designed to provide a fresh and encouraging way to breathe deep, reset and Rise Up!
Is RISE UP! for you?
IF:
~ you are in transition - empty nest, new city, new job, change in relationship status
~ your only options are TRY HARDER or GIVE UP
`~ you are ready for something 'more' - as in more happiness, more joy, more self-awareness
~ you feel stuck or held back and you don't know WHAT is holding you back or WHY you are held back
~ you desire more freedom to be who God created you to be
~ you feel overwhelmed and need a lifeline.
~ you want clarity around your next steps in life
Then RISE UP! is for you!
An event for women to step into who they are created to be.
What is a Coaching Day?
NOT a 'sit and listen' day! This is a day for you to participate in your own perspective shifts and grow in your own self-awareness.
You will learn:
~ how to put your brain to work FOR you instead of against you
~ how shame impacts you and what to do about it
~ evaluate your Life Satisfaction rating
~ discover your own Freedom Equation
~ create your own personal steps to
The NEXT BEST REST of your life!
While this is a faith-focused event, all women are welcome!
For more information or if you have any questions, email either of us at: Roxanne or Dee Ann.
Location:
2650 Lake Vista Drive
Lewisville, TX 75067
Special Event rate of $89/night. Direct link to register:
Schedule:
Doors open at 8:30 am.
Event begins at 9.
Lunch is provided.
Event ends at 6:30.
"Add-On" Ticket - 8-10 pm. After enjoying dinner on your own, return to the hotel for a smaller group coaching conversation with Roxanne and Dee Ann. It's your chance to ask specific questions about what you learned during the day. You must select this option when you order. Cost is $25.
Join us!
Click TICKETS to register now.
Seating is limited.
FAQ:
Click HERE to learn more about Roxanne. Click HERE to learn more about Dee Ann.
1. I am coming from out of town, where can I stay?
The event location is at The Hampton Inn - Lewisville, in the Dallas Metroplex. We have a block of rooms available at the event special price of $89/night. This price is available until rooms fill up or until May 11. Call the hotel directly. 2650 Lake Vista Dr., Lewisville, TX 75067.
Hampton Inn Lewisville - Phone: (972) 315-3200 (Mention RISE UP to get the discounted price.)
2.Can I bring my child or nursing baby?
Although we LOVE children and babies, they are not invited to this event.
3. Is childcare available?
At this time, childcare is not available.
4. What if something comes up and I cannot make it to the event, can I get a refund?
While not refundable, your ticket is transferable in two ways. 1) You may sell or give your ticket to another person. When they check in at the event, just tell them to check in your spot. 2) You may apply your ticket purchase to a future event.
5. Is there a hotel discount available?
The hotel discounted price of $89 is available at the Hampton Inn Suites Lewisville until either rooms run out or May 11. Mention the RISE UP! event when you call the hotel to secure your room. (TIP: If you are booking your room after May 11, go ahead and ask for the discount. If rooms are available, you will likely get that price.) BE SURE TO MENTION THE RISE UP! EVENT.
6. Is there a way I can share a hotel room with someone?
If you want to share a room with another attendee, email Dee Ann. (deeann@deeannhiggins.com) She will try to provide an opportunity to help you share a room. However, it is NOT a guarantee that it will be possible. For those sharing rooms, the reservations and room payment will be your responsibility.