RISE Seattle 2016

Thursday, March 24, 2016 from 7:00 AM to 9:30 AM (PDT)
Event Details
RISE! It's a New Design Day.
Talking to Strangers: The Value of Human Connection 
Connect with professionals from the design and business communities at this inspirational breakfast keynote featuring the insights of nationally recognized thought leaders from within and beyond the design industry. Each year we seek to ignite interdisciplinary innovation and invite our guests to be inspired in their creative practice. 
This year's keynote presented by Danny Harris! 
Danny Harris was your typical grey-suited Washington, D.C. bureaucrat, trying to save the world, until his panic attack in July 2012. After years of being disconnected from his neighbors and city, he set off on a journey to meet his city – interviewing a stranger every day for 1,000 days. The outcome of his work, People's District, became an international sensation and led to scores of similar blogs around the world. Since People's District, Harris has devoted his life to helping people tell powerful stories and build meaningful communities. A serial entrepreneur, storyteller, community hustler and city enthusiast, he uses everything from the dinner table to urban design to lower the barriers to entry into dialogue, collaboration and action in communities around the world. His presentation focuses on the vital role that knowing and talking to strangers plays in shaping successful ventures, and most importantly, living a meaningful and connected life.
Reserved tables are for table purchasers only. Individual tickets will be open seating and marked accordingly. If you would like to purchase a table with seating for 10 please contact:
Jill Lee- VP of Signature Events, IIDA NPC | iidanpc.events@gmail.com | 206.240.9633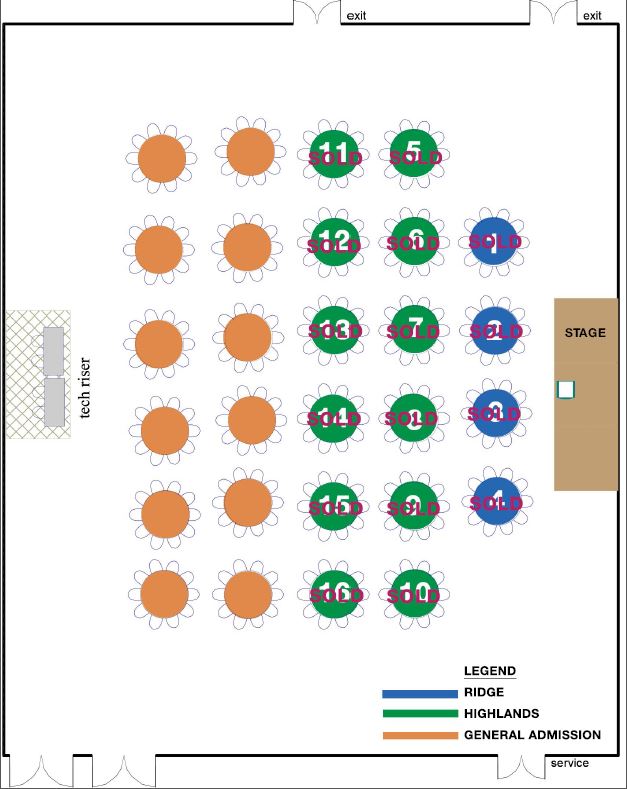 *Table layout subject to change based on table sales.
Summit Table - $3010
Ridge Table - $2010
Highlands Table - $1210
Sound (General Admission/Open Seating)