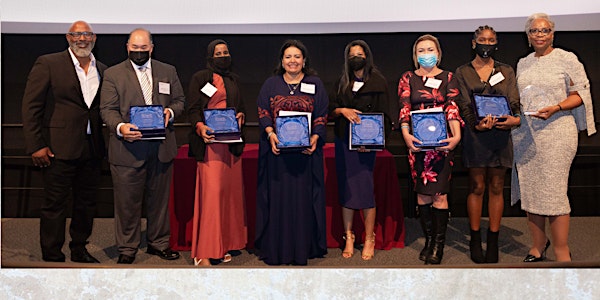 RISE San Diego 2022 Inclusive Leadership in Action (ILIA) Awards
Celebrate community leaders with RISE at the 2022 ILIA Awards
When and where
Location
Fleet Science Center 1875 El Prado San Diego, CA 92101
About this event
Join RISE San Diego on Monday, October 10th, as we honor and celebrate local leaders supporting the communities of San Diego at the Inclusive Leadership in Action (ILIA) Awards. Now in its sixth year, the ILIA Awards will showcase work that is making a real difference in the San Diego region.
The RISE ILIA Awards celebrates the work of the following community-nominated individuals and organizations throughout San Diego County in the award categories below:
Cecille Ahrens (Transcend Therapy Inc; Papillon Wellness Inc)
Catalina Beltran (Casa de Amistad)
Black Girls United
Kay Black (ONE1AFRICA)
Alec Calac (UCSD School of Medicine and Herbert Wertheim School of Public Health and Human Longevity Science)
Rose Davis (Indian Voices)
First Gen Scholars
Foundation for Developmental Disabilities
Lauren Balcita Garces (Social Artistry; Asian Business Association of San Diego)
Abdur-Rahim Hameed (National Black Contractors Association)
Rev. Shane Harris (S Harris Communications; People's Association of Justice Advocates)
Stephanie Lewis (San Diego College of Continuing Education)
Connie Lin (VIBE (Vertex Includes Boundless Ethnicities) Employee Resource Network; Vertex Pharmaceuticals)
Joanne Newgard (Doors of Change)
Gentry Patrick, PhD (UCSD School of Biological Sciences)
Khea Pollard (Jewish Family Service of San Diego; Café X: By Any Beans Necessary)
Tommy Ramirez (MAAC Community Charter School)
Dinora Reyna (San Diego Organizing Project)
Monica Rocha Leyva (Latinos y Latinas En Action)
San Diego Parks Foundation
San Diego Squared
Roshan Shah (VoicesGo; Westview High School)
SoCal PreApprenticeship
Kendall Stewart (San Diego Institute for Couples and Families; The Black Women's Collective)
Vertex Pharmaceuticals
Wakeland Housing & Development Corporation
Roosevelt Williams III (Young Black & 'N Business)
Tasha Williamson (Exhaling Injustice)
Youth Will
Dana Zimbric (Classics 4 Kids)
Collective Resilience Advocate
Honors an individual who has shown dedication and action to address and support a community's ability to come together to combat or resist adverse circumstances. It recognizes the work of fostering adaptation, growth, and resiliency within communities to more readily respond to and recover from problems together.
Community Change Agent
Honors an individual who has shown dedication and action to make real, sustainable, and systemic change through the creation of innovative programs, policies, platforms, or partnerships. It recognizes the work of assisting the community's ability to thrive in areas such as education, social enterprise, health, and wellness, or advocacy.
Co-presented with the University of San Diego
Culture Shifter
Honors an individual who has shown dedication and action in shifting the culture of organizations and communities alike. It recognizes the effort of guiding groups to face a new challenge, disrupt outdated or harmful norms, and become more reflective and responsive to the needs of the communities they serve.
Next-Gen Influencer
Honors an individual between the ages of 16 and 25. It recognizes the voices of young adults who have shown dedication and action within their communities and are growing into their roles as action-driven thought leaders.
Restorative Practitioner
Honors an individual who has shown dedication and action in fostering spaces of healing and compassion for others. It recognizes the commitment to restorative practices delivered with grace, empathy, and a strong ethic of care in support of diverse community groups.
The Anthony M. Medina People's Champion
Honors an individual who has been an advocate and champion for under-served or marginalized communities. It recognizes advocacy in words and in action to bring about meaningful change for the people. The award is named in honor of the late Anthony M. Medina, a RISE Urban Leadership Fellow and ILIA award recipient, who founded People's Legal Services to provide free and low-cost legal support to underserved communities.
Organization for Change
Honors an organization that has shown dedication and action to confronting challenges and spearheading opportunities to support and uplift San Diegans in meaningful and impactful ways. It recognizes the efforts of organizations and their teams to deliver exceptional programming and services for the communities they serve.
TICKETS
General admission is $75 per ticket. Sales end on October 3rd, 2022
SPONSORSHIP OPPORTUNITIES
For sponsorship opportunities, please email our team at events@risesandiego.org.