Rise of Eldrazi Special Draft

Saturday, December 22, 2012 from 6:00 PM to 9:00 PM (PST)
Event Details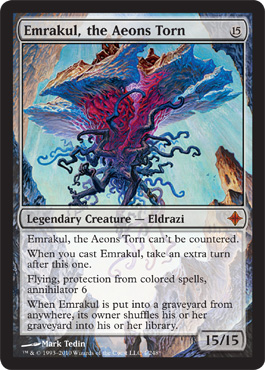 It's back...Ben's all time favorite set to draft  The Rise of the Eldrazi...beyond the big Eldrazi dogs, this set has some super tricky unblockable red cards that can get huge, defenders working together like a champ, and the super-fun levelers, cards that can get played for almost nothing and by the time they are done have transformed to little magic Superheros. (I just LOVE this set to draft.)
Remember...this one is limited to 12 people (the size of the box...) and the store owner counts so if you want in, make sure to sign up in advance.  This
If we get a cool old set, we'd rather have fun with them rather then just selling 'em off pack by pack.     Every 2nd and 4th saturday we'll be doing something weird and fun for the Magic crowd, so keep checking the site. 
Saturday,12/22/2012
Start time: 6:00. (or earlier if everyone is ready to go earlier.).
Limited number of players, (12...full box and all.)
Premium Draft Cost: $28 ($30 with sleeves)
Prizes-one pack per win of any current set.  We will play 3 rounds for prizes and then an extra top players round for top players who want the extra planwalker points and for pride of crawling to the top of the heap.
Organizer
D20 Games
Email: info@d20alameda.com
Website: http://www.d20alameda.com/organizer/d20-games/
Phone: 5105222109
Rise of Eldrazi Special Draft