Join the founder of RISE Nitro Brewing for a virtual tutored-tasting of a variety of their nitro cold brew coffees. Serves up to 4 people.
About this Event
THE EVENT IS SOLD OUT!
Rise and shine! What is nitro cold brew coffee? How is it made? Why does it taste so darn delicious? In this one-hour online event, join Jarrett McGovern, co-founder of RISE Nitro Brewing Co. for a virtual tutored-tasting of four different nitro cold brew coffees. Educational and entertaining, you will receive a Variety Pack (12 cans, four flavors, three cans of each) shipped to your home. This experience is fun to do with family or friends and can easily be enjoyed by up to four people at a single location. You'll also learn about how RISE coffees can be used for cocktails or smoothies.
A ticket ($29, serves up to four) to this online event includes the following:
• (3) 7 oz. cans of Original Black Nitro Cold Brew Coffee
• (3) 7 oz. cans of Oat Milk Latte Nitro Cold Brew Coffee
• (3) 7 oz. cans of Classic Latte Nitro Cold Brew Coffee
• (3) 7 oz. cans of Oat Milk Mocha Cold Brew Coffee
• Direct shipping to your home
• Access to the 60-minute virtual, interactive, tutored-tasting with Jarrett McGovern, conducted via video conference.
Note: while the samples for this seminar easily serves up to four people, all must be present to view together at one location. One access code is provided for each ticket purchased. All samples ship to one location.
Tickets are limited. Deadline to purchase is 5:00pm EST on February 5, 2021 or when maximum capacity is reached. Buy now to guarantee delivery and participation. Makes a great gift.
Although this virtual class is open coffee lovers nationwide, remember the class will be taking place at 2:00PM EST and be conducted in English. International shipping is not available for this event. Please refer to the FAQs below for additional information.
This virtual class is sponsored by RISE Nitro Brewing Co. & Coffee & Tea Newsletter.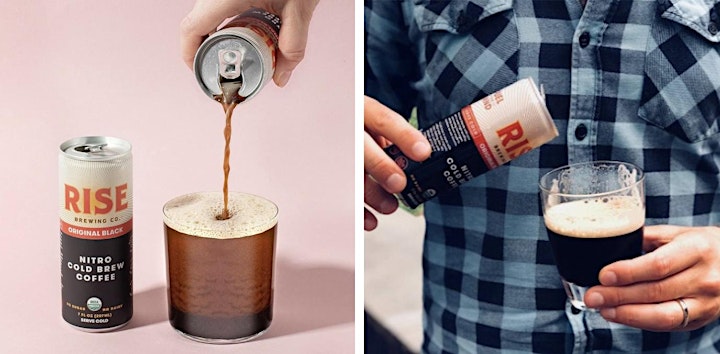 About the Presenter:
Jarrett McGovern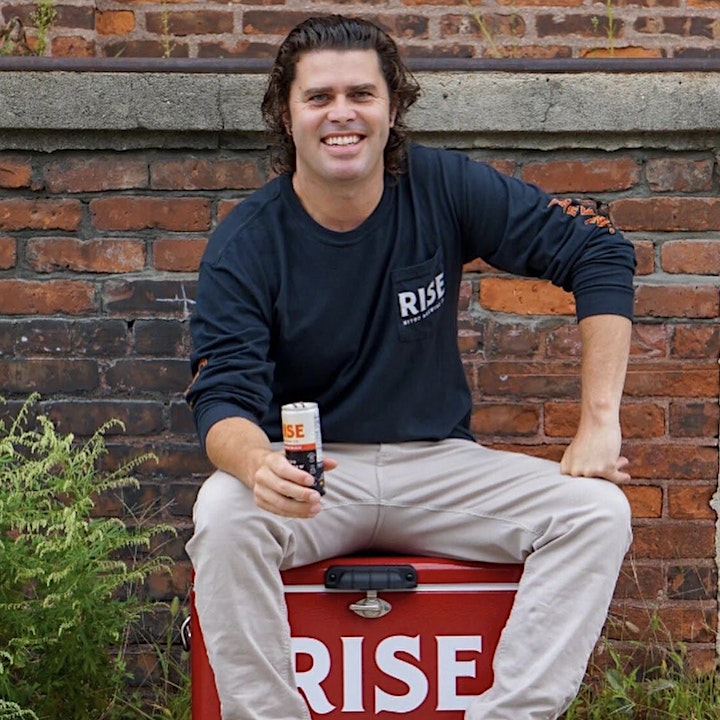 Jarrett McGovern graduated from Cornell in 2004 with a BA from the Arts and Science School. He moved to Miami to work with Miami Marketing Group and then went on to work for The Water Initiative. In 2014, McGovern started nitro cold brewing in his New York City apartment and co-founded RISE Brewing Co. with his two best friends Grant Gyesky and Justin Weinstein. Today, they brew and sell all Organic Nitro Cold Brew coffee and dairy-free Oat Milk Lattes nation-wide. Recently, RISE launched the nation's first line of all organic dairy-free Oat Milks. McGovern is married to Rose Anna McGovern and has two young children, Layla and Leonardo.

FAQ:
What is included in the ticket price? All tickets include access to the online event, the nitro cold brew coffees which you will be tasting and direct shipping to a single address.
Can I purchase the event ticket as a gift? Yes. Complete the bill to/ship to information when making your purchase.
How will the samples be shipped to me? The samples for this event will be shipped to the mailing address provided at the time of purchase by the event sponsor RISE.
Do these coffees contain caffeine? Yes, all contain caffeine. Unfortunately, there is not a caffeine-free option.
Where do you ship to? RISE can ship nationwide (USA). No international shipping at this time.
Can you ship to a PO Box? No. It is recommended that you provide your home address as your shipping address.
When will I receive the samples that is included with my ticket? We will close ticket sales on February 5, 2021 to ensure delivery to you on time. Your samples will be delivered 3-4 days in advance of the seminar.
I missed the cut-off date. Can I still get a ticket for the virtual class? No, unfortunately to guarantee delivery of the samples in time for the seminar, we must adhere to the strict cutoff date for enrollment.
How will you ensure the samples get to me in time? The ticket sales end date allows for ample processing time and ensures adequate shipping time to all participants.
I can't make the online event. Can I still purchase a ticket and get the coffee? Yes. If you can no longer attend the online event or simply are not interested in doing so, you can still purchase a ticket to receive the samples shipped directly to the mailing address provided. Please note that all sales are final and there are no discounts, refunds or exchanges should you not join the online event portion.
Will the online event be recorded? No. The event is best enjoyed live via participation link.
Can I buy more than one ticket? Yes, each ticket provides access to one individual buyer log-in and shipping to one physical address.
How do I join the online event? Prior to the online event taking place, you will receive a number of emails reminding you of the date and time. Within these emails will also be a link to the Online Event Page which has the video conferencing link to join.
Can I ask questions during the online event? Yes! We encourage you to ask questions but please do so using the chat feature. This will ensure we avoid people talking over each other and all questions can be answered. The chat feature is typically located in the upper right-hand corner of Google Meet.
How will you ensure the online event is a safe environment? We ask that all participants be polite and courteous. Starfish Junction and its sponsors/partners reserve the right to remove any participant from the video conference that is disruptive or behaving inappropriately with no refund.
Do I need to download special software or an app to participate in the video conference? The online event will be conducted via the video conferencing platform, Google Meet. You should be able to click the link provided and access the video conference in any web browser from a desktop computer or laptop. However, you will need to give permission to the browser to use your camera and microphone. If you would like to access the event on a smart device (smartphone, tablet, etc.) you will need to download the Google Meet app to the device you are using to access it. Note, in rare cases you may need to update your browser or computer. Be sure to test your accessibility a day or two before the online event.
Can I take part in the online event by phone only? Yes, a call-in phone number will be provided so you can attend via phone and participate with audio only.
What happens if I lose internet connection during the online event? If you lose internet connection and leave the video conference, simply click the link again to re-join.
Can you help me with my technical difficulties accessing the video conference? Yes, please email help@starfishjunction.com. It is important for you to try accessing the video conference before the day of the online event so we can fully assist you as we have some limitations.
Do I need to refrigerate the product when it arrives? The samples do not need to be refrigerated upon receipt but should be refrigerated 24 hours prior to the start of the event, it is best served and enjoyed cold.
Do I need anything besides the samples to participate? In addition to the samples being shipped to you for the tasting, you will need:
o four tasting cups per person enjoying the event with you
o crackers for palate cleansing
Date and Time
Location
Refund Policy