Rise Multiversity Workshop: Tools For Transition: Part III: Chakra Removal

Saturday, December 5, 2015 from 5:00 PM to 8:00 PM (EST)
Event Details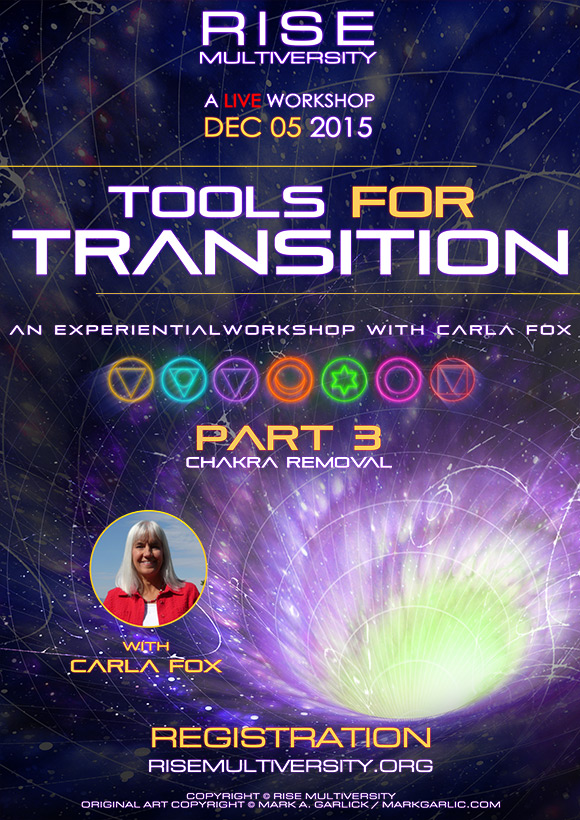 RISE MULTIVERSITY
PRESENTS A LIVE WORKSHOP


___________________________________________

___________________________

TOOLS FOR TRANSITION:
An Experiential Workshop With Carla Fox

~

Part 3: Chakra Removal

~



Your First Step In Attaining True Autonomy From The 4th Dimensional Matrix
____________

_____________________
SATURDAY, DECEMBER 5, 2015
5PM NEW YORK / 10PM LONDON / (6TH) 9AM SYDNEY
*Please read the Important section below before joining
____________

_____________________
Learn all about your chakra system, how to remove your own chakras, teach others how to do this, and how to check the success of the process by using a pendulum. This will be a workshop in the true sense of the word. Participants are requested to obtain a pendulum for the workshop, and I highly recommend a metal one as they test more accurately.

Carla will be addressing a sometimes controversial topic in Part 3 of the "Tools for Transition" workshops. Chakra removal is considered to be a necessity for those who wish to exit the 4th dimensional matrix at the end of their time here on planet earth. It is the start of the true journey to autonomy. Your chakras connect you directly to the 4th dimensional matrix and are energy portals by which negative programming can enter your energy field.  

Of course, there are positive aspects to the chakra system, too, and Carla will cover all of the pros and cons. She will then lead the participants in the chakra removal exercise.  You are under no obligation to remove your chakras at this time, but if you chose to do so, Carla will be checking chakra removal success on any participant who wishes verification of the absence of their chakras during the question and answer segment at the end of the workshop. You will also be making use of your grounding and expanded core essence during the removal process, so if you haven't participated in workshops Part 1 and 2, please go to the Rise Multiversity store and download those for review before the Part 3 workshop.

Carla's intent for this workshop is to assist those who are ready to remove their chakras, and also to assist participants in instructing others on how to do so. Everyone will learn how to work with a pendulum to check other people's success in this regard. There are too many ineffective methods of chakra removal out there, as evidenced by the number of people who have asked Carla to check their success, and who have not been successful for a number of reasons. It is time to set the record straight and promote a fool proof chakra removal method and a way of testing for verification. Even if you are not interested in removing your chakras at this time, you will be informed on the whole subject by attending this workshop.

To explore Parts 1 and 2 of this workshop series please visit here to download.


FEATURING:

IMPORTANT:

SYSTEM REQUIREMENTS:


> For PC & MAC




> For Linux




> For Mobile & Tablets


*Windows Phone not yet supported.



TABLET & MOBILE DEVICES
*Windows Phone not yet supported.
Get the App: > AppleIOS > Android or > Blackberry




PENDULUM:
"Everyone will learn how to work with a pendulum."

You do not need one, although it is recommended to use a metal pendulum for this workshop. If you do not have one, you can purchase one

here

.




HEADPHONES:
The workshop features meditation exercises. To get the most out of the sounds / music that will be played, a pair of head / ear phones is suggested.


MICROPHONE & WEBCAM:
A microphone is required

only

to participate in the QA, although a webcam is prefered.


RECORDING REPLAY:
An MP3 replay of this event is issued to attendees who buy a ticket. It will also be available in our

store

.


TERMS OF SERVICE:
Please read

here

.


DISCLAIMER:
The views in this presentation do not necessarily represent that of Rise Multiversity or its individual members.



SUPPORT:


If you have any questions please check the support page 

here

.
 ______________________________________________________________________
SUPPORT FAQ
(Visit our > Support Page)


TICKET & EVENT REGISTRATION
Enter your same name and email on the ticket at the event for verification.
SYSTEM REQUIREMENTS

> For PC & MAC
> For Linux
> For Mobile & Tablets
*Windows Phone not yet supported.
WEB BROWSERS

You can use > Firefox  > Chrome  > Safari >Internet Explorer or  > Opera
TABLET & MOBILE DEVICES

*Windows Phone not yet supported.
Get the App: > AppleIOS > Android or > Blackberry
MICROPHONES & WEBCAMS
A microphone is required only to participate in the Q&A and participate in groups and small workshops, although a webcam is prefered.


For help with microphones and webcams, read the following:
> Computer Microphone Guide | > Computer Webcam Guide
EVENT RECORDINGS
Event Replays are issued to attendees. Replays are also available at our > Store.
*Groups / Workshops are not recorded unless otherwise stated.

CONTACT
Please contact us > here.
Organizer
Rise Multiversity
www.risemultiversity.org | Live Events | Courses | Workshops | Groups

Rise Multiversity is a global education and research project created in response to the challenge of reclaiming what is Sacred with our Mother Planet. Rise is our response to the call for global metamorphosis. By pooling the knowledge, experience, and wisdom of mentors and community members from different countries and backgrounds, we unite in service, personal Sovereignty, human freedom, and Sacred Activism.