Rise Multiversity Workshop: Tools For Transition: Part II: Expanding Your Core Essence

Saturday, October 24, 2015 from 2:00 PM to 4:00 PM (PDT)
Event Details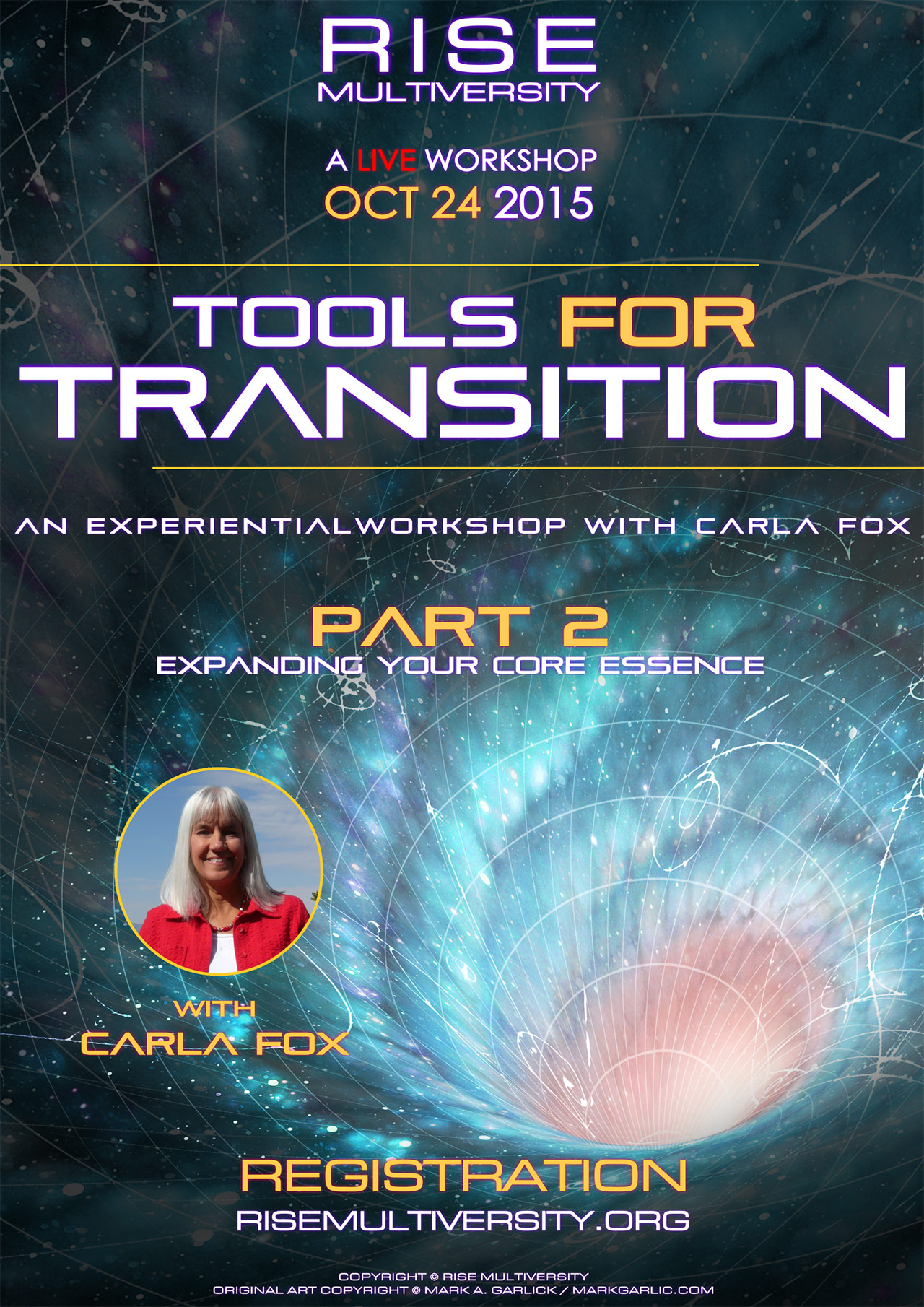 RISE MULTIVERSITY
PRESENTS A LIVE WORKSHOP


___________________________________________

___________________________

TOOLS FOR TRANSITION:
An Experiential Workshop With Carla Fox

~

Part 2: Expanding your Core Essence

~



Matching the Vibration of Your Higher Self and Creating Personal Sacred Space
____________

_____________________
SATURDAY, OCTOBER 24, 2015
2PM CALIFORNIA / 10PM LONDON / (25TH) 7:30AM ADELAIDE
(*Please check the system requirements below)
(** MP3 replay included with this ticket)
____________

_____________________
We are deeply honored to have Carla Fox on board offering her amazing transformational work. For those of you desiring to move into a more centered peaceful grounded empowered and non-interfered with space do yourself the favor of attending her upcoming workshop. She will be offering experiential practices that anyone can do on their own to further their personal healing and spiritual evolution. We cannot recommend Carla's transformational tools enough.
Each workshop will consist of a 2 hour segment that starts with teaching on a specific useful topic. Then each participant will have the direct experience of the topic of the workshop through several guided energy movement exercises or journeys. These tools have never been shared On-line before. You will then have the opportunity to get your questions answered and connect after the experiential segments.


~ Part 2: Expanding your Core Essence ~
Matching the Vibration of Your Higher Self and Creating Personal Sacred Space

This is your next step in creating energetic autonomy and freedom, and is a necessary tool for transitioning out of the 3rd and 4th dimensional matrix that we find ourselves in.
Your Core Essence is the heart of your 5th dimensional energy field. In this workshop, you will learn how to access it and expand it around your body. This expanded energy field can be used to accelerate your personal vibration, assist in healing of self and others, and create a sacred space of any size. It is not only a match vibrationally for your Higher Self, but it is also your own personal Stargate.
If you have not done so already, it is highly recommend that you listen to the Part I workshop entitled "

Grounding into the Core of the Earth Mother

". Grounding and being fully in the body is always the first step to any other work that you may embark on. As always, the Core Essence workshop will involve teaching, several experiential meditations and journeys, and some time for question and answer at the end. Join Carla to learn about this next "Tool" for your toolbox!

FEATURING:

IMPORTANT:
DISCLAIMER:
The views in this presentation do not necessarily represent that of Rise Multiversity or its individual members.


SYSTEM REQUIREMENTS:


> System Requirements for PC & MAC


*Linux not yet supported



> System Requirements for MOBILE & TABLETS




*Windows Phone not yet supported.




HEADPHONES:
The workshop features meditation exercises. To get the most out of the sounds / music that will be played, a pair of head / ear phones is suggested.


MICROPHONE & WEBCAM:
A microphone is required

only

to participate in the QA, although a webcam is prefered.



 ______________________________________________________________________
FAQ
(Visit our > FAQ page)


TICKET & EVENT REGISTRATION
Enter your same name and email on the ticket at the event for verification.
EVENT / GROUP SYSTEM REQUIREMENTS

For: > PC & MAC
*Linux not yet supported

For: > Mobile & Tablets
*Windows Phone not yet supported.
WEB BROWSERS

You can use > Firefox > Chrome > Safari or > Opera
TABLET & MOBILE DEVICES

*Windows Phone not yet supported.
Get the App: > AppleIOS > Android or > Blackberry
MICROPHONES & WEBCAMS

For Events:
A microphone is required only to participate in the Q&A, although a webcam is prefered.

For Groups / Workshops:
A microphone is required only to participate in the QA, although a webcam is prefered.

For help with microphones and webcams, read the following:
> Computer Microphone Guide > Computer Webcam Guide
EVENT RECORDINGS
Event Replays are issued to attendees. Replays are also available at our > Store.
*Groups / Workshops are not recorded unless otherwise stated.

CONTACT
Please contact us > here.
Have questions about Rise Multiversity Workshop: Tools For Transition: Part II: Expanding Your Core Essence?
Contact Rise Multiversity
Organizer
www.risemultiversity.org | Live Events | Courses | Workshops | Groups

Rise Multiversity is a global education and research project created in response to the challenge of reclaiming what is Sacred with our Mother Planet. Rise is our response to the call for global metamorphosis. By pooling the knowledge, experience, and wisdom of mentors and community members from different countries and backgrounds, we unite in service, personal Sovereignty, human freedom, and Sacred Activism.