Rise Multiversity: Shamanism Is Back!

Saturday, May 2, 2015 from 3:00 PM to 5:30 PM (EDT)
Event Details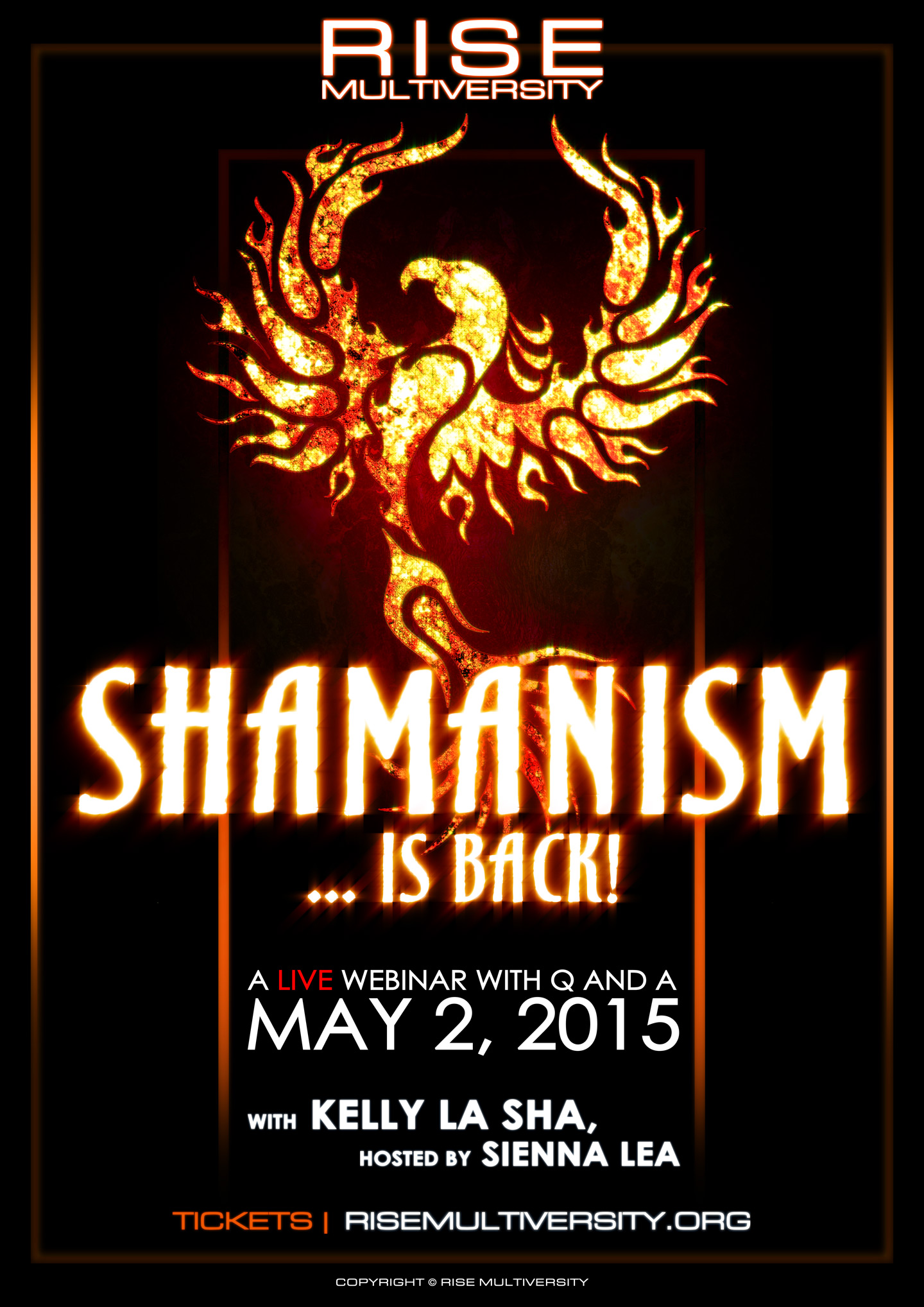 RISE MULTIVERSITY
PRESENTS A LIVE EVENT WEBINAR WITH Q&A


___________________________________________

_______________________________
SHAMANISM IS BACK!
~ How to Access Your Internal Alchemy and Intentionally Create the Life
You Want and The World You Want to Live In

~
____________

_____________________
SATURDAY, MAY 2, 2015
3PM NEW YORK / 8PM LONDON / (3RD) 4:30AM ADELAIDE
(* RECORDING INCLUDED FOR ATTENDEES)
(** SEE BELOW FOR SYSTEM REQUIREMENTS)


____________

_____________________
Join Kelly La Sha and Sienna Lea for an introduction on how and why shamanism was removed from our cultures and how to claim back your magical self through the practice of shamanism as a lifestyle. As we access our shamanic roots and our infinite well of creativity, our lives become exponentially more fulfilling. The practice of shamanism not only deepens the richness of your experience on Earth, but it gives you access to your power and broadens your perception of reality.


In our discussion we will explore the various ways shamanism can change your life into an endless playground of potentials:


Learn how to commune with and imbue the qualities and traits of your power animals.


Connect with and gain the support of your personal creator, your Avatar, and your soul family allies.


How to make an altar and create ceremony to anchor your intentions of manifestation, heal yourself and others, and deepen your gratitude and reverence for your incarnation.


How to use shamanic journeying to deepen your relationship with the Earth, the Sun, and your soul family ancestors.


The myriad of shamanic tools to help you gain access to your memory of your soul purpose.


How to use shamanism to excavate and extricate your fears.


Learn how to perceive reality through the lens of unbearable beauty and humor.


How the practice of sacred love and sexuality can be merged with your shamanic practice.



And much more!


Kelly will also be sharing some of her own shamanic experiences (most of which are quite humorous) including her journeys to Peru and the benefits of sacred medicine such as Ayahuasca, Huachuma, Peyote, and other medicines that can deepen your shamanic practice.



WITH:

IMPORTANT:
SYSTEM REQUIREMENTS:
Your computer must meet the PC / MAC / LINUX requirements for our event software.


> System Requirements.




WEB BROWSERS & PLUG-INS:
Your web browser and its plug-ins

must be

up to date.
(See FAQ below for details)


A microphone is required

only

to participate in the Q And A, although a webcam is prefered.


 __________________________________________________________________________
FAQ
(For more Frequently Asked Questions please visit our dedicated page > here)

Does my name on the registration / ticket matter?
Yes, your ticket details must match when you join the event. You risk being removed if you enter a different name and email address.
What are the system requirements to join this event ?
You can use either a Windows, Mac and Linux computer. While there is usually not a problem, please have a look at the system requirements to be sure. > Check here.
What web browser should I use ?
Please use either > Firefox, > Chrome or > Safari to attend the event.
You will need > Java, > Flash and > Quicktime also. Please a make sure you have the latest versions installed.
Can I use a tablet or mobile device?
You will experience limited features and possible technical issues as tablet and mobile devices vary. If you decide to use such a device, please select your chosen device for the appropriate software to join our event:
> Apple | > Android | > Windows |  > Blackberry
Do I need a microphone / webcam to participate in the Q&A?

A microphone is required only to participate in the Q and A, although a webcam is prefered. If you need help with microphones or webcams, please read the following:
> Computer Microphone Guide | > Computer Webcam Guide.
Will the event be recorded?
This event will be recorded and the replay will be issued to all attendees. If you cannot attend this event but want to catch the replay or replays for other events, presentations and roundtables please visit our > Store.
Where can I contact the organizer with any further questions?
Email > here.
Organizer
www.risemultiversity.org | Live Events | Courses | Workshops | Groups

Rise Multiversity is a global education and research project created in response to the challenge of reclaiming what is Sacred with our Mother Planet. Rise is our response to the call for global metamorphosis. By pooling the knowledge, experience, and wisdom of mentors and community members from different countries and backgrounds, we unite in service, personal Sovereignty, human freedom, and Sacred Activism.