Rise Multiversity: Our Stance Movement

Sunday, November 8, 2015 from 11:00 AM to 2:00 PM (EST)
Event Details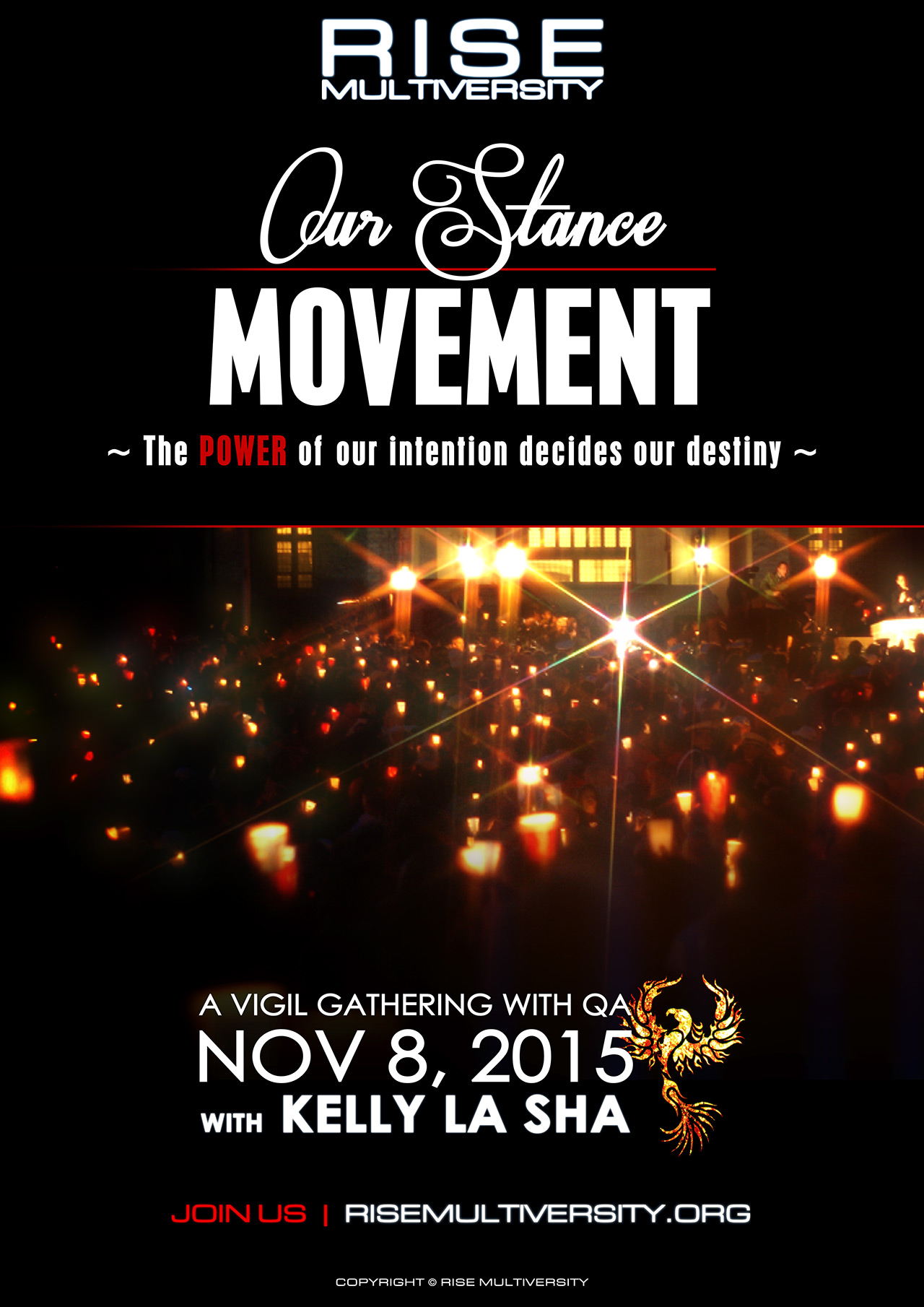 RISE MULTIVERSITY


___________________________________________

___________________________

OUR STANCE MOVEMENT:
~ The Power of Our Intention Decides Our Destiny

~
____________

_____________________
VIGIL GROUP


FOLLOWED BY QA
SUNDAY, NOVEMBER 8, 2015
11AM NEW YORK / 4PM LONDON / (NOV 9TH) 3AM SYDNEY



(THIS IS A FREE EVENT. DONATIONS ARE NOT REQUIRED BUT ALWAYS APPRECIATED.)


(*PLEASE CHECK THE SYSTEM REQUIREMENTS BELOW)


____________

_____________________
CERN, HAARP, AI, the millions of Illuminati satanic ritual abuse and murders, secret ET soul trading, global population control through eugenics, financial collapse, US FEMA concentration camps, WWIII, new world order and the new one religion, are all threats that are being thrown in our faces as if a global awakening and ascension are not in our own hands. Whether they are all conspiracy theories or not, the fear that has spread across the planet has been quite effective; yet as we have seen, instilling fear is the only thing they have accomplished.


"What can I do about it?". The answer is so simple...


...Our intention is far more powerful than we have realized. Simply by gathering caring people to practice their intention. We have to ask ourselves if we actually consent to our demise, and the demise of the entire human race, or not. We can either stock pile food, water, gold and silver, and/or use our intentions together to create the outcome and for the benefit for all.

As we practice our intention, we also practice the mastery of our souls' purpose of our courageous incarnation here. Our intention will be to co-create a peaceful existence and sovereignty for all on Earth united in time- across space all over the globe. I believe that the result of such efforts will be not only effective, but quite measurable as we witness the changes with our own eyes.
I will create a ceremonial space and guide us into a unified vision. The days of isolation and solitude are over. Our cultures and governments have made every attempt to separate and de-tribe us for a reason, for we are very powerful in numbers as we stand in our unity. One of the benefits of joining in a webinar is that we can see each other in person and then remind each other that we decided to do this together a long time ago. This event will be followed by QA.
PRESENTING:

IMPORTANT:
DISCLAIMER:
The views in this presentation do not necessarily represent that of Rise Multiversity or its individual members.


MICROPHONE & WEBCAM:
A microphone is required

ONLY

to participate in the vigil, although a webcam is prefered.


SYSTEM REQUIREMENTS:


> System Requirements for PC & MAC


*Linux not yet supported



> System Requirements for MOBILE & TABLETS




*Windows Phone not yet supported.





Organizer
Rise Multiversity
www.risemultiversity.org | Live Events | Courses | Workshops | Groups

Rise Multiversity is a global education and research project created in response to the challenge of reclaiming what is Sacred with our Mother Planet. Rise is our response to the call for global metamorphosis. By pooling the knowledge, experience, and wisdom of mentors and community members from different countries and backgrounds, we unite in service, personal Sovereignty, human freedom, and Sacred Activism.