Rise: Man & Woman: Meeting On New Ground II

Saturday, March 14, 2015 from 4:00 PM to 7:00 PM (EDT)
Event Details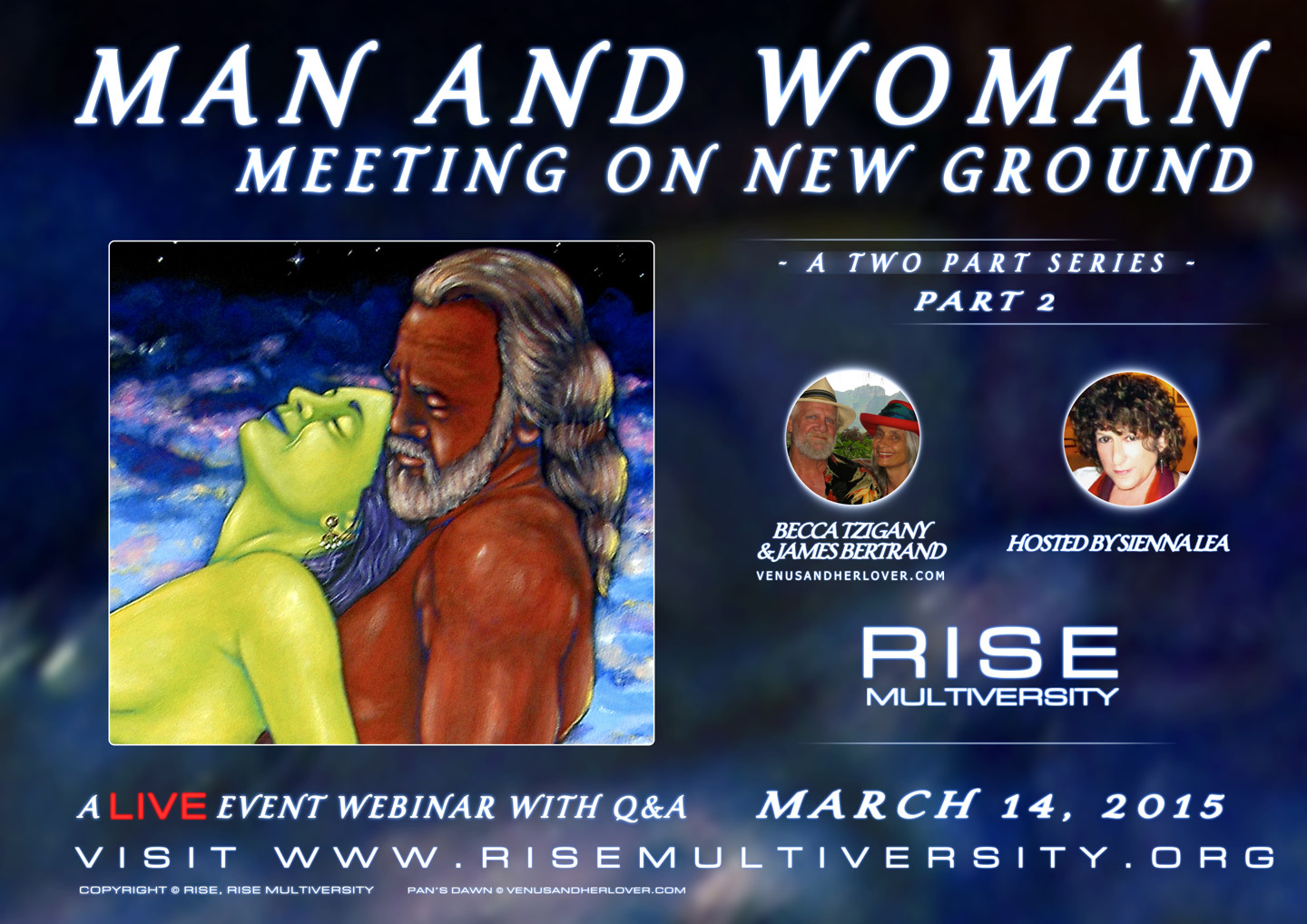 RISE MULTIVERSITY
PRESENTS A 
LIVE
EVENT
 WEBINAR WITH Q&A
___________________________________________

_______________________________
- MAN & WOMAN MEETING ON NEW GROUND
-
A TWO PART SERIES

___________________________________________

_______________________________
PART II

SATURDAY, MARCH 14, 2015
4PM NEW YORK / 8PM LONDON / (15TH) 6:30AM ADELAIDE

(* RECORDING INCLUDED FOR ATTENDEES. PLEASE READ IMPORTANT INFORMATION BELOW FOR SYSTEM REQUIREMENTS.)


___________________________________________

_______________________________
Satisfying, sustaining relationships are possible. When a couple can honestly trust one another, their connection becomes the platform for their mutual liberation. From a place of free choice, women and men increase their power to act in the world; their synergy becomes greater than either one of them.

While it may not be to the benefit of the Controllers to have happy, self-directed people, it is certainly to the benefit of men, women and children ~ not only for the pure pleasure of approaching their human potential, but for the enormous impact it would have on the "inhuman" systems at work in the world.

But how to get there? Why does it seem that we are defeated before we even start? If the deck is stacked against successful relationship, how can we overcome the obstacles?

If we take as a given that we all suffer from emotional wounds, predatory social brainwashing, dysfunctional parental modelling, or lowered expectations, then we can proceed to identify how these may be playing out in our lives with our partners. Once identified, the internal obstacles can be hauled out of the shadows and into the light for healing and correction. Our partner then becomes the perfect support person for this process.

Becca and James will be sharing practical exercises and approaches that have worked in their relationship for 17 years. They have collaborated on Venus and Her Lover, a Tantric art project, that has taken them around the world. (venusandherlover.com). Join us, and see what you might like to try on in your own relationship.

~+~+~+~+~+~+~+~+~+~+~+~+~

Functional, satisfying, exciting love relationships are possible. A controlling agenda that depends on the misery and hopelessness of the couple will not provide the structures to encourage what relationship can really be: a platform for mutual liberation and synergistic action toward happy families and a sustainable world. So we have to do it ourselves. Join us to learn techniques and practices that allow us to navigate the thorny path of the Feminine-Masculine dance and to open our hearts in compassion to one another.
Featuring:


IMPORTANT:

TECHNICAL REQUIREMENTS:
Your computer must meet the PC / MAC requirements for our event software.
> System Requirements.
 
WEB BROWSERS & PLUG-INS:
Your web browser and its plug-ins

must be

up to date.
(See FAQ below for details).
 
Q&A SECTION:
The Q&A section is after the initial presentation.
A microphone / webcam is

only

required to talk directly to the panel.
 
RECORDINGS:
Attendees will receive a copy of the recording.
Please

do not

attend this event if you only want the recording.
Recordings are available separately at our > store.



 __________________________________________________________________________
FAQ
(For more Frequently Asked Questions please visit our dedicated page > here)

Does my name on the registration / ticket matter?
Yes, your ticket details must match when you join the event. You risk being removed if you enter a different name and email address.
What are the computer requirements to join this event ?
You can use either a Windows, Mac and Linux computer. While there is usually not a problem, please have a look at the system requirements to be sure. > Check here.
What web browser should I use ?
Please use either > Firefox, > Chrome or > Safari to attend the event. You will need > Java, > Flash and > Quicktime also. Please a make sure you have the latest versions installed.
Can I use a tablet or mobile device?
It is advised you don't as you will experience limited features and possible technical issues as tablet and mobile devices vary. If you decide to use such a device, please select your chosen device for the appropriate software to join our event:
| > Apple | > Android | > Windows |  > Blackberry |
Do I need a microphone / webcam to participate in the Q&A?
Only if you want to talk to the panel. If you need help with microphones or webcams, please read the following:
> Computer Microphone Guide | > Computer Webcam Guide.
Will the event be recorded?
Only Events and Roundtable presentations are recorded. While attendees recieve a free copy of the recording, it is also made available separately on-demand at our > Store.
When is the Q&A?
The initial presentation is followed by Q&A, where you can put forward your question directly to the panel.
Where can I contact the organizer with any further questions?
Email > here.
Organizer
www.risemultiversity.org | Live Events | Courses | Workshops | Groups

Rise Multiversity is a global education and research project created in response to the challenge of reclaiming what is Sacred with our Mother Planet. Rise is our response to the call for global metamorphosis. By pooling the knowledge, experience, and wisdom of mentors and community members from different countries and backgrounds, we unite in service, personal Sovereignty, human freedom, and Sacred Activism.