Description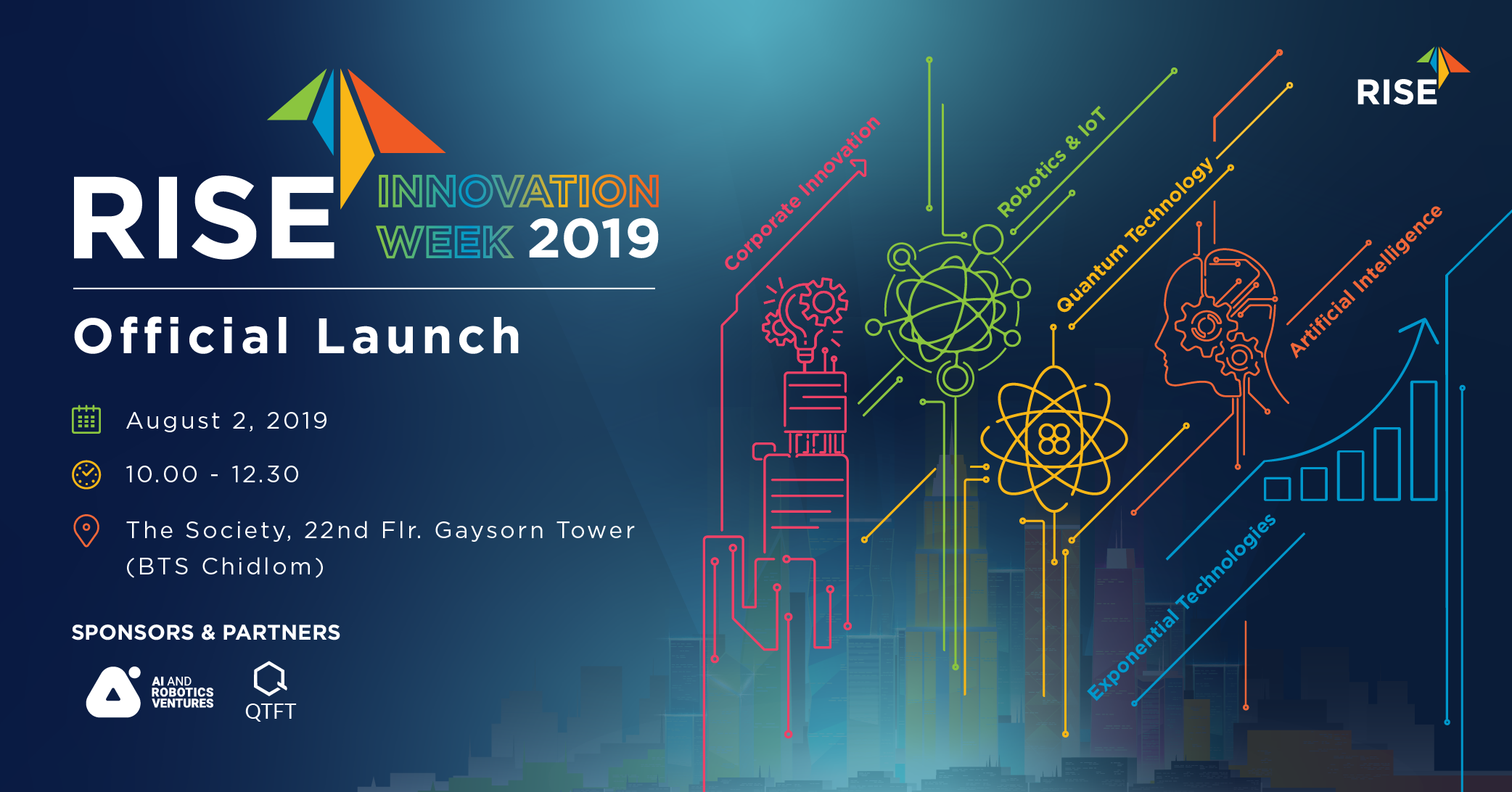 RISE Innovation Week is back to set Southeast Asia's Deep Tech Scene on fire!
Join us at RISE Innovation Week 2019 Official Launch to discover this Asia's first experiential talent-curated platform insightfully, exclusively meet with our corporate partners and highlight speakers before anybody else, and be able to submit your resume to our corporates prior others for Talent session.
Asia's First Experiential Talent-curated platform where leading corporates meets best tech startups and talents. At RISE Innovation Week 2019, you will hear the moonshot pitches and different ideas from the C-levels and innovation team of the corporates and governments. They will pitch you their insightful problem statements and challenge to you, the tech talents, to solve them with your innovative skill sets in order to find their next unicorns, along with building deep, productive relationships.
Every year RISE Innovation Week captures the latest global tech and innovation movements and makes them experiential to those tech enthusiasts by bringing in the best-in-class practitioners to share their insights and experiences that are able to inspire the actions of the whole region.
RISE Innovation Week will connect corporates, government sectors, startups, accelerators, investors, innovation hubs, and tech enthusiasts across SE Asia together to fuel the future collaborations at the regional level.
Visited our website to explore the full details of our event at https://www.innoweek.riseaccel.com/


Agenda
10.00 - 10.30 Registration I F&B Break starts
10.30 - 10.35 Opening by Kwan, Community Partnership Manager, RISE
10.35 - 11.00 Introduction to RISE Innovation Week 2019 by Dr. Kid Parchariyanon, CEO/Founder, RISE
Why Deep Tech as well as Deep Tech talents/startups matter to Corporate Innovation in now and next era?

About RISE Innovation Week 2019

Impacts made by RISE Innovation Week 2019
11.00 - 12.00 Panel Discussion: How to drive Corporate Innovation through Deep Technologies
Discover insightfully why corporate innovation needs deep technologies and deep tech talents / startups to drive business exponentially, how to start implementing deep tech into your organizations, and how to work with deep tech talents and startups to make the collaboration a win-win
Panelists:

Thana Slanvetpan, General Manager, AI and Robotics Ventures (A company under PTTEP)

Dr. Thiparat Chotibut, Lecturer, Department of Physics, Faculty of Science, Chulalongkorn University and Co-founder, QTFT

Kun Nattapat, Head of Ventures, RISE

Topp Jirayut Srupsrisopa, Co-founder / CEO, Bitkub.com

Moderator: Kwan, Community Partnership Manager, RISE
12.00 - 12.10 Closing
12.10 - 13.00 Media Interview & Lunch