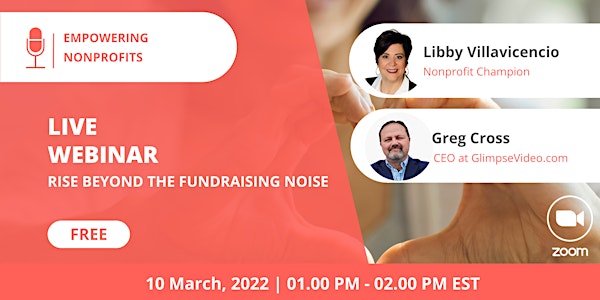 Rise Beyond the Fundraising Noise
This is a 1-hour free event for any nonprofit who wants to learn some easy-to-implement ideas and raise more money than you ever have.
About this event
Do you need some new ideas to jumpstart your fundraising in 2022?
Are your events in need of a refresh?
Are you engaging people in a meaningful way?
Are you using video in your engagement, cultivation, and stewardship?
Are you aware of the types of videos that you should be creating?
Join us to learn some easy-to-implement ideas and raise more money than you ever have.
The six topics that will be covered during this webinar:
The 2022 fundraising trends every nonprofit should know
10 fresh and fun events you can execute right away
Strategies to engage stakeholders in your cause
Why video is the best way to grow your connections and build trust faster with your stakeholders
How to leverage video to move the fundraising needle
5 types of videos every nonprofit should be creating
Libby Villavicencio [Presenter]
I'm Libby V, non-profit champion and founder & CEO of Libby V & Associates. We help non-profit leaders grow their superpowers to achieve their mission and purpose. Through Visioning/Theory of change work, leadership coaching, Fundraising support, organizational and board development, our non-profit leader clients successfully raise more money, achieve stronger impact, and greatly improve the lives of the people they serve.
Libby holds a post-graduate certificate from the Institute of Nonprofit Management at Columbia University Business School of Executive Education, an MS in Human Services Management from Franklin University, and a BS in Education from Ohio University.
Greg Cross [Presenter]
Greg Cross - I am the CEO of Glimpse Video. I served in the nonprofit world for 13 years. I was responsible annually for raising hundreds of thousands of dollars, recruiting volunteers, and organizing and delivering consistent communication with stakeholders and donors. In 2002, I transitioned from serving in the nonprofit space and committed to directly serving nonprofits and their digital marketing needs. Through my digital marketing agency, CCM Creative, I have created, and continue to create, thousands of nonprofit websites. In 2020, I launched a second company, Glimpse Video. My video marketing platform helps nonprofits grow their connections and build trust faster with their stakeholders using video. My mission is to help nonprofits leverage video to help tell their story and raise more funds to support that story.