Rise and Shine is a Yoga + Deep House Dance event designed to create a conscious, loving community that embodies and celebrates life!
About this event
Updates: We are fully tented now with the rain! This event is still happening in the outdoor garden patio area. The yoga will be on the outdoor patio in the covered tents with fire pits for warmth, so bring a blanket for comfort on your mat.
We will also have warm mulled wines (taste like apple pie and Christmas in a glass) and warm food in addition to the cold plates. We also will have a covered satellite bar with more open air, but still covered as well!
We decided to float the arrival for warmer weather to 10-10:30a so we start yoga at 11am!
Note all other details below!
This is a Sunday opportunity to connect to the power fo the elements, attune to your body, honor yourself, get into your heart and create devotional intentions.
Imagine yoga amongst the vineyards on a lawn with a spectacular valley view. Experience meditation, breathwork, and slow soulful flow with a sound bath to close.
Afterward, have some yummy brunch food, like mezze plates from the EdenVale Winery Tasting Menu.
If you are a wine/champagne lover, head into the beautiful tasting room and cool off. There will be non-alcoholic drinks/water available too.
Bring your water bottle.
Next, bring your higher love to the dance floor and share sexy deep house beats under a covered shaded barn. We have epic DJs from SF, Shasta and the Rogue Valley weaving their magic to co-create a sacred elevated vibration!
NOTE: PARKING IMPORTANT DETAILS BELOW
***
EVENT DETAILS + PARKING INSTRUCTIONS!!
* This is in a new area vs the Aug event. It's behind the Main White House in the receptions area - wedding tent dance floor and curated grass lawns for yoga!!! We will also have a satellite bar so you don't have to enter the Tasting Room unless you want to.
10a-10:30a: Arrival
11 - 12:30p: Invocation, Breathwork, Meditation, Sound bath + Soulful Slow Flow Yoga with Nicole Doherty Ananda (Ashland Hot Yoga)>>>Bring your mats + water bottle! Let's do KUNDALNI and keep our selves warm!
12:00p: Brunch + Wine + Non-Alcoholic Beverages + Water (Open until close)
1:p - 3pm: Musical DJs Playing Sexy Deep House + World Electronica
Michael Anthony - Monarch - SF (2 Hour Set)
Anedote - Samuel Lawrence -Ashland
This is truly a unique expereince not found in our Valley. Rise + Shine! Leave your worries behind! xoxox
PARKING: Please DO NOT PARK in the EdenVale Winery Main Entrance/Tasting Room Parking Lot with the circle.
The Parking Entrance will be marked EVENT LOT and is one entrance down from the main entrance gate. This is IMPORTANT for checking into the event so you CAR IS NOT TOWED. ;) xo
THANK YOU to our Hosts + Sponsors: Eden Vale Winery + Ashland Hot Yoga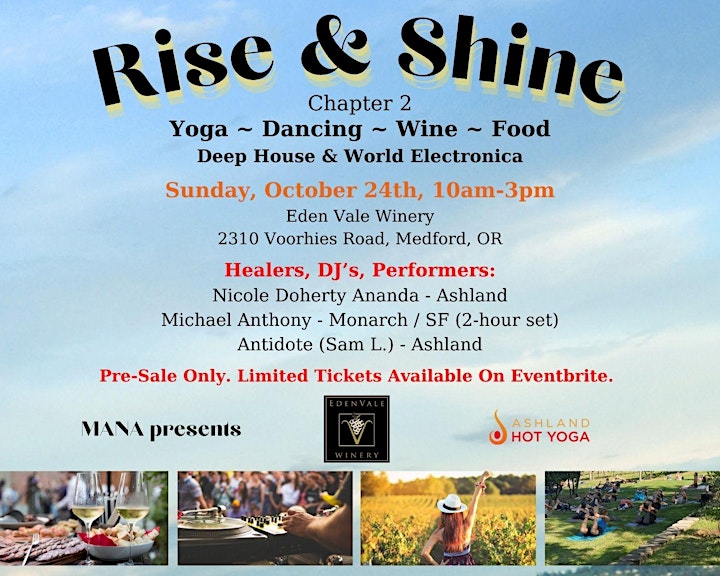 Organizer of Rise and Shine