Rise Above Success: A Women's Leadership Series (Session 1, Turn Your Fear...
Description
An article published from Harvard Business Review based on research Korn Ferry conducted with 57 Female CEOS underscores the very premise of We R Artemis' women's leadership work on Courage, Confidence, Risk-Taking and Resiliency. The Heroine's Leadership Journey and the 3Cs of Leadership: Courage, Confidence and Collaboration frameworks and models and most recently the 90 Days Transition & Acceleration are about making those traits these CEOs say are in short supply, more powerfully present in women managers.
If you have thought about or shared these thoughts in casual conversations...
"I'm so busy, I don't have time to learn the things I need to know to move up professionally, while staying balanced."

"I'm not confident I can take on more, when I already feel weighed down and overwhelmed?

"I feel that some clarity, a vision forward, some accountability and structure would help."
....this workshop series is for you. Take just One Worksop or take all Four but make a decision before the year is over that puts YOU, your personal needs, at the center.
Start Going After what you Want and Lead like a Heroine and turn Fear into Fuel.
Gain insight, motivation and equip yourself with the toolkits and proven strategies to reach your personal and professional dreams.
Join us for our new Rise Above Success: A Women's Leadership Series. It is four dynamic workshops for busy women professionals who want a quick but power-packed leadership development sessions to accelerate themselves in 2018. This unique program developed by We R Artemis Leadership Inc., connects you directly with proven and effective strategies. This is NOT a women's empowerment program but a workshop to Learn, Strategize and Commit. This is the type of reflective and action-packed workshop that top executives receive as they move closer to the C-Suite.
Milka is an executive coach/leadership consultant with more than ten years experience coaching executives, busy professionals and successful entrepreneurs, from Rome to Los Angeles, to gain the knowledge and tools they need to Rise Above the Fray in their lives, by focusing and maximizing their success in the 30% Zone - the place were maximum learning happens for busy professionals.
Join Milka and a Group of Like-Minded Professional Women to Learn, Grow and Stretch Your Leadership Skills in 4 Easy Sessions.
* There will be NO UPSELLING at this Event. The Value of what you will gain will amplify your life and relationships more than the small investment you will make in yourself.
Workshop Dates:
Session 1: 12/9/2017 - How to Turn Fear into Fuel: The Courage to Lead is a Choice

*Female Entrepreneur, Ebene Naturals, In-Person Interview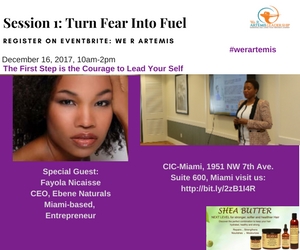 Session 2: 12/16/2017 - Self-Confidence is True Self-Mastery: Defeat the Imposter Syndrome
* Portrait Photographer, Joe Wesley, on location for Professional Headshots
Session 3: 1/12/2017 - The Rules of Negotiating: Enjoy It, Even When You Think You Hate It.
* Adjunct Educational Leadership Professor from BarryUniversity/
Social-Entreprenuer will co-facilitate the session.
Session 4: 1/27/2017 - Command Any Room: EnVision & Develop A Leadership Philosophy & Brand
* Adjunct Fashion Design Professor at Miami Dade College/Entrepreneur will lead a vision board design session.
---
First Session on 12/2/2017 - How to Turn Fear into Fuel
You will learn how to:
1. Avoid the Top Mistakes that will derail your career as you transition from one role to the next.
2. Be more proactive and Less Reactive in your professional and personal relationships.
3. Start going after what you want and Stop Settling for what is given to you.
Your workshop facilitator is Milka Milliance, MBA. She is the Founder & CEO of We R Artemis Leadership Consulting. A women's leadership consulting company based in Miami that energizes women through provocative and learning experiences to step into their power unapolegetically.
---
I will be interviewing Ebene Naturals about how should found the courage to lead herself and others to launch one of the first natural beauty products to be carried nationally at WholeFoods and Amazon.com.
** Ebene Naturals will be providing complimentary gift bags with travel size samples to keep you looking and feeling beautiful when you are on the road. **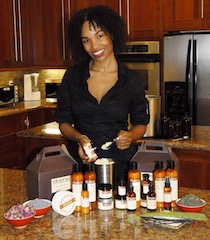 Date and Time
Location
Refund Policy