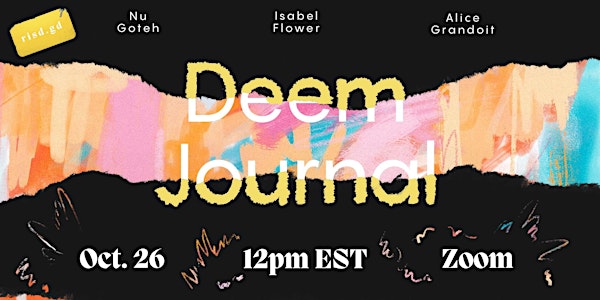 RISD Fall Speaker Series 2021: Deem Journal
RISD GD is honored to host Deem Journal (Alice Grandoit, Isabel Flower, and Nu Goteh) for our 2021 Fall Speaker Series.
About this event
Deem is a biannual print journal and online platform focused on design as social practice. Our beliefs: Design is the process of adding value. Design is a fundamental shared experience. Design is everywhere. Our intentions: Explore human-centric design frameworks independent of exclusive institutions and industry categories. Ask what design can do for communities by creating conversations that are transdisciplinary and intergenerational. Seek to uncover meaningful narratives, connections, and patterns that might help us better understand our histories and imagine our futures.
RISD GD Fall Speaker Series
Please join us for RISD GD's 2021 Fall Speaker Series, featuring Bahia Shehab (September 23), Deem Journal (October 26), and Lynne Yun (November 18). These online (Zoom) events are free and open to the public, with registration.
Event graphics by Malvika Agarwal (BFA 22).