RISD Alumni in Photography Event with Anne Spalter MFA 92 PT
Join the RISD Alumni in Photography affinity group for a special event with Anne Spalter!
About this Event
Spalter's art explores the modern landscape with a combination of traditional and digital tools, melding representation and abstraction to present recognizable but also personally emotive experiences. 
Before the pandemic, Spalter worked on large-scale public projects and, more recently, has been focused on smaller works and the use of AI to generate compelling compositions based on personally curated image sets. She has also been exploring the world of NFTs (non-fungible tokens), crypto art, and online art communities. 
The event will be moderated by the affinity group co-leaders Gisel Florez 03 IL and Julia Parris 05 PH.
Registrants will receive a Zoom link within the Eventbrite confirmation email.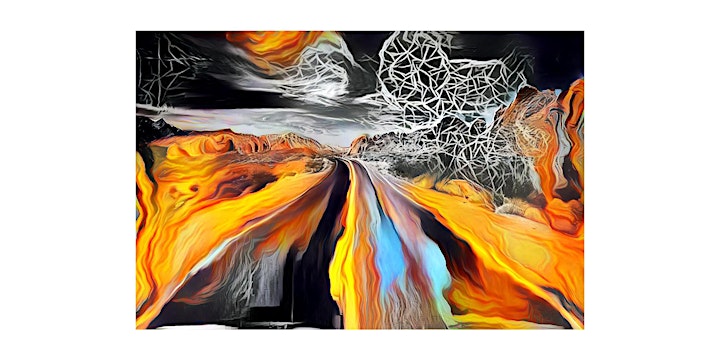 "Highway 108" (Art courtesy of Anne Spalter)
---
About the Speaker
Anne Spalter's decades-long goal of integrating art and technology includes founding the original digital fine arts programs at Brown University and The Rhode Island School of Design (RISD) in the 1990s. While there, she authored over a dozen academic papers and the widely used textbook, The Computer in the Visual Arts. Spalter is also on the Digital Art Acquisitions Committee of the Whitney Museum of American Art.
Recently, Spalter has been working on large-scale public projects in an effort to bring digital art to audiences beyond traditional museums and galleries: In 2016, she created an MTA Arts 52-screen digital art installation, New York Dreaming, which was on view in the Fulton Center through Fall 2017. From Dec 2018 - early 2019, her video work, Turning Festival, was on view in the Hong Kong Harbor, displayed by LED over 47,000sq feet on the Tsim Sha Tsui and Empire Centre buildings.  A new body of work, further developed at a Winter 2019 residency at MASS MoCA, combines artificial intelligence image algorithms with oil paint and pastels. Spalter is also active in the crypto art community. Her work is included in a number of public and private collections.