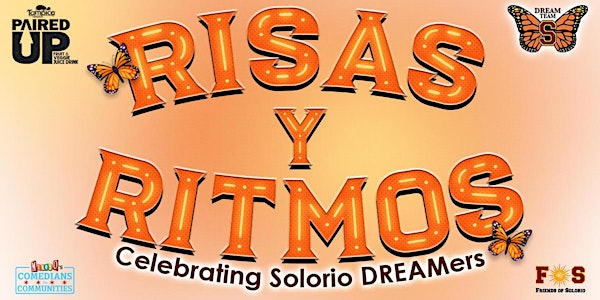 Risas y Ritmos, Celebrating Solorio DREAMers
This is a Zoom virtual event - your link will be sent on the day of the show.
Refund Policy
Contact the organizer to request a refund.
Eventbrite's fee is nonrefundable.
About this event
[Español abajo/Spanish version below]
Join us for a night to celebrate talented undocumented students and allies! On Saturday, March 6th at 7:30 PM as the DREAM Team hosts Risas y Ritmos, Celebrating Solorio DREAMers!
Come to dance, laugh, and be inspired! We will have the students share their powerful stories and have musical performances from students Maria Gonzalez and Victoria Aguirre. To get us moving, we will also have musical performances from Rosalba Valdez and Quinto Imperio. Comedian Gwen La Roka brings us joy and laughs.
The DREAM Team is a club at Solorio Academy High School led by undocumented youth and allies working to ensure that undocumented students feel safe and empowered while supporting undocumented students to pursue postsecondary pathways and seek out immigration services.
This is a Zoom virtual event - your link will be sent on the day of the show.
- - - - - - - - - - -
¡Queremos invitarlos a una celebración de talentos de nuestros estudiantes indocumentados y aliados! El sábado 6 de marzo a las 7:30 PM, el DREAM TEAM tendrá Risas y Ritmos,¡Celebramos a los DREAMers de Solorio!, una recaudación de fondos virtual.
¡Ven a bailar, reír e inspirarte! Los estudiantes compartirán sus historias poderosas y tendremos actuaciones musicales de las estudiantes María González y Victoria Aguirre. Para ponernos en movimiento también contaremos con las actuaciones musicales de Rosalba Valdez y Quinto Imperio. La comediante Gwen La Roka nos traerá alegría y risas.
El DREAM Team es un club en la escuela secundaria Solorio Academy dirigido por jóvenes indocumentados y aliados que trabajan para garantizar que los estudiantes indocumentados se sientan seguros, empoderados y reciban el apoyo en sus decisiones sobre su vida profesional y en sus trámites de inmigración.
Este es un evento virtual de Zoom: el enlace será enviado el día del evento.