Rip Current Brewing's Barrel-Aged Rescue Buoy RIS 22oz Bottle Release
Sales Have Ended
Ticket sales have ended
Thanks for your purchase of Rip Current Brewing's Bourbon Barrel-aged Dangerous Undertow!
Sales Have Ended
Ticket sales have ended
Thanks for your purchase of Rip Current Brewing's Bourbon Barrel-aged Dangerous Undertow!
Description
After 15 months slumbering in Heaven Hill and Woodford Reserve barrels, we have anxiously been awaiting the completion of Barrel-aged Rescue Buoy so we can enjoy it and share a bit with our friends. Rescue Buoy is our flagship Russian Imperial Stout that has recently received several medals including the 2017 Los Angeles and San Diego fair international beer competitions.
After sampling each barrel trying to create the best possible blend, we realized that the most delicious approach was to incorporate barrels from both bourbon distillers to maximize the complexity of this amazing beer. Barrel-aged Rescue Buoy has a silky smooth dark malt character featuring dark chocolate, molasses, dark fruits (prune, date, fig) and coffee, all surrounded by complex bourbon flavors and oak tannins with fleeting notes of vanillin.
Starting Monday, October 2nd at 11:00am PDT, you will be able to pre-purchase up to five (5) bottles of Barrel-aged Rescue Buoy Russian Imperial Stout. Please note that you will need to use your name to purchase each bottle. We want to make this as fair as possible, so any duplicate sales to the same name will be voided! Your name will be checked at bottle pick-up and must match your drivers license or other form of legal government issued identification.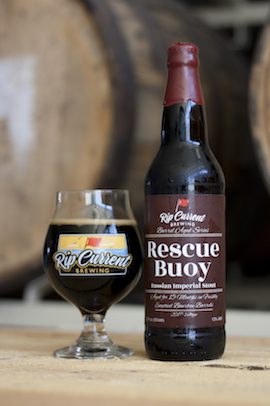 Please, USE ONLY YOUR NAME TO PURCHASE THE BOTTLES. YOUR PURCHASE IS JUST FOR YOUR BOTTLES. YOU CANNOT PURCHASE BOTTLES UNDER SOMEONE ELSE'S NAME OR FOR SOMEONE ELSE. IF YOU BUY THEM, YOU MUST PICK THEM UP.
Bottles can be picked up starting Friday, October 20th at the Rip Current Brewing Tasting Room in SAN MARCOS unless you selected a NORTH PARK pickup. Bottles can be retrieved during tasting room hours from October 20th through December 15th 2017. For official tasting room hours, please see http://ripcurrentbrewing.com/contact. Any bottles not retrieved by December 16th will be surrendered back to the brewery (no exceptions).
Proxies will NOT be allowed for this release. You will need to show your proof of purchase (printed or e-mail confirmation) and valid ID to retrieve your bottles. NO EXCEPTIONS WILL BE MADE. This means you will NOT be able to pick up anyone else's bottles, and we will not release the bottles to you without a confirmation and valid ID matching the name on the sale! IF YOU PURCHASE THE BOTTLE, YOU HAVE TO PICK IT UP!
Please do not purchase bottles until you've read the terms and conditions below, and can ensure you will be able to pick up your bottles by the cutoff date!
Rip Current Bottle Limitations
Maximum of 5 bottles per person. No exceptions and orders with additional bottles will be voided.
Shipping Policy
Rip Current Brewing Company does not ship beer directly to consumers. All beer purchases are only available for pickup in our tasting room selected below.
Returns & Refunds
We do not accept returns under any circumstances. No refunds or exchanges will be made. All sales are final.
Order Acceptance Policy
Your receipt of an electronic or other form of order confirmation does not signify our acceptance of your order, nor does it constitute confirmation of our offer to sell. Rip Current Brewing Company reserves the right at any time after receipt of your order to accept or decline your order for any reason or to supply less than the quantity you ordered of any item.
Date and Time
Location
Refund Policy