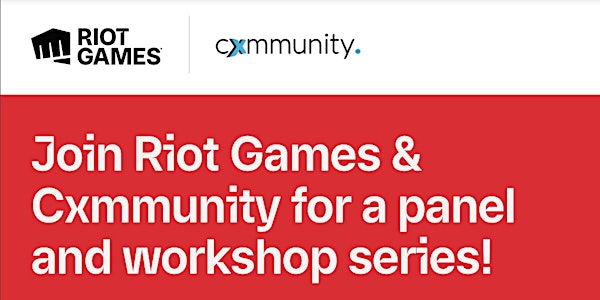 Riot Games + Cxmmunity Fireside Chats
Riot Games + Gaming Cxmmunity Co. Fireside Chats
About this event
Cxmmunity's Mission:
Gaming Cxmmunity Co.'s mission is to increase the participation of minorities within esports and video game industries, through STEAM development, so there is equal opportunity as new jobs and professions are being created.
Riot Games Mission:
Riot Games' mission has always been to develop, publish, and support the most player-focused games in the world. Singular focus on player experience is the driving force behind everything at Riot Games.
Event Context:
The Fireside Chat series at Cxmmunity is an opportunity for partner organizations to feature speakers from across the gaming industry on topics that are top of mind to students.
Students will learn how different departments at Riot Games interact with one another.
Students will understand how non-game design departments contribute to overall team goals.
Students will hear from non "game developer" employees at Riot Games and their contributions to the industry.
July 13th
2pmPT/5pmET
Intro to Gaming with Riot Staff
Learn how Rioters with different craft expertise work together across the organization to drive decisions and meet our company goals. You'll hear from Rioters who will share their journey into their role, and offer tips to break into the industry.
September 29th
2pmPT/5pmET
Organizing a Tournament with Riot Staff
How do you organize a successful tournament? Learn from a seasoned tournament organizing expert at Riot so that you can organize your own.
November 1st
2pmPT/5pmET
Resume Workshop:
Attract recruiters to land an interview by learning how to design a strong, professional resume in this workshop. We will share the components of an industry-ready resume using the STAR/CAR method so that you leave knowing how to draft one.
November 8th
2pmPT/5pmET
Networking-Land the Interview
You may have heard of networking before but how exactly does it work and how do you do it? This workshop will offer best tips for how to effectively network on LinkedIn. We will focus on personal branding, and the important role that informational interviews play in the process.
November 15th
2pmPT/5pmET
Nail the Interview
Build interview confidence with this session's focus on how to master the interview from start to finish. We'll share our best tips and you will leave with a better understanding of how to identify interview questions, and approach them using the STAR/CAR method.
November 22nd
2pmPT/5pmET
Riot Internship Programs
Interested in a Riot internship but don't know where to start? A panel of Rioters will share pathways into both programs including how to apply, best prepare, and interview for our programs.