About this Event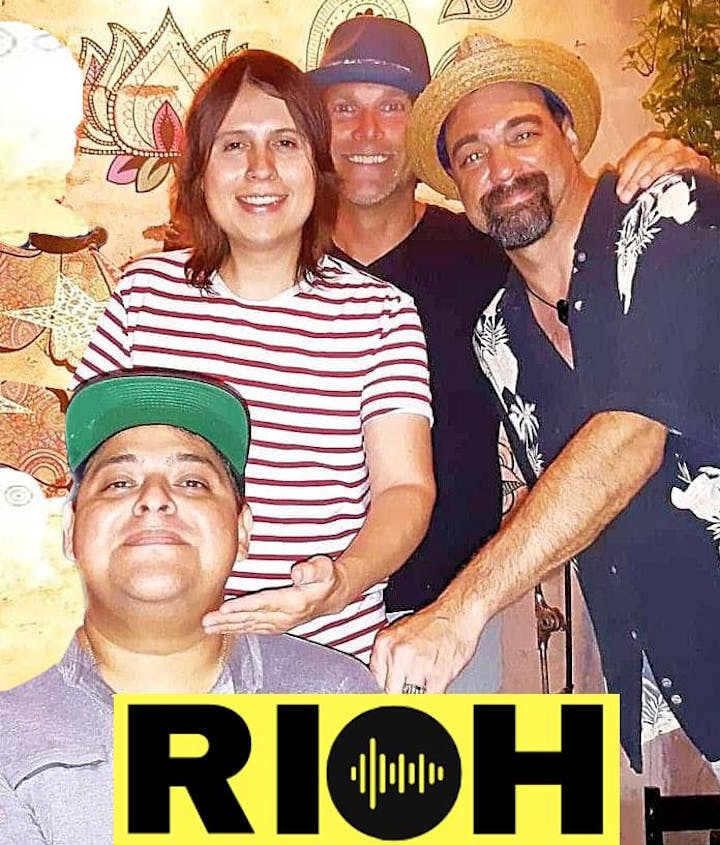 ABOUT THE VENUE
Surrounded by gardens erupting with fragrant florals and greenery, Blue Cottage is a perfect venue for a warm, open-air, midsummer evening event.
Food: This is a POT LUCK event. Guests are asked to bring one entree or two appetizer items to share. Finger foods/snacks as well as cutlery/plates will be provided.
Drinks: This is a B.Y.O.B. event. Please bring your favourite beverage and vessels.
Chairs: We have a limited amount of chairs for guests to use. If you're able, please bring a chair with you.
ABOUT RIOH
Formed in Mazatlán, Mexico in 2013, RIOH is a versatile group of two keyboards, guitar and percussion with vocal renditions of your favourite rock, pop, jazz, blues and R&B. The band features 'clean and breezy' interpretations of a wide range of songs made famous by the Beatles, David Bowie, Bruce Springsteen, Billy Joel, Led Zeppelin, Eric Clapton, Stevie Wonder, Elvis Presley, Maná, Joe Cocker, Sting, Jason Mraz, The Cars, Van Morrison, Frank Sinatra and many more. RIOH is also known to spontaneously morph into a instrumental jazz quartet (sax, piano, guitar and drums) for a few tunes.
With a Canadian following (Ontario, Manitoba, Alberta and BC) that extends throughout the lower mainland, the Okanagan, and the island, RIOH is excited to head to B.C. in early July as they finish the Alberta portion of their tour.
ROB LAMONICA has been playing piano professionally for the last 25 years, most recently 7 nights a week in Mazatlán, Mexico and created RIOH, one of the most versatile groups you will have experienced. Rob is fondly referred to as the "Musical Mayor of Mazatlan" – for his amazing capacity and ability to bring different musicians, vocalists, and styles together with a variety of styles and passions to his open stages and weekly shows. Each show is different – reflecting his commitment to live music. Rob doesn't read music but has played since he was about 6 years old, thanks to an encouraging mom and a piano at home. He plays all styles, brings artists in from all over the world weekly, plays country, blues, Latin music, flamenco fusion to jazz and much more...just about anything, with his own touch and perspective.
IGNACIO (Nacho) CHAVEZ started his music education in Mexico City in 1999. In 2003 moved to Los Angeles to enrol at the LA College of Music, where he studied with Frank Gambale of the Chick Corea Electric Band. Being exposed to different styles of music over the years, Ignacio has evolved as an amazing guitarist with an articulate touch. He can throw it back and forth with the best of them in any genre, but Nacho has a strong influence of Jazz, Rock, Country and Brazilian music in his playing. Nacho spent 3 years in Las Cabos playing at Pueblo Bonito Resorts but now plays full time in Mazatlán during the winter months.
OMAR RIOS started his music studies in Mazatlán in 2004 with maestro Ricardo Montes (Mexico City). In 2007 he attended the jazz seminar in Veracruz with maestro Vince Chirico (4-time Grammy Award Winner, and drummer with Arturo O'Farrill & The Afro Latin Jazz Orchestra). Omar's first performances were with the pianist Lorenzo Garriga (France) playing swing, blues, bossa nova, funk, at the same time as he participated in several projects such as the Fake Sazon Orchestra, Diego Lopez and his Colombian orchestra (2009-2012), Malamecha Jazz Trio (2013); Gorso Trio (2015); and Dario Avila Flamenco Jazz (2016).
HOWARD ANDERSON is an award-winning multi-instrumentalist and composer who has contributed to the world's music scene for over three decades. His saxophone, piano and vocal performances can be heard on dozens of albums ranging from jazz, R&B, rock and roll and pop. Howard's creativity has spawned a cornucopia of songs,compositions and arrangements – including scores for film apps and video games. Howard divides his time between Vancouver, B.C. and Mazatlán, Mexico as he carries on composing and performing internationally.