Rio Rancho - Project Heart Start 2016 Facilitator Registration

Saturday, June 18, 2016 from 7:00 AM to 12:00 PM (MDT)
Event Details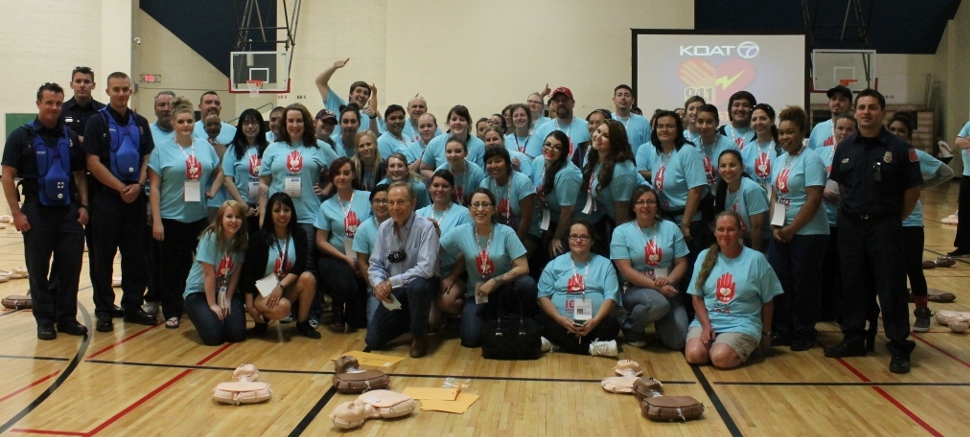 We hope that you will all come out and help again!

And here is how Project Heart Start will work:       
      The goal of Project Heart Start Day is to teach the public compression only CPR and what to do in an emergency. For the participant the program lasts only 40 minutes and is divided into watching a 12 minute video, written and produced by Dr. Barry Ramo and KOAT 7, followed by a 15 minute skills session led by you, the facilitator.
2.     On the day of the event, June 18, 2016 4 sessions will be offered: 8AM, 9AM, 10AM and 11AM at Meadowlark Senior Center. Participants will be directed to stations manned by you, the CPR facilitators, where they view the video and then go through a brief hands-on session which you will teach. At each station 1 CPR manikin will be available for every 2 students.
3.     We would like for you to teach the participants to do two things reflexively: when they come upon a person that has suddenly collapsed and is unresponsive: call 911 and perform chest compressions hard and fast. In addition we would like for you to teach them how to help a choking victim and briefly show how an AED functions. You are encouraged to demonstrate these steps with a scenario and be sure that each participant gets a chance to practice assessing the victim, calling 911 and perform the compression- only CPR on the manikin and performing the Heimlich maneuver and learns how to recognize the signs of a heart attack. After the completion of the skill session participants will be directed toward an AED station where they learn how AEDs are used as a critical link in the chain of survival for cardiac arrest.  
4.     Facilitator Schedule for June 18, 2016
7am – facilitator sign-in, distribution of training materials and t-shirt

7:15 – "Just in Time" training and brief orientation
8am-12pm – program sessions (4 total)
      Please be aware that facilitators wanting to enjoy the complimentary breakfast will need to arrive in time as breakfast service will end promptly at 7:00am. It is important that the program schedule moves along as planned and facilitators play a KEY role in making sure this happens. EMTs and RTs are able to earn 4 hours of CE credits but will need to be present for the entire event. 
      Nursing CEUs are a possibility. We will notify you.

     Prior to registering be sure to view the facilitator video at www.projectheartstartnm.org . Registration deadline: May 28, 2016. After that date we can not guarantee your t-shirt size.
We look forward to seeing you at the 7th Annual NM Project Heart Start Day on June 18th. Please be there no later than 7:00 a.m. We will provide breakfast and you will get your facilitators t-shirt.
Thanks for your support!
Barry W. Ramo, M.D., Project Heart Start, Founder                                          

Amanda Gabaldon, Project Heart Start Coordinator    
Project Heart Start Planning Team    
Rio Rancho Fire Department
FAQs
What are my transport/parking options getting to the event?
What can/can't I bring to the event?
Please wear comfortable clothes and be ready change your shirt when you sign in. Otherwise everything will be provided.
Where can I contact the organizer with any questions?
Please e-mail  at  PBEARCE@ci.rio-rancho.nm.us
When & Where

Meadowlark Senior Center
4330 Meadowlark Lane Southeast
Rio Rancho, NM 87124


Saturday, June 18, 2016 from 7:00 AM to 12:00 PM (MDT)
Add to my calendar
Organizer
NM Heart Institute Foundation & Project Heart Start
The New Mexico Heart Institute Foundation is dedicated to supporting education and research to enhance heart health for all New Mexicans. 
Project Heart Start, a program of the foundation,  is dedicated to saving the lives of victims of out-of-hospital cardiac arrest through education of all capable citizens to perform compression-only CPR and to encourage and facilitate the placement and proper utilization of automated external defibrillators (AED).
For more information visit www.projectheartstartnm.org
Rio Rancho - Project Heart Start 2016 Facilitator Registration