Event Information
Location
The 2018 Grown & Sexy Cruise | HARVEST CAY, BELIZE
The 2018 Grown & Sexy Cruise | HARVEST CAY, BELIZE
Description
Round trip transportation from your Harvest Caye Belize mainland cruise ship tender pier!

Air-conditioned, fully licensed and insured Shore Excursion transportation!

Bilingual (English and Spanish speaking) river rafting excursion guide!

Panoramic rafting ride on the Rio Grande River!

Full river rafting equipment including single, double or family size raft, paddles, and helmets!

Life vest for a safe rafting excursion!

Relaxation stop at the famous hot springs!

Complimentary bottled water!

Restaurant available to purchase food and drinks!

Come along with us for a relaxing River Rafting Excursion down the Rio Grande in Harvest Caye - Southern Belize through some of the most beautiful tropical foliage you could imagine. This is truly the way to leave your cares behind as you float along with an experienced shore excursion guide pointing out areas of interest.

You will begin your exciting Harvest Kay Rafting Excursion by taking one of the small shuttle boats from Harvest Caye Island Cruise Port ashore to the mainland at Placencia, just a 10-15 minute ride away. You will meet your rafting excursion guide just outside your Malacate cruise tender pier and hop aboard comfortable, air-conditioned transportation for a scenic 60-minute ride to the Rio Grande River. Your river rafting guide will entertain you with further information about Belize and what to expect on your rafting adventure cruise shore excursion.

Once you arrive at the river raft excursion base at the Rio Grande, you'll be briefed on the safety information, given paddling instructions, fitted with your safety equipment and then you will be assigned a raft. Guests may choose from single, double, and small family/group size raft for up to 5 participants according to their experience. A guide will be with the guests in the larger rafts to assist with steering and paddling.

Your shore excuursion guide will then assist you into your raft and lead the rafts down the river. Once you begin your guided rafting adventure, be sure to keep an eye out for Howler Monkeys, tropical birds, and iguanas. Mix the wildlife with the beauty of the rain forest and you are in for quite the treat. Most of the river ride will be quite gentle, but there are a few places that will speed up just a bit for a little excitement. The river runs between 2 to 14 feet in depth (0.6 to 4 meters). Your time on the river is approximately 1 hour and 20 minutes. The guide will have bottled water for you during your rafting adventure down the river.

As an added bonus, you will have the opportunity for a brief 20 minute stop at a natural hot spring along the way and feel the therapeutic warm waters run down your back. This experience really helps to enhance the relaxation of this rafting adventure and it is just a lot of fun too.

Then, when your Harvest Caye rafting excursion comes to an end, your guide will help you out of the water where your transportation and belongings aboard will be waiting. You will have the opportunity to change into dry clothes and have approximately 20 minutes to grab a bite to eat, browse the souvenirs or just relax before it is time to head back to the Malacate dock for the short shuttle boat ride back over to Harvest Caye Island and your cruise ship.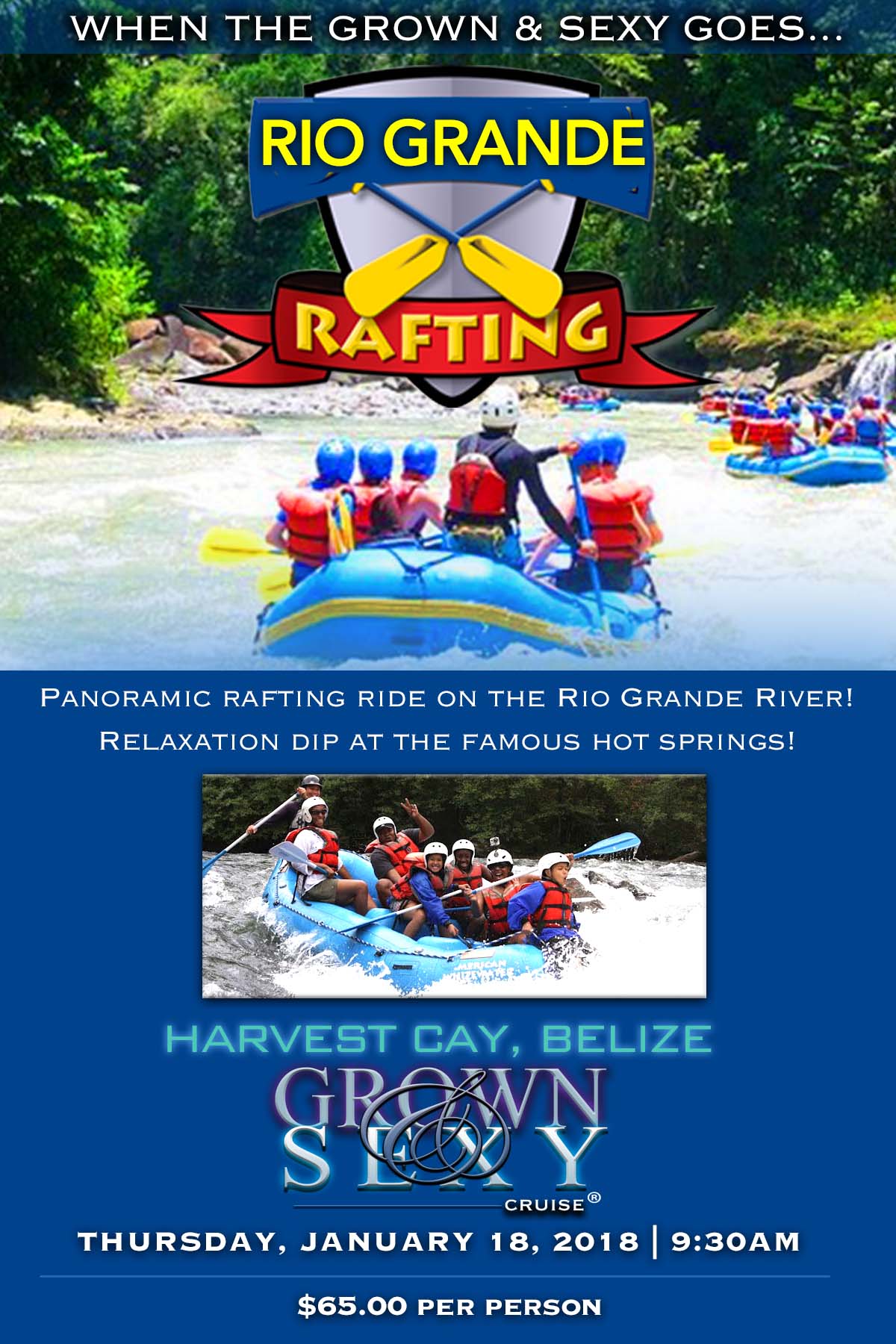 Date and Time
Location
The 2018 Grown & Sexy Cruise | HARVEST CAY, BELIZE
The 2018 Grown & Sexy Cruise | HARVEST CAY, BELIZE
Refund Policy