Ringo Deathstarr with special guests Rosegarden Funeral Party
About this event
Ringo Deathstarr with special guests Rosegarden Funeral Party
21+ VALID ID REQUIRED
$15 in advance ~ $18 at the door
-----------------------------------------------------
https://ringodeathstarr.bandcamp.com
https://www.instagram.com/ringodeathstarrofficial
RINGO DEATHSTARR: BIO
Ringo Deathstarr formed in 2007 in their native Austin, Texas channeling influences such as The Cure, The Smiths, Fugazi and The Velvet Underground. They initially released a batch of singles on both sides of the Atlantic and in Japan – a self-titled EP in 2007 and in 2009, a brace of 7"s in the States, You Don't Listen & In Love.
Their critically acclaimed debut album, Colour Trip, was released in February 2011 and a compilation of their early singles, Sparkler, which had initially been available in Japan only, was released in the autumn of 2011. Second album Mauve was released September 2012, followed by a mini-album God's Dream, Pure Mood followed in November 2016.
Their latest album, self titled - Ringo Deathstarr – was released in March 2020 - right when Covid was beginning to grip the world. Sometimes, a break is as good as a rest, and in the case of these Texan shoegazers, it's more than paid dividends. Nearly five years on from their last LP, Pure Mood, and with no imminent sign of any new music for most of that period, it wasn't amiss for the odd rumor to surface that they'd called it a day.
Thankfully, those rumors couldn't have been further from the truth. Instead, founding member, guitarist, and vocalist Elliott Frazier became a first-time father during the interim years. With that drastic lifestyle change came a new way of working. Whereas previous Ringo Deathstarr albums had been written and recorded over a matter of months, this one took a couple of years to complete. Most of the recording process took place in Frazier's home as opposed to structured, month-long blocks in the studio.
The sonic malevolence of yore can still be found, particularly on the existential "God Help the Ones You Love" or semi-autobiographical "Gazin." The vocal interplay between Gehring and Frazier that's characterized all Ringo Deathstarr's output from their humble beginnings nearly a decade and a half ago can also be heard at regular intervals in this LP.
There's a combined sense of bliss and catharsis throughout the album's thirteen pieces, whether it be through delay-fueled ambience with a pop sensibility ("In Your Arms"), four-to-the-floor garage rock ("Once Upon a Freak"), or Gehring's deeply personal vignette "Disease."
Elsewhere, "Heaven Obscured" might just be the most experimental three minutes in Ringo Deathstarr's entire canon, with epic closer "Cotton Candy Clouds" ending the album on a dreamy high.
Ringo Deathstarr represents the band's finest hour, and with it, another of 2020's seemingly never-ending musical gems.
-----------------------------------------------------
https://rosegardenfuneralparty.bandcamp.com
https://www.instagram.com/rosegardenfuneralparty
https://www.rosegardenfuneralparty.com
ROSEGARDEN FUNERAL PARTY: BIO
Rising from the inferno of heartbreak with a determination towards gentility, humility, graciousness, and kindness, Rosegarden Funeral Party takes influence from life's tragedies and spins chaos into beauty. Leah Lane fronts the band with a voice like that of the lovechild between Morrissey and Siouxsie Sioux and her guitar playing has been compared to that of Daniel Ash. with bass playing that takes obvious inspiration from Peter Hook. With synths trapped in the loving arms of the 1980's, rhythmic percussion and drums inspired by dark dance floors, Rosegarden Funeral Party prove to be the second-coming of traditional goth.
FAQs
What's the refund policy?
Tickets must be refunded before doors open for the date of the show.
FAQs
Are there ID or minimum age requirements to enter the event?
21+ VALID ID REQUIRED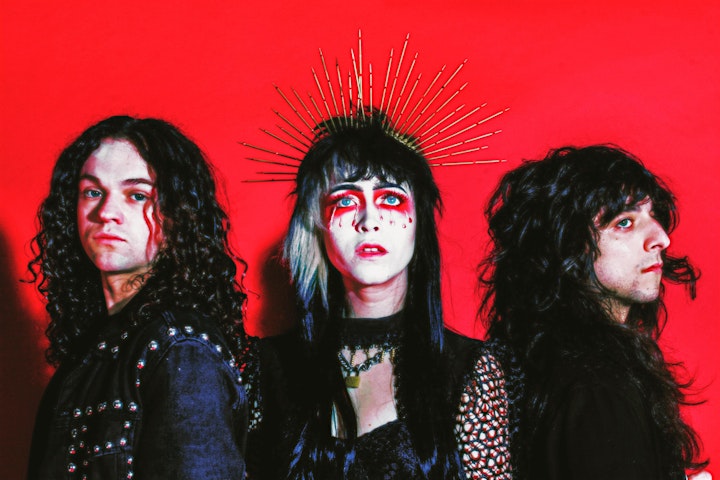 Organizer of Ringo Deathstarr + Rosegarden Funeral Party
Visual Arts Collective (VAC), is a contemporary fine art gallery, performance venue and cultural center in Garden City, Idaho, committed to presenting exhibitions and events for artists working in visual and performance art, film, music, dance and theater. VAC is dedicated to providing Boise and the Treasure Valley opportunities to explore various disciplines, to engage in interactive art, to participate in special events and to encourage artists and the community to continue in the discovery of artistic expression.