Experience the Uncensored and Unapologetic Sam Tripoli Friday June 4th at Ringleader Comedy Circus in the Heart of South Beach 305 942 8267
About this event
Ringleader Comedy Circus Friday June 4th 2021
Friday June 4th 2021 Ringleader Comedy Circus South Beach Presents the Crown Prince of Comedy Podcasts SAM TRIPOLI stand up comedy Hosted by Sarah Bailey featuring Jonny Betencourt, and Mac Lawson
1628 Collins avenue Miami Beach.
Friday, June 4 | 7pm-9pm
Priority Seating For RSVPs Begins at 6 15pm.
General Admission is at 6:45pm.
*Seating Not Guaranteed without a reservation | Must be 21+ | Dress Code Enforced
To Make a Reservation, Contact
ThatGuy@Ringleadercomedy.com
box office : call/text 305 942 8267
Friday June 4th 2021 Ringleader Comedy Circus South Beach Presents the Crown Prince of Comedy Podcasts SAM TRIPOLI stand up comedy Hosted by Sarah Bailey featuring Jonny Betencourt, and Mac Lawson
click here for more info https://bit.ly/3fvbRUO
RINGLEADER COMEDY CIRCUS
https://www.instagram.com/josepherringleader/
SAM TRIPOLI
https://www.instagram.com/samtripoli/
MAC LAWSON
https://www.instagram.com/bigmaclawson
JONNY BETTENCOURT
https://www.instagram.com/jonnybettencourt/
SARAH BAILEY
https://www.instagram.com/sarahbaileycomedy/
Sam Tripoli Bio:
Practitioner of the Deadly Art of Comedy, Sam Tripoli views comedy as a calling rather than a profession. It's a passion that he preaches to audiences live in nightclubs, radio, television and podcasts nationwide.
Sam Host wildly popular podcasts including Broken Simulation, Cash Daddies, Punch Drunk Sports, Tinfoil Hat, Union of the Unwanted, and Zero With Sam Tripoli
Tripoli's Comedy album "Believe In Yourself" debuted at #2 on iTunes in America and #1 in Canada!
His TV Credits include Showtime's "Live Nude", "Russell Peters' Comics Without Borders!", E!'s "Love You, Mean it! With Whitney Cummings," CMT's "The Josh Wolf Show," Multiple appearances on CBS's "The Late Late Show," MTV's "Act Out" and "Comics Unleashed" on ABC. His appearance on Comedy Central's "Premium Blend" garnered him only one of two standing ovations in the history of the show. He has also produced and created "Squabble" for Comedy Central Digital, has done sketch comedy for E! Entertainment, and appeared on "Bellator MMA Digital!" He was co-host of Spike TV's hugely popular "Wild World of Spike" with Jason Ellis and Kit Kope. Plus Tripoli is proud to be featured in the new documentary about stand up comedy "Dying Laughing!"
Tripoli has been heard on The Howard Stern show, The Jason Ellis Show on Sirius Radio, and also regularly appears on The Joe Rogan Experience podcast and The Fighter and The Kid.
Sam's writing credits include The 2012 MTV Movie Awards, Comedy Central Roast of Joan Rivers and Pamela Anderson, The 2011 World MMA Awards and most recently his Roast Of The Iron Sheik jokes were quoted in Rolling Stone Magazine.
On stage he's a force of nature, pacing the stage like a cyclone of funny as he questions authority and the conventions of our society one moment, then earnestly expressing his affinity for bizarre the next. His comedy has no limits – it's whatever he's thinking about, and that's usually what everyone else is thinking about, even though sometimes we don't like to admit to it.
"I like to think of myself as the little voice in everyone's head, except I have a microphone and I'm funnier," Sam says.Samtripoli.com
** Ringleader Comedy Shows are adult in nature and are considered
"A comedy dinner theater"Hence we require all guests:Purchase two item minimum from our specially selected event menu
Or
Purchase our Ringleader Comedy Circus Special:
1 Entrée and 2 hours all you could drink special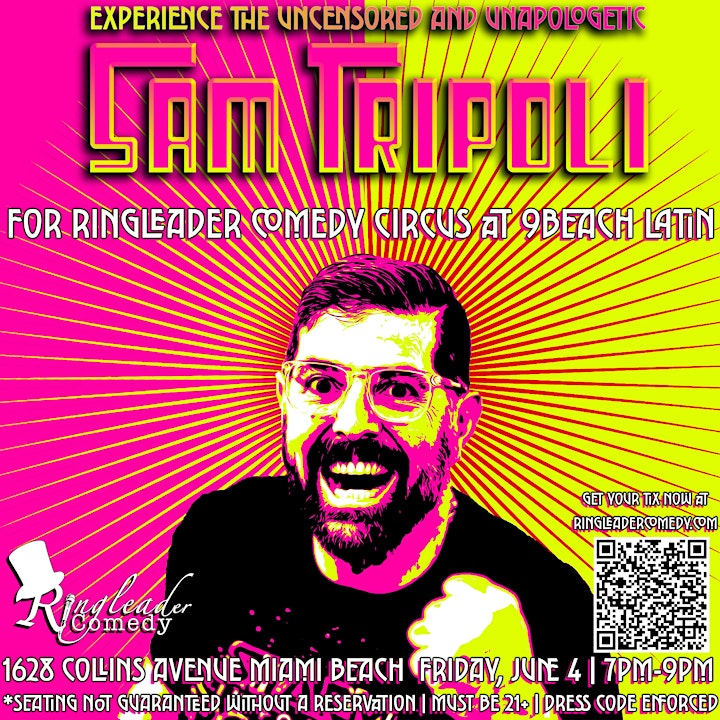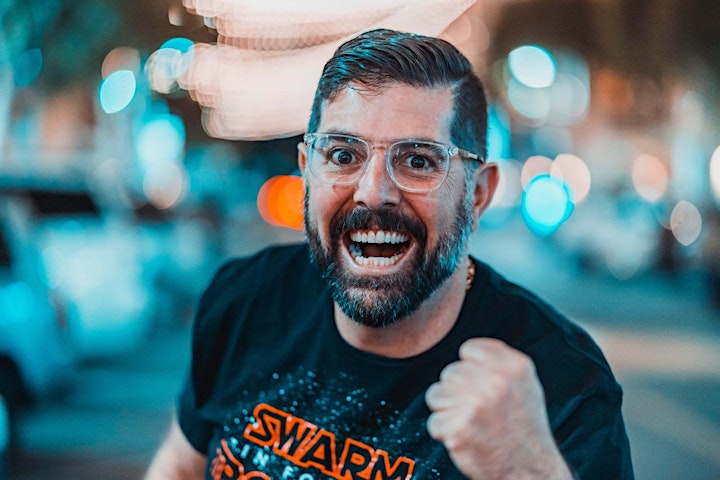 Organizer of Ringleader Comedy Miami Beach June 4th Starring