Description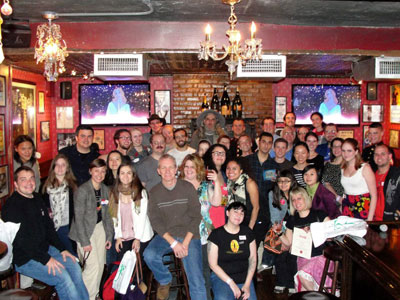 Once again, Ringers gather to party in New York City!
This year we'll be in a different venue - the charming Oak Cellar at Jake's Dilemma. Still a private room, so we'll still have great music and videos playing! Your ticket includes your first drink and a plentiful finger food buffet, plus a goody bag and two tickets into our raffle for the evening. We will have some great giveaways for the event - you know we always like to give stuff away when we party! - including a pair of tickets to see Sir Ian McKellen and Sir Patrick Stewart on Broadway, plus some items from Weta!! Also this year we're fundraising to support the website. We hope you'll all come out to play, for an evening of food, drink, fun and good company in the Big Apple!
You don't need an actual ticket for the event; once you've paid here, your name is on the list and that will get you in the door!
You can also buy your ticket in person at our Booth (number 3008) at New York ComicCon, or on the door at the party. HOWEVER, after online ticket sales close (at 11am on Thursday 10th), ticket price goes up to $45. So, buy in advance and save that $5 for drinks at the party!
Any questions? Email greendragon@theonering.net
See you in Manhattan!
(please note this event is 21+ only - sorry, NYC rules for bars!)
Organizer of Ringers take Manhattan!
Founded in 1999 by a group of like-minded Tolkien fans so anxious for the coming Peter Jackson Lord of the Rings films that they were gathering up every scrap of production information to be found, TheOneRing.net continues today in bringing fans the latest news on the beloved figures involved in the making of the wildly popular Lord of the Rings movies as well as the newest information available on upcoming productions, Tolkien-centered events, new publications, and fan gatherings.
The site thrived and so did its unique relationship with Jackson's production team—a relationship that enabled TORn to bring its readers some exclusive news and night-of-a-lifetime experiences including the famous Oscar parties that hosted the cast and crew after each Oscar-night victory, culminating in an incredible eleven-Oscar sweep for The Return of the King. Looking to the future with the support of its phenomenal community of fans, TheOneRing.net continues to be the most comprehensive Tolkien fan site on the web.