Location
Oak Cellar at Jake's Dilemma
430 Amsterdam Avenue
New York, NY 10024
Description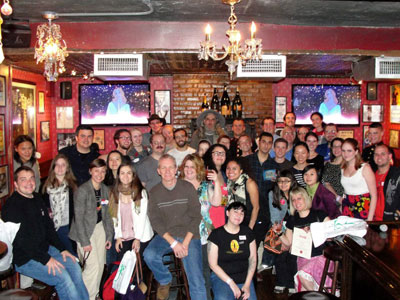 Once again, Ringers gather to party in New York City!
This year we'll be in a different venue - the charming Oak Cellar at Jake's Dilemma. Still a private room, so we'll still have great music and videos playing! Your ticket includes your first drink and a plentiful finger food buffet, plus a goody bag and two tickets into our raffle for the evening. We will have some great giveaways for the event - you know we always like to give stuff away when we party! - including a pair of tickets to see Sir Ian McKellen and Sir Patrick Stewart on Broadway, plus some items from Weta!! Also this year we're fundraising to support the website. We hope you'll all come out to play, for an evening of food, drink, fun and good company in the Big Apple!
You don't need an actual ticket for the event; once you've paid here, your name is on the list and that will get you in the door!
You can also buy your ticket in person at our Booth (number 3008) at New York ComicCon, or on the door at the party. HOWEVER, after online ticket sales close (at 11am on Thursday 10th), ticket price goes up to $45. So, buy in advance and save that $5 for drinks at the party!
Any questions? Email greendragon@theonering.net
See you in Manhattan!
(please note this event is 21+ only - sorry, NYC rules for bars!)