Description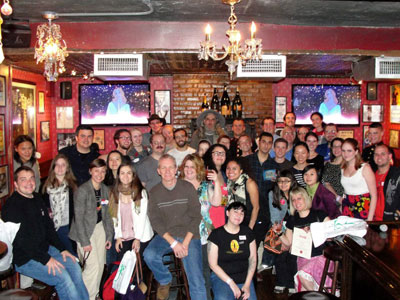 Ringers gather in the Big Apple once more!
We're returning to our fabulous venue from the past two years - the charming East Wing at 306 East 76th Street. This is an entirely private venue, so you can expect all the usual music, prizes, food, drink and great company! Your ticket includes your first drink and a plentiful finger food buffet (no need to eat before you come!), plus a goody bag and two tickets into our raffle for the evening. And you never know who else may show up to a OneRing party! Can't wait to party with YOU in New York City!
Alas, rises in costs of renting a venue and laying on food in NYC have meant we have to raise ticket prices this year - but you still get all the good stuff listed above, at a great venue in Manhattan, for only $40 per ticket!! That's what one usually has to spend just for dinner in New York, right..? :)
You don't need an actual ticket for the event; once you've paid here, your name is on the list and that will get you in the door. Just show up on the night!
You can also buy your ticket in person at our Booth (number 3164) at New York ComicCon, or on the door at the party. HOWEVER, after online ticket sales close (at 11am on Thursday 6th), ticket price goes up to $45. So, buy in advance and save that $5 for drinks at the party!
You do NOT need a ComicCon pass to come to this event - it's totally separate! And if you aren't coming to the con, but would like to buy one of TORn's shirts, you can do that too:
TSHIRTS this year - it's an election year in Middle-earth, too!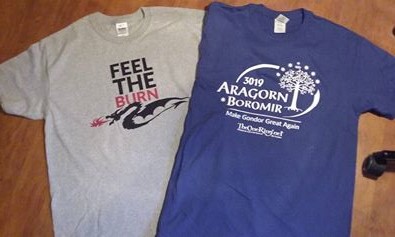 The 'Feel The Burn' shirt reads 'Smaug for President' and has TORn's logo on the back. The 'Aragorn/Boromir' shirt is a front design only. Both are regular cut, colours as shown (Sport Grey and Metro Blue), but the Aragorn/Boromir shirt is also available in 'Antique Cherry' in fitted shirts. Sizes run S through 2X in fitted, S through 3X in regular cut.
Folks attending the party can purchase shirts - just email greendragon@theonering.net IN ADVANCE to let us know what size/style you would like, and bring $20 per shirt (or $15 each if you order more than one) to the party! We'll bring the shirts to you! :)
We look forward to seeing you there!
Any questions? Email greendragon@theonering.net
See you in Manhattan!
(please note this event is 21+ only - sorry, NYC rules for bars!)
BIG THANKS to our sponsors this year, Middle-earth Enterprises!