Location
The Silos on 77
1031 County Road 223
Giddings, TX 78942
Sales Have Ended
Ticket sales have ended
Thank you for your purchase. We look forward to having you with us to Ring in the New Year at the Silos on 77!
New Years Eve - Ring in 2020 with The Triumphs
About this event
MIDNIGHT AT THE SILOS
Featuring: THE TRIUMPHS
JOIN US AT THE SILOS ON 77 AND LET'S COUNTDOWN TO NEW YEAR 2020!
AN EVENING FULL OF GREAT MUSIC, FAMILY AND FRIENDS.
Let us raise a glass to the coming New Year.
We'll toast to the holidays with friends and good cheer!
This nine-piece, Rosenberg TX-based band has roots that go back to the early days of rock 'n roll and also launched the career of 5-time Grammy award winner B.J. Thomas. They had several #1 hits on Houston's KILT top 40 Survey in the early 60's ("Lazy Man", "I Know It's Wrong", "I've Got a Feeling", "Billie and Sue"), recorded the still popular (and still played nightly at the Garner dance pavilion) "Garner State Park", and, of course, recorded the #1 song in the nation in 1966 - "I'm So Lonesome I Could Cry" - just prior to B.J. beginning his solo career.
Since our reunion in 1992 we have appeared on "Alvin at Night" and "Good Morning Houston"; have been featured in the Houston Chronicle (and in a host of local papers in small towns within 100 miles of Houston -- Rosenberg, Wharton, El Campo, Bay City, Eagle Lake, Hallettsville, Schulenburg, Weimar, Columbus, Shiner, La Grange, Victoria, Angleton, etc.) and are featured on the front cover of the 1995 Richmond-Rosenberg Yellow Pages; made a guest appearance at the "Lovin' Feelings Concert" in 1993, have been featured on Oldies 94.5, and worked in concert with their morning jocks; performed in concert with B.J. Thomas for the first time in 27 years; had Shara Fryer emcee our performance at East Bernard Riverside Hall (which drew more fans than Clint Black); and have performed in many of the historic dance halls we frequented in the 60's and 70's. The Triumphs continue to delight fans (old and young alike) at county fairs, class reunions, benefits, corporate gatherings, and at old dance halls along the reunion tour trail.
Our music menu for the evening will range from Elvis to the Eagles. Chuck Berry to Chicago, the Beatles to Bobby Bland, and maybe even a polka or two. We have a true understanding of all the nostalgia behind our music because we were an important part of the era that launched Old Tyme Rock 'N Roll.
LOCATION: THE SILOS ON 77, 1031 CR 223, Giddings, Texas 78942
DATE: DECEMBER 31, 2019
TIME: 8PM - 12:30AM
DOORS OPEN: 7PM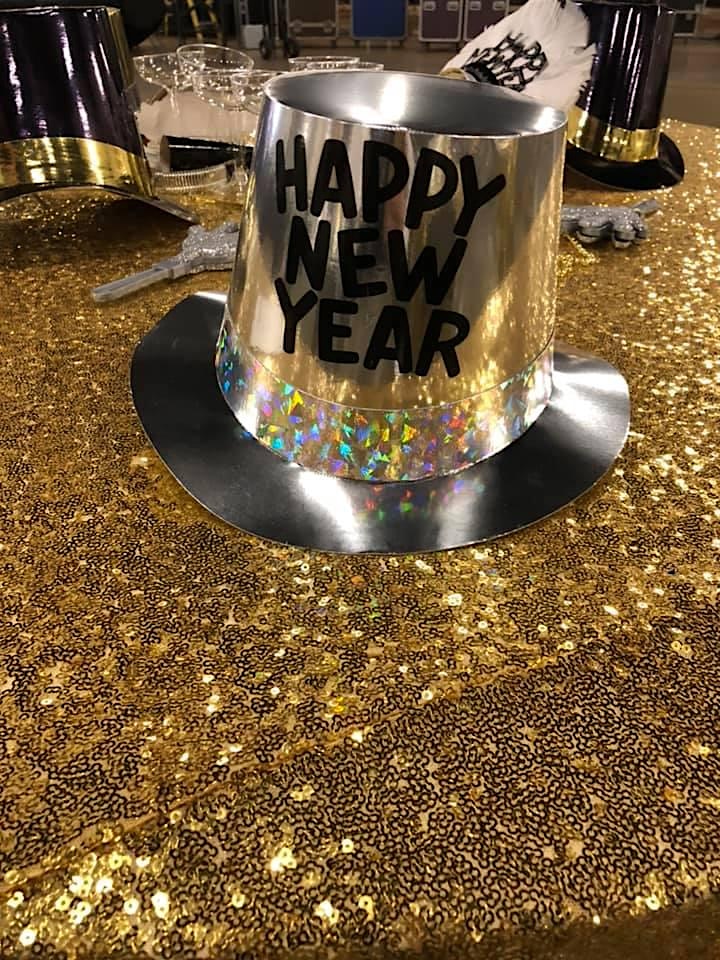 Join us to RING in 2020.
New Years Eve Tickets Include:
Champagne Toast at Midnight
Appetizers: Meats, Cheese, Crackers, Chips, Dips, Fruit, Vegetables & Bar Snacks
Balloon Drop
Koozies
New Years Eve Hats, Noise Makers & Necklaces, Glow Necklaces/Bracelets
Black Eyes Peas
DETAILS:
Doors open at 7:00 PM
Guest can bring in Snacks
Food Truck Available to purchase food onsite
Chicken & Waffles will be available for purchase from 11PM-12:30PM. Pre-order Available at checkout.
Beer and Wine Available for Purchase
Set Ups Available for Purchase
Guests MAY bring in their own liquor
Guests CAN NOT bring in their own beer or wine (The Silos has a beer and wine license)
TABLE SELECTION
When you purchase a table online the electronic system will ask you to select your preferred table and a second choice table. Tables will be sold on a first come first serve basis. If you do not indicate a table number, The Silos will assign you a table. An updated diagram will be uploaded daily, to indicate tables that are sold.
ZONE 1:
Tables located in Zone 1 have the "best seat in the house." Guests will receive Premium party favors, bottled champagne and commemorative glasses, in addition to all the appetizers and other amenities listed for all tables.
Zone 1: Gold Table Seats 8-10. Table #'s 1-23 ($65 per chair)
Zone 1: Gold Tables - square seat 2-4. Tables 24-34 ($65 per chair)
ZONE 2:
Tables located in Zone 2 are located in the South section of the building. (see diagram). Guests will receive party favors, champagne toast and other amenities listed for all tables.
Zone 2: Silver Tables- Seats 8. Tables 35-49 ($55 per chair)
Zone 2: Silver- square tables. Seat 4: Tables 50-57 ($55 per chair)
ZONE 3:
Tables located in Zone 3 are located in the West side wall of the building. (see diagram). Guests will receive party favors, champagne toast and other amenities listed for all tables.
Zone 3: Blue Tables. Square Seat 4: Tables 58-61 ($50 per chair)
GENERAL ADMISSION
General Admission: $25 each. No Tables Guaranteed. Bistro Table Seating in the Bar & Surrounding Area.
Note: image can be enlarged by saving or opening the file.
Tickets are non refundable within 4 weeks of the event date.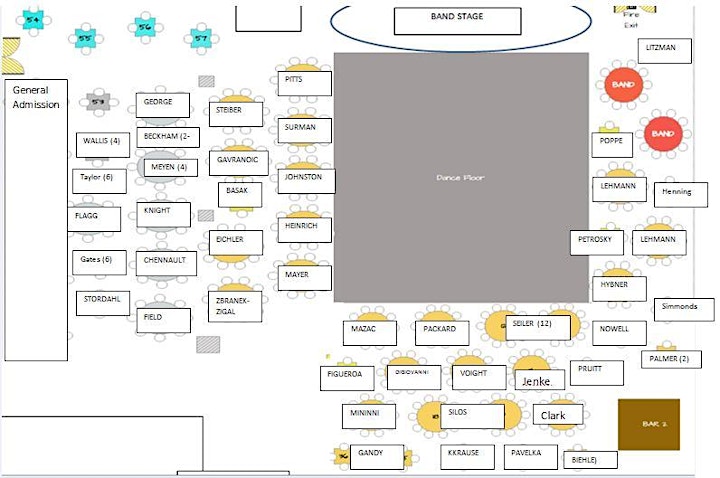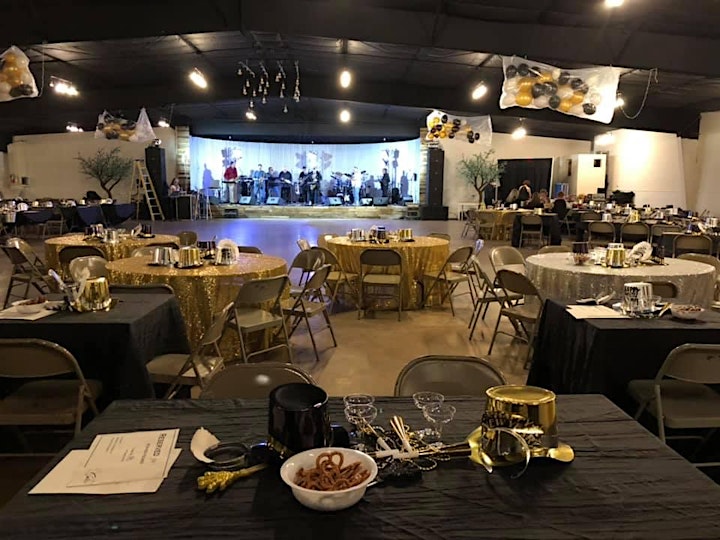 ACCOMODATIONS & TRANSPORTATION
ACCOMODATIONS
1. Best Western Inn and Suites
2161 E Hempstead St, Giddings, TX · (979) 542-5000
2. Super 8 Motel
4002 E Austin St, Giddings, TX 78942 (979) 542-9666
3. RV's can be parked at The Silos on 77. No Hookups available.
TRANSPORTATION Available
1. Limo pick up and drop off
From local hotels and homes in the Giddings and surrounding area. Can schedule transportation with Lori Diez, The Silos on 77. 15 mile radius from the Silos.
Reserved in advance $15.00 per person(round trip)
One Way Drop Off onsite $20 per person
Can reserve your transportation online when purchasing tickets.
To schedule times, email lori@the-silos.com