[RIISE MV] Annual Brunch & Beach: Legacy Wealth On Martha's Vineyard
Description
[Sistas On The RIISE: Celebration | Empowerment | Wellness, below]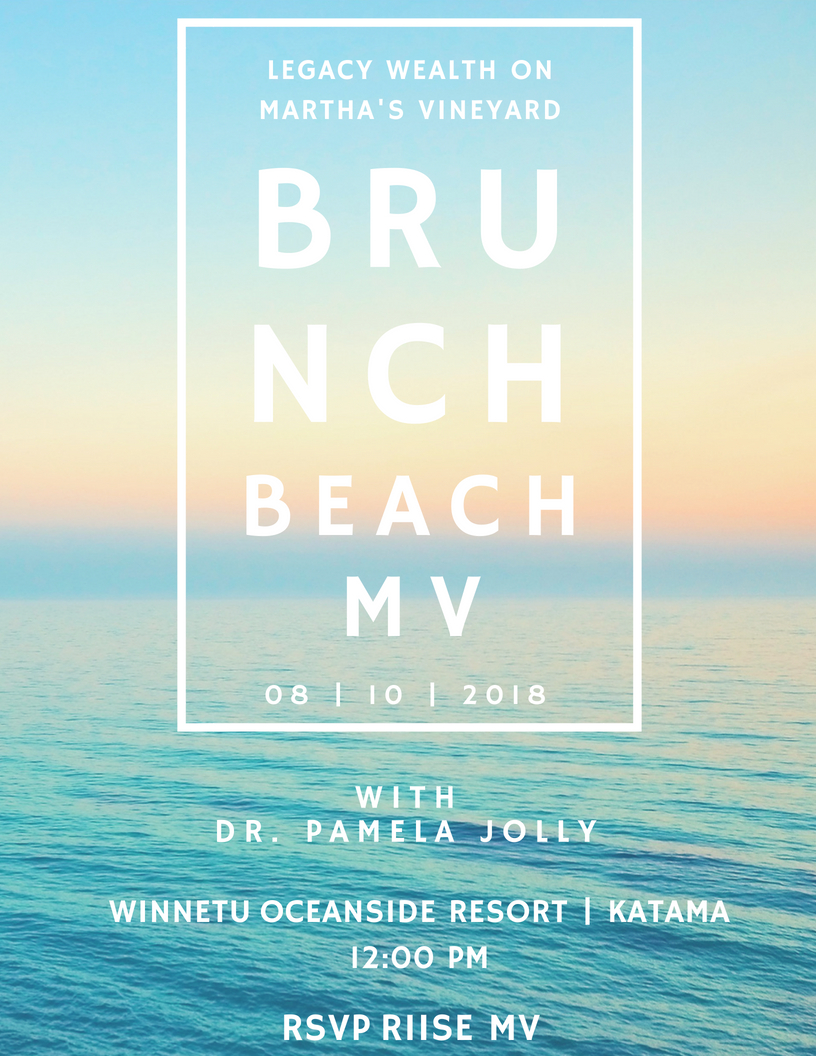 The reason Martha's Vineyard beckons you is the same reason it invites RIISE.
The beauty, grace, and magic on the island become transformative traditions.
10 Years of RIISE. Celebrating on Martha's Vineyard.
RIISE is a lifestyle network building bridges between families of color, educational excellence and beyond. Celebrating a decade of networking and community engagement, RIISE will continue to add to the magic of fellowship that is Martha's Vineyard.
Brunch and Beach: Legacy Wealth on Martha's Vineyard returns for its fifth year gathering families together on the island, hosted by RIISE and Dr. Pamela Jolly, speaker & author -The NarrowRoad: A Guide to Legacy Wealth. Alongside a beautiful brunch, Dr. Jolly gives riveting historical context and a narrow roadmap for how we, 'the necessary ninety and the talented ten,' must work to carry and pass on the torch to the next generation. A significant and forward-thinking discussion about where we've been, where we are, and how we pass on legacy wealth. Then we are off to follow the path to Katama Beach. Pack your beach gear. Activities provided for kids
Hosts:
Gina Parker Collins, RIISE Founder & Dr. Pamela Jolly, Speaker & Author -The NarrowRoad: A Guide to Legacy Wealth. Also, special guests share their essential work.
RIISE MV 2018 Events supported by Vibrant Health, Riverdale Country School, Horace Mann School, Westover School, Juice Press, Earthmade Skincare
Another RIISE MV Event! Click the link below for more details
Sistas On The RIISE: Celebration | Empowerment | Wellness - Thursday, 8.09, 11:00 am-2:00 pm @YMCAMV hosted by Gina Parker Collins, RIISE Founder & Dr. LaShonda Barnett, Author of Jam on The Vine & Friends
Accommodations & Travel
vacasa.com
Airbnb.com
Travel - MVOL.com
SteamshipAuthority.com