Description

From startups to tech/media powerhouses and industry associations, the 1-day gathering, which premiers in New York City July 26, is bringing together a cross-section of companies, associations and industry leaders (see list below) to meet, do deals and discuss innovation in rights management from Blockchain to Enterprise and how tech-content partnerships are helping the creative industries drive successful monetization strategies.
Register today and save!
Event Highlights include:
-Fireside Chat with Benji Rogers of PledgeMusic, one of The World's Top 10 Most Innovative Companies of 2015 in Music by Fast Company and named to Billboard's 40 Under 40 list
-Restoring Registration to the Copyright Equation featuring Ascribe, Verisart, Monegraph, and Orangenius
-RightsTech in the Enterprise featuring former Wiley & Son's Copyright Head, PluraVida, MusicReports, ABKCO Music & Records(rightsholder for The Rolling Stones, etc.)
-Smart Contracts: Turning Contracts into Code with Davis Wight Tremaine
-Crypto-currencies, Side-chains and Fiat Portals with 3Pillar Global. Steemit, Lisk, Ethereum, PeerTracks and Transform PR
-RightsTech Marketplaces with Copyright Clearance Center, ClearTracks, and Dubset
-Machine-Readable Rights with Mediachain Labs, RIAA and Music Business Association
-RightsTech Technology Stack with IBM and Klaris IP
-Breakfast, Coffee and Networking Breaks, Lunch and After-Party
The Advisory Board currently includes representatives of Copyright Clearance Center, LyricFind, PluraVida, Orangenius, Music Reports, Davis, Wright Tremaine LLP, PledgeMusic, and Dubset Media, and Supporting Partners include SoundExchange, LyricFind, Klaris IP, Copyright Clearance Center, LyricFind, PluraVida, Orangenius, Music Reports, Davis, Wright Tremaine LLP and Transform PR.
See our list of confirmed speakers:
Danny Anders, Founder & CEO, ClearTracks
Adi Chikara, Solutions Management, 3Pillar Global
Cédric Cobban, President, PeerTracks inc.
Alisa Coleman, COO, ABKCO Music & Records, Inc.
Bill Colitre, VP & General Counsel, Music Reports
Henrik de Gyor, Chief Consultant, Another DAM Consultancy
Tim DuBois, Award-Winning Songwriter, former VP, ASCAP, President, Arista Records
Andreas Gebhard, Head of Global Programming, Getty Images
Sam Gilchrist, CEO, PluraVida, Inc.
Sophie Goossens, Senior Associate, August Debouzy Avocats
Jim Griffin, Managing Director, OneHouse
Cortney Harding, Founder & President, Cortney Harding Consulting
David Hughes, CTO, Recording Industry Association of America
Jason Kassin, Co-Founder & CEO, FilmTracks
Christopher Kenneally, Director, Business Development, Copyright Clearance Center
Edward Klaris, Managing Partner, Klaris IP, LLC.
Kris Kliemann, President, Kliemann & Co.
Lance Koonce, Partner, Davis Wright Tremaine LLP
Robert Levine, Contributor, Billboard / Author, Free Ride
Kevin McCoy, CEO, Monegraph, Inc.
Greg McMullen, Director, IPDB Foundation
Larry Miller, Director, Music Business Program, NYU
Scott Moore, Director, Content Systems Functional Architect, Discovery
Vickie Nauman, Principle & Owner, CrossBorderWorks
Steven Nerayoff, Founder & CEO, Maple Ventures
Robert Norton, Founder & CEO, Verisart
Panos Panay, Founding Managing Director, BerkleeICE; Co-Founder, Open Music Initiative
Greg Pizzuti, Global Director, Cognitive Solutions, Media & Entertainment Industry, IBM
Jon Potter, Principal, RPG Strategies
Benji Rogers, Founder & Chief Strategy Officer, PledgeMusic
Ned Sherman, CEO & Publisher, Digital Media Wire, Inc.
Paul Sweeting, Principal, Concurrent Media Strategies, LLC.
Michael Terpin, CEO, Transform Group
Jesse Walden, Co-Founder, Mediachain Labs
Stephen White, CEO, DubsetMedia
Bill Wilson, VP, Digital Strategy, Music Business Association
Speaker submissions for 2016 are now open : http://www.rightstechsummit.com/speaker
RightsTech Supporters: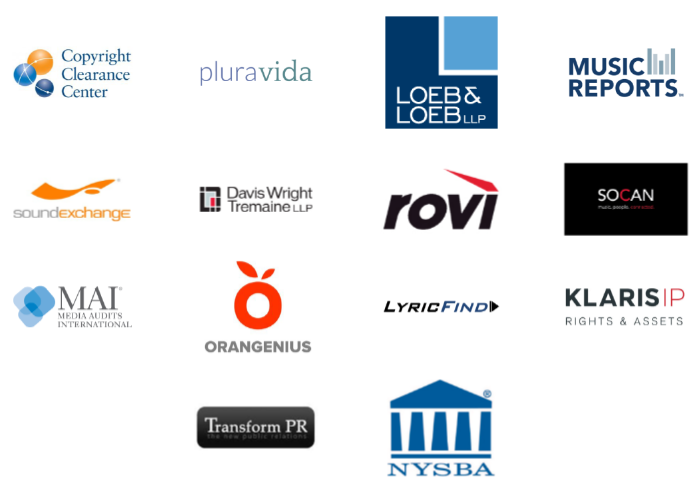 --
REFUND POLICY
Refunds are subject to a $100 processing fee, which will be subtracted from your refund total. We must receive your written request for a refund by June 1, 2016. Cancellations received after June 1, 2016 are non-refundable.
You may transfer your registration to another person by June 30, 2016. Please provide written authorization to info@digitalmediawire.com. Confirmed and paid attendees who do not attend or who cancel after the deadline are liable for the entire fee.