About this Event
Please Note: Check-in will open on Fifth Street by the courtyards (the Library will be closed to the public).
Randall Kennedy
In conversation with Eric Miller,
Professor of Law, Loyola Marymount University
ALOUD on Democracy @ Central Library
Randall Kennedy is a professor at Harvard Law School where he teaches courses on contracts, criminal law, and the regulation of race relations. For his education he attended St. Albans School, Princeton University, Oxford University, and Yale Law School. He served as a law clerk for Judge J. Skelly Wright of the United States Court of Appeals and for Justice Thurgood Marshall of the United States Supreme Court. He is a member of the bar of the District of Columbia and the Supreme Court of the United States. Awarded the 1998 Robert F. Kennedy Book Award for Race, Crime, and the Law, Mr Kennedy writes for a wide range of scholarly and general interest publications. His most recent books are For Discrimination: Race, Affirmative Action, and the Law (2013), The Persistence of the Color Line: Racial Politics and the Obama Presidency (2011).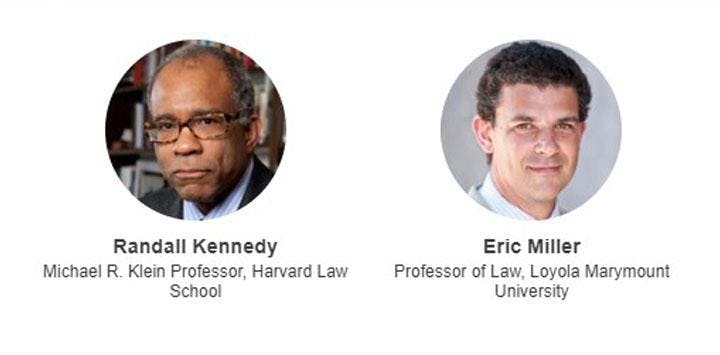 FAQs
About ALOUD
ALOUD is the Library Foundation of Los Angeles' series of bold, powerful programs. See a full event calendar here.
ALOUD on Democracy You have the right to know your rights. Join us for a spirited evening of democracy in action as we hear from civil liberties experts, learn about the Bill of Rights, access library resources, and enjoy live entertainment and libations while engaging with our community. In this new collaboration with the Library Foundation and the ACLU, each event will spotlight a different theme and special guests to inform, empower, and inspire the people of Los Angeles.
ALOUD programs are Member-supported. Join the Library Foundation of Los Angeles for first access and discounts on ticketed events. Learn more here.
Where should I park?
We recommend taking public transportation. Parking for the Central Library is at the Westlawn Garage at 524 S. Flower Street. Please note: there is an $8 charge for the Westlawn Garage parking and there will be no validation available since the Library will be closed. For more information, visit the Library's website.
How can I contact the organizer with any questions?
Contact the Public Programs office at programs@lfla.org or by calling 213.292.6254.
What if a program is full?
You are welcome to come as a standby guest. Standby numbers are distributed one hour before the program on a first-come, first served basis. Admission is subject to availability.
Reservation policy for Free Programs
As this program is free of charge, it is our policy to overbook. In the case of a FULL program your free reservation may not guarantee admission. We recommend arriving early. Unclaimed reservations will be released to standby patrons at the start of each program.