Actions and Detail Panel
Rights and Responsibilities: CV and PAVE Partnership SAAM Forum
Sat, April 8, 2017, 11:00 AM – 5:00 PM EDT
Description
Center for Victims is proud to announce its partnership with Promoting Awareness | Victim Empowerment (PAVE)—a national organization who works to shatter the silence of sexual violence—and the Community College of Allegheny County through Pennsylvania's "It's On Us" college sexual violence prevention program! The three organizations are coming together to hold a one day Sexual Assault forum highlighting the stories of survivors and proactive steps one can take to combat the epidemic of sexual violence on Saturday, April 8.
With keynotes from Angela Rose, Founder and CEO of PAVE, and Darnell Drewery, Crisis Intervention Specialist at Center for Victims, our goal is to open the conversation around a silent topic and bring a voice to those affected. In addition, a panel discussion will be held with guests including Chessy Prout--PAVE Ambassador and creator of the "I Have A Right to Campaign"--and Julia Dixon, PAVE Ambassador, survivor, and advocate. The afternoon will consist of workshops by Center for Victims staff and community members to help make a more informed and proactive response to combatting sexual assault before and after it occurs.
These workshops will engage participants in conversations to define sexual assault, explore parameters of consent, identify ways to support victims, and challenge themselves and others to end sexual violence.
Three workshops will be offered tailored for the following recommended audiences and their unique positions to address sexual violence:
Workshop A – Community Members, Parents, Victim Service Providers
Workshop B – Students and Faculty
Workshop C – Men
---
With Special Guests: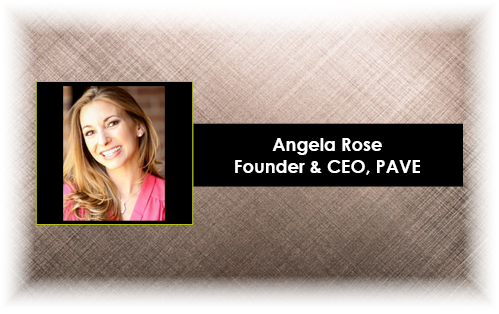 Angela's innovative work on the issue of sexual violence has made her a highly respected, engaging speaker and expert on sexual assault and violence prevention. She is also widely recognized as an advocate for survivor empowerment. At the age of 17, Angela was abducted at knifepoint outside a suburban Chicago shopping mall. She was assaulted by a repeat sex-offender on parole for murder. After suffering at the hands of her abductor she then suffered at the hands of authorities who – instead of helping her – subjected her to scrutiny, blame, and additional victimization. The anguish of her abduction was immediately magnified by anger and a strong sense of injustice at her treatment by authorities. Angela turned her anger into a positive force for change and worked with her attacker's previous victims and other concerned community members to help enact Illinois' Sexually Dangerous Persons Commitment Act in 1998.
In 2002 Angela founded the non-profit organization, Promoting Awareness |Victim Empowerment (PAVE), to create education and action surrounding the issues of sexual violence. Today, PAVE has chapters in multiple states, trains students on sexual assault prevention and convened the National Campus Sexual Assault Summit held at Georgetown Law that broadcasted live to over 300 colleges.
Learn More about Angela Rose and the Founding of PAVE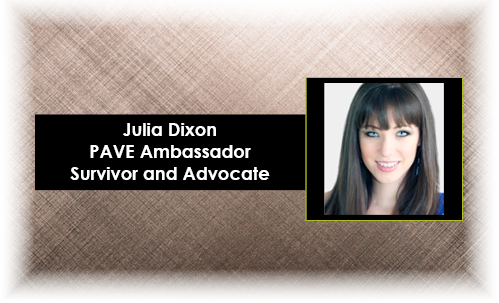 Julia Dixon was born and raised in a suburb of Akron, Ohio. She graduated in 2011 from The University of Akron, where she received a Bachelors degree in English. While at college Julia was sexually assaulted, completely changing the course of her college experience. The subsequent events of that crime led her to realize the importance of speaking out against injustice and fighting for the rights of others. In 2014, shortly after going public with her story, Julia was invited to the White House to give input to the Office of the Vice President's Task Force to Protect Students from Sexual Assault. In February 2016, she joined Lady Gaga onstage at the Oscars for the performance of her song "Till It Happens To You". Julia hopes that creating dialogue will remove the stigma of assault, and speaks nationally about her experience to educate college students and campus administrators. Julia is an ambassador for PAVE: Promoting Awareness | Victim Empowerment and continues to shatter the silence and speak her truth through her advocacy.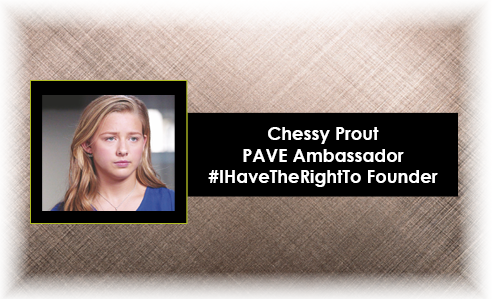 Chessy Prout is a high school sexual assault survivor. Raised in Japan, Chessy matriculated to St. Paul's School – a boarding school in New Hampshire, where her father and sister attended. There, as a freshman, Chessy was the victim of a sexual assault. Chessy's case and eventual trial garnered national and international media attention, as her assault was part of a ritual competition at the school called the "Senior Salute".
Two years later, in Chessy's pursuit for justice, she decided to step forward publicly in August and launched the #IHaveTheRightTo initiative with the organization PAVE: Promoting Awareness | Victim Empowerment, for which she is an Ambassador. In this initiative Chessy encourages survivors and others to assert their most important, basic rights, and uses her voice to let other survivors know that you are not alone.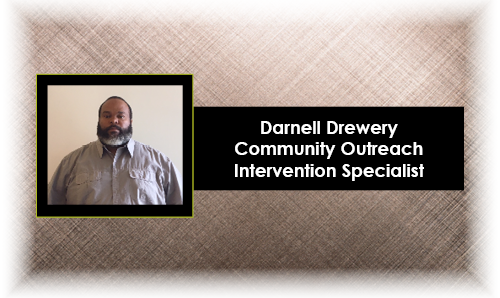 Darnell A. Drewery has almost over 20 years of experience working as a Community Specialist, Crime Prevention Education Specialist, an Advocate for individuals impacted by trauma triggered by violence and crime, and as an Intensive Case Manager working with individuals with intellectual disabilities.
His extensive experience has enabled him to implement crime prevention information sessions with companies, grass-roots and non-profit organizations locally and nationally as well as prepare and disseminate critical crime prevention information via electronic and print media. Darnell conducts workshops on conflict resolution, trauma response, anger management and crisis intervention at the Center for Victims where he is a Community Intervention Specialist.
---
Center for Victims (CV) is a 501c(3) community-based nonprofit organization whose mission is Healing Trauma, Supporting Victims, and Creating Social Change for a More Peaceful Community.
Center for Victims is the most comprehensive, inclusive provider of services, advocacy and education for victims of all crimes. With over 40 years of experience, CV is a one-stop-shop with one message, one number to call, and one door for people to walk through to get the best combination of services to meet their needs.
Need Help? Start Here: 1-866-644-2882
Date and Time
Location
Community College of Allegheny County - Allegheny Campus
808 Ridge Avenue
Pittsburgh, PA 15212