Right Brain Business Plan Mini Workshop

Multiple Dates
Event Details
Do you know where your business is heading? Want a fun and creative way to plan for your amazing entrepreneurial success? Then come join the party at the Right-Brain Business Plan® Mini Workshop! You'll roll-up your sleeves and craft a visual plan that lets your head know where your business is going AND inspires your heart to sing with joy.

This fun and interactive workshop is perfect for you if…

You don't have a business plan and know you need one

, but doing dirty dishes, dealing with loads of laundry, or even getting a head start on next year's taxes all sound way more appealing (ugh!)

You've tried to do a business plan the "traditional way" 

and you got stuck, overwhelmed, and demotivated

You already have a business plan

, but you need to breathe new life into it

You can't stand 

spreadsheets

Numbers numb 

you out

AND you'd

 be a heck of a lot happier planning your business in the same intuitive, authentic, and expressive way that you live your creative life (yes, indeed, it can be that fun and fulfilling!)

You get the following (and much, much more!) from this workshop:

Detailed, do-able assignments

… that deal with all the parts of a business plan, from start to finish

Intuitive exercises and inspiring materials

… that tap into your natural creative genius, transforming drudgery into joy

Hands-on support, guidance, and accountability

… from a licensed facilitator plus the wisdom and perspectives of your fellow creative cohorts in the circle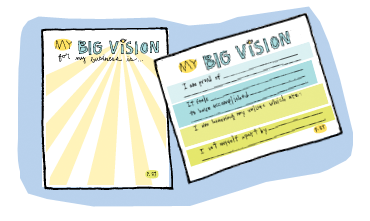 By the end of this 1-day workshop, you will have learned how to:

Clarify 

your business values and vision

Paint

 a picture of your business landscape

Determine 

what products and services you'll offer

Understand 

your competition, and what makes you stand out from the crowd

Identify 

who your perfect customers are and how you'll reach them

Set and manage 

money goals that honor your values and align with your life

Select 

your circle of support to help you get the work done

Map

 out concrete action steps to bring your Right-Brain Business Plan® to life
~~~~~~~~~~~~~~~

"If you don't have a plan for your business, you need one. If you want to have fun learning how to develop a plan, take this course. This course takes the 'scare factor' out of creating a business plan."  —Tracey Asai, Tracey Asai Designs
~~~~~~~~~~~~~~~

Finally get your business plan done and have fun doing it with this creative and visual approach.
Sincerely,
Lorene Collier Purcy
Right Brain Business Plan Facilitator
www.savvychicksbusinessblueprint.com
Where

James E Guinn Complex
1150 South Freeway
Fort Worth, TX 76104


Multiple Dates
Add to my calendar
Right Brain Business Plan Mini Workshop