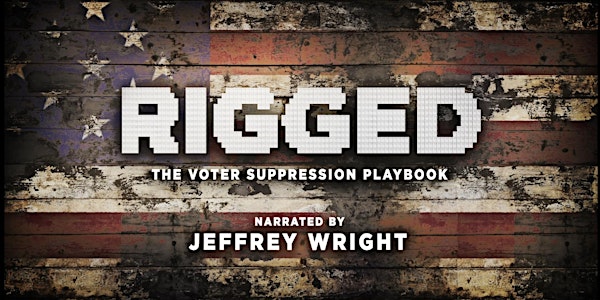 "Rigged: The Voter Suppression Playbook": Narrated by Jeffrey Wright
When and where
Location
Tishman Auditorium NYU School of Law 40 Washington Square South New York, NY 10012
Description
New York Premiere of "Rigged: The Voter Suppression Playbook": Narrated by Jeffrey Wright

5:30p.m. Check-in begins
6:00p.m. Program and Rigged screening begins - Introduced by Jeffrey Wright
7:30p.m. Q&A with Brennan Center voting expert Myrna Pérez and filmmakers.
The Brennan Center presents the New York premiere of Rigged: The Voter Suppression Playbook.
Rigged exposes how our most important right, the right to vote, is being undercut by a decade of dirty tricks and political shenanigans -- from gerrymandering to new voter restriction laws and from wide scale voter purges to the 2013 gutting of the Voting Rights Act by the Supreme Court. Shot during the 2016 election season, it is hosted and narrated by Jeffrey Wright.
Myrna Pérez is Deputy Director of the Brennan Center's Democracy Program and leader of the Center's Voting Rights and Elections project
Mac Heller, Executive Producer, Rigged: The Voter Suppression Playbook