About this Event
On behalf of the Latvian Institute of International Affairs in cooperation with Friedrich-Ebert-Stiftung, NATO Public Diplomacy Division, and Embassies of Poland and Canada in Latvia we are pleased to announce that the Riga Security Forum 2019 will be held on September 13, 2019, from 9:00-16:00 in Riga, Latvia.
Building on the experience of three consecutive LIIA public discussions devoted to the topical issues of NATO, Riga Security Forum 2019 aims to gather key international policy makers, industry leaders, as well as military and civilian experts to discuss events, trends, opportunities and challenges lying ahead for the transatlantic community and NATO. In various formats, participants will discuss NATO's achievements and challenges including the Baltic States in NATO, NATO-Russia relations, the concept for transatlantic security as well as emerging threats in a transnational environment.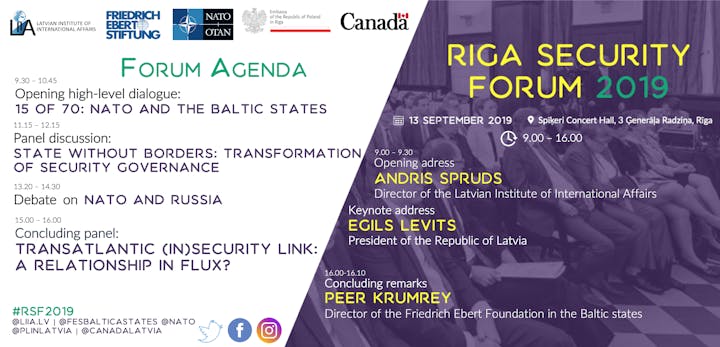 The event will take place in English!
This is a public event, applying for an event you are informed that the event will feature photographing and filming. If you enter this event you may be filmed and have your pictures taken. By entering this area you are giving irrevocable consent to and authorize the Latvian Institute of International Affairs and its partners the right to film and photograph, and use this media to the project publicity means.
See you there!