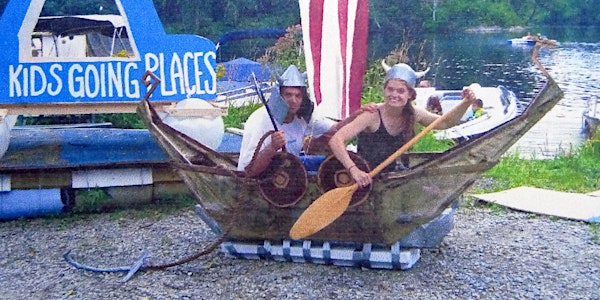 Riff Raft Regatta 2022
Participants will build a "hope-it-will-float" raft to compete in a 25-50 yard sprint mid-day on Saturday, Aug. 6 of Riverfest Weekend.
When and where
Location
Norm's Marina Inc 1347 Brattleboro Road Hinsdale, NH 03451
About this event
Entering the river from the Brattleboro-to-Hinsdale Island, vessels will proceed to a starting line upstream of Whetstone Brook and Whetstone Station Restaurant. From the Whetstone deck, impartial judges will oversee and score the entries for various recognition categories in addition to ruling on the sprint champion if a photo finish is required.
Life jackets are required. Please bring your own life jacket.
Riff Raft Guidelines:
· Must be bigger than a bread box and smaller than a semi-trailer.
· Vessels cannot include pre-made boat/canoe/kayak or other designed-to-float elements. All rafts will be subject to inspection before entering the water.
· Crew minimums: At least 1; a Captain (a.k.a. Skipper. Gilligan optional.)
· Crew maximums: No Maximum (To qualify for sprint honors and/or largest crew category, all crew members must remain out of the water for the duration of the race.)
· Paddles: No limits.
· Motors, Engines, Mechanical Aids for propulsion: disqualification
· Points detracted for complete disintegration.
· Mandatory: Removal of all raft parts and materials will be the responsibility of the team and/or their pit crews.
Prizes will include:
Riff Raft Regatta 2022 Champion - awarded to the first vessel to pass below the Anna Hunt Marsh Bridge
Additional Prize Categories: boldest design; most river'y; most piratey; largest crew (assuming they stay atop the raft); scariest (a.k.a. most like a river monster); most elegant design; and most fishy.
First TEN teams to sign-up for the Riff Raft Regatta will be entered on the day of the race to win a $100 Gift Card to Sam's Outdoor Outfitters.